I was provided with compensation from The Global Influence Network as part of my participation in this campaign. All thoughts and ideas are my own.

When it comes to hair, and body products we use a lot of Suave products at my house. Everything made by Suave smells so good and I love that it isn't too expensive. My entire family uses something from Suave. My kids use their tear free 3 in 1 shampoo/conditioner/body wash. I also use the Suave Detangling Spray when Halli's hair has some serious tangles or to manage her bed head. My husband likes their lotions and uses Suave shampoo and conditioner.
I also have a few Suave products I am obsessed with. If you haven't tried the Suave Professionals Moroccan Infusion Weightless Dry Shampoo you must immediately! It helps me go longer between washing my hair without adding build up. It is my favorite dry shampoo and I have tried a lot! I am constantly running out of it because I use it almost everyday. I even use it when my hair is super clean to add some texture.
My next favorite Suave product you must add to your grocery list is Suave Professionals Keratin Infusion Heat Defense Leave-In Conditioner. If you try one new beauty product this one must be it! It has honestly changed the life of my hair! I use it in my damp hair before I blow dry, I use it before I use a curling iron or straightener, or I use it just to smooth away fly aways.  I love love love this stuff. My hair is so much healthier, smoother, and shiny since I started using it! I can't stop telling people about it because it is so amazing.  You only use a dime size amount so the whole bottle will probably last months. It is the best ever and my hair is so grateful I decided to try it.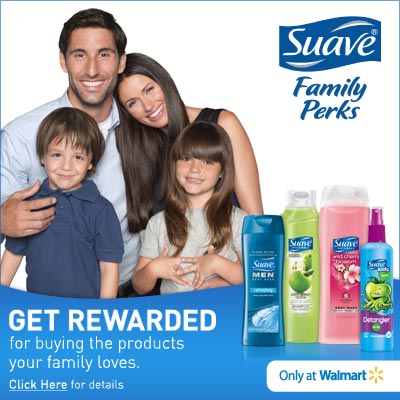 Now you can get rewarded for all the Suave products you buy for yourself and your family.  I am constantly getting new bottles of something from Suave. My family loves our Suave products and there is something for everyone. Suave has such great quality products and are perfect for my entire family. Plus with Walmart's everyday low prices Suave is also great on my wallet!
Exclusively at Walmart, you can get rewarded for buying the Suave products that your family knows and loves! Sign up for Suave Family Rewards at Suave Family Perks and every time you purchase a Suave product at Walmart, you will earn points that are redeemable for a $5 Walmart gift card! Signing up is super easy and takes just a few seconds. Then after you have signed up you can take a picture of your receipt from your phone and the Suave Perks website will keep track of your points!
Right now you can also enter to win a $50 Walmart giftcard through the Suave Family Perks campaign giveaway.
Suave Family Perks – Resourceful Mommy
Go sign up for your own Suave Family Rewards at Suave Family Perks! Then go try out some Suave products! They are amazing. Im not joking when I say the dry shampoo and leave in conditioner will change your life either(you will thank me later). Snap a photo of your receipt and start saving money on things you are already buying! What could be better huh?