I was provided with compensation from The Global Influence Network as part of my participation in this campaign. All thoughts and ideas are my own.
After I had my first baby I had a hard time feeling beautiful. I felt like a walking talking milk truck constantly covered in something that smelled. Things were sagging, wrinkly, and stretched out. It took awhile to realize how wonderful my body was. That it created a little miracle! I did grew that perfect little human! Yes I might be tired and covered in spit up? pee? slobber? …but dang it I'm awesome! I started to make taking care of myself a priority, and I started to feel even more beautiful than before I was a mom.
Fast forward 5 more years and I had beautiful baby girl. After having already lived and survived post partum depression and the shock of what my body looked like post baby I was ready this time. Again I realized how freaking awesome my body is! I have now grown two perfect beautiful tiny humans. My body maybe a little more droopy than it use to be. My belly has stretch marks all over it. My eyes probably look permanently puffy and tired. But truthfully I feel more confident in my appearance now than I ever have. Especially now that I have a little girl I always want to make sure I have positive image and body talk in front of her. All women and girls are beautiful. I want her to always feel about her appearance how I see her. She is strong, sassy, smart, and perfect. I want her to love herself how I love her. I want to celebrate my beauty for my kids. I am so proud of them. I am proud of my body and the handwork it went through to get them here. I am proud to be a mom!
Dollar General and Dove have teamed up to celebrate real beauty!  Women are beautiful, and they want to help women everywhere celebrate and inspire us all to embrace our own beauty.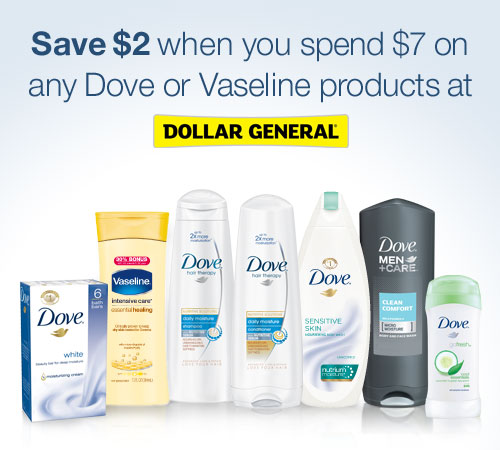 If you stop by a Dollar General now until 10/19 you will save $2 instantly when you spend $7 on any Dove or Vaseline products in store.  I am obsessed with Dove body wash and deodorant.  I can't wait to go stock up with this great deal!
There will also be a Twitter party October 13th at 8p.m.  Be sure to go participate and party along by using the hashtag #DGFeelBeautifulFor. Share what qualities and features you feel the most beautiful for and you will automatically be entered for a chance to win one of five, $100 Dollar General gift cards!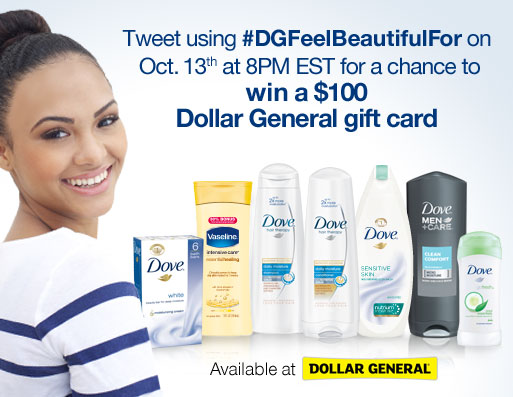 Bust out the Diva Red lipstick you've been wanting to try.  Use the extra nice smelling lotion that makes your skin feel buttery soft. Take a little extra time for yourself to feel beautiful today!  You deserve it!