This is a sponsored post written by me on behalf of Clorox. All opinions are 100% mine.
Laundry is by far my most dreaded household chore, but unfortunately laundry is always never-ending. I always seem to have mountains of it. With two little kids I can never just throw a load in either. Hayden will usually have grass stains, marker or some other leftover stain from school, or dirt on his clothes. Halli's clothes are always covered in breakfast, lunch, dinner, snack or a combination of all of them. I always have to pretreat and be careful not to set in stains. Whites are ALWAYS the toughest for me. My kids play hard and their whites especially prove it.
Whites are so tricky. Even after they have been washed there will usually be a left over hue of last nights spaghetti dinner. Or they will eventually look gray and dingy. Bleach is also so harsh and smells terrible! I'm also known for some how splashing it out of the dispenser cup and hitting someone's near by clothes. Just ask my brother… I can't tell you how many of his shirts I've had to replace. It is now a running joke in our family not to let me buy the bleach without supervision. It is so embarrassing!
Target has an exclusive new product from Clorox, Clorox MyUltimateCare Bleach. It is already saving me from my bleaching woes. First of all it is made by Clorox so I know that the quality will be awesome because Clorox is a brand I trust. When I opened the bottle instead of getting hit in the face with that awful harsh bleach smell I was shocked how good it smells. If it didn't say "bleach" on the bottle, I would never have known it was bleach. It smells more like a floralish fabric softener.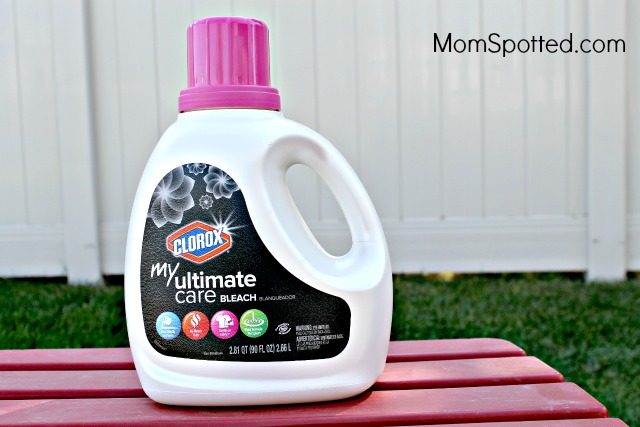 One of my favorite things about Clorox MyUltimateCare Bleach is how thick it is! There is zero chance I will splash any out and bleach anything I'm not intending to. I don't have to be afraid of leaving bleach spots on any more of my brothers or anyone else's shirts!
I was already in love with Clorox MyUltimateCare Bleach and ready to put it to the test on all my most difficult whites. Hayden had a white t-shirt that was just begging to be washed. It was filthy from rolling around in the grass and fall leaves, and also had a chocolate milk spill from lunch. I don't know what it is about boys but they have a distinct smell after they have played hard outside. Hayden shirts always have that lingering "sweaty boy" smell and I was excited to see if Clorox MyUltimateCare Bleach would clean up the shirt and that awful smell while also being gentle to the fabric.
The chocolate milk had dried on so I poured a little of the bleach directly onto the extra chocolatey spots and then put the rest into the washer dispenser. I was so excited to pull the shirt out of the dryer and see that his shirt washed up great! It came out looking whiter than it has in a long time and some old faint stains are even gone now.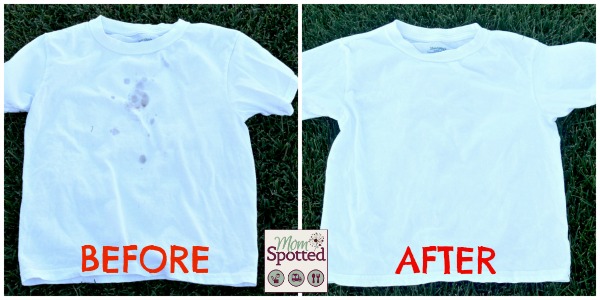 It is also super soft and smelled so good. I even put it up to my husbands nose and he said "it smells like it's a brand new shirt." I am in love with this bleach! I am already plotting in my head all the ways I will use it. I can clean with it around the house and not have to worry about that awful bleach smell. I am going to pour it directly on the collar of my husbands dress shirts for those hard to get out yellow stains. I will be using it anywhere and everywhere I can!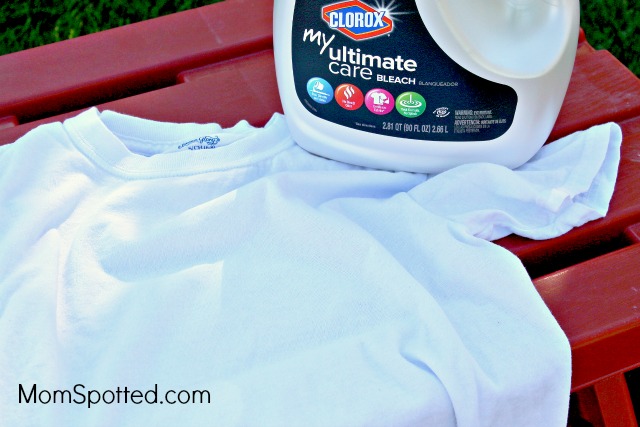 Clorox MyUltimateCare Bleach is exclusively available at Target so run over and grab you a bottle… or two. I will honestly never use another bleach again. It keeps my whites white, leaves them feeling soft, and smelling fresh.