Sawyer is getting so big and every day I look at him and wish I could stop time and just keep  him little forever. He's so tall that at times I think he even seems older than he really is. Weight wise he's a tiny little thing and can still fit in some clothes he fit in last summer. Finding jeans   that can stay up around his little waist took a long time to find and the ones we use need to have an elastic waist. So, when we had the opportunity for Sawyer to try out Enfagrow Toddler Next Step as a part of this sponsored post program I thought it would be a great way to make sure he's getting all the nutrition his body needs!
Sawyer is so easy-going and down for whatever you're doing, whenever you're doing it. He's a fireball of energy and he must burn a million calories before lunch even rolls around. He will eat almost anything I give him as far as taste goes but there are times he's just not hungry. I can put his favorite foods out and he'll barely nibble at them. His cup is always with him and he's always asking for refills so what goes in his cup needs to have nutritional value to me. Currently, the only drinks we offer is cow's milk or water. Occasionally he'll get juice but it's rare. I don't want to just fill him with sugar I want the calories he intakes to count for something.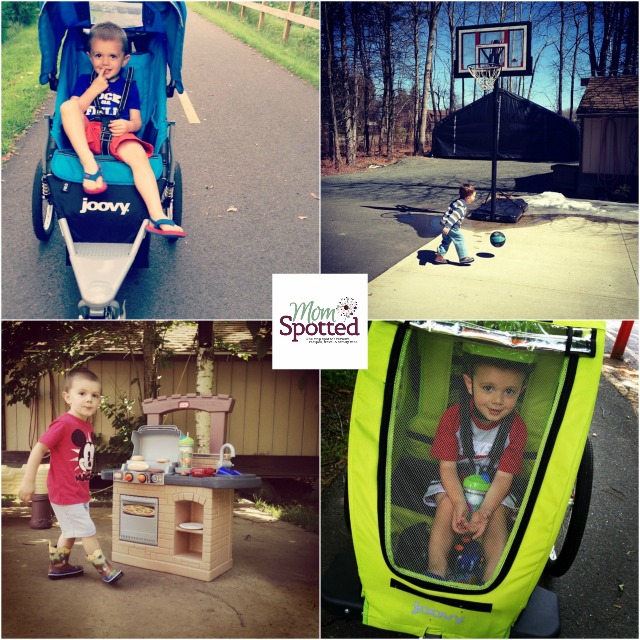 I don't know why it didn't really register sooner that I should have him using a supplement   like Enfagrow. While I completely believe breast is best I struggled with supply and tanked out a little after 6 months, the freezer stash quickly dried up a month later and we ended up   transitioning him over to formula until his first year. While we promote breast milk for the first 24 months we still somehow only promote formula until 12 months even though there are different formulations as your child grows to not only promote health and nutrition but to also obtain the recommend amount of DHA for proper brain development. Since DHA is one important nutrient that's particularly hard to get from the foods toddlers typically eat having it available in their drink is key. On average, toddlers are only getting about 25% of the brain- nourishing DHA many experts recommend from their diet and it's important for parents to take action and work to close this nutritional gap.
DHA is an omega-3 fatty acid and a key building block for the brain. Since 85% of brain growth happens within the first three years of a child's life, it is important to maintain the recommended levels of DHA through the toddler years. Food options naturally having DHA are limited   because DHA is mostly found in foods such as fatty fishes, which many toddlers don't eat. I know Sawyer doesn't eat any fish just because we don't eat fish in our home.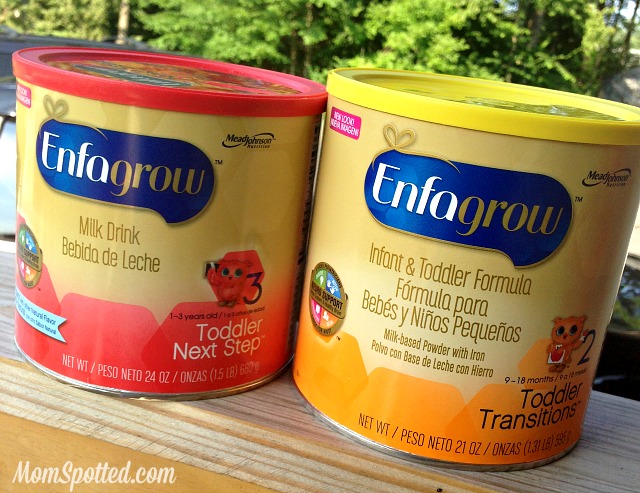 Luckily, there are convenient products like Enfagrow Toddler on the market that help make it easy to help ensure your child is getting DHA in their diet every day. Enfagrow makes a line of  toddler drinks that have DHA. They are nutritionally tailored for toddlers one to three years and   designed to complement a toddler's regular diet. In addition to DHA, Enfagrow has important nutrients like calcium, vitamin D and iron for healthy growth, and a prebiotics blend designed to help support digestive health in just two servings a day. Enfagrow is sold in a powder or   convenient ready-to-drink boxes. To learn more about the benefits of DHA in your toddler's diet, you can visit: http://bit.ly/V8JSy3.
Do you know if your toddler is getting DHA?
Do you want to try Enfagrow? I'm giving away an Enfagrow gift package (ARV $38) that will include the following:
One Toddler Transitions Can (21oz.)
One Toddler Next Step Natural Milk Flavor Can (24oz.)
For a chance to win, please leave a comment below about what you love about Enfagrow and why they want your toddler to try it! Winner will be chosen at random.
Contest ends 9.24.14 at 11:59pm. For Official Giveaway Rules click here. U.S. Residents Only. This is a sponsored post written by me on behalf Enfagrow.
NO PURCHASE OR PAYMENT NECESSARY TO ENTER OR WIN. A PURCHASE  WILL NOT INCREASE YOUR CHANCES OF WINNING. LEGAL RESIDENTS OF THE 50 UNITED STATES AND D.C. 18 YEARS AND OLDER ARE WHO ALREADY HAVE INTERNET ACCESS AND VALID E-MAIL ADDRESSES ARE ELIGIBLE TO   PARTICIPATE. VOID WHERE PROHIBITED. Promotion begins 9/3/2014 at 12:00 AM PST and ends at 11:59 PM PST on 9/17/2014. Odds of winning depend on the number of eligible entries received. Official Rules, eligibility, prize descriptions and odds disclosure are available at . Sponsor: Mead Johnson & Company, LLC, 2400 West Lloyd Expressway, Evansville, IN 47721.  I received compensation and free Enfagrow for this post. Enfagrow would be happy to help you with your question. Please contact them at 1-800-BABY-123