I was provided with compensation from The Global Influence Network as part of my participation in this campaign. All thoughts and ideas are my own.
I finally have my hair the length I want it!  After about 2 almost 3 years of growing it out it is really, super long.  I had always had shoulder length hair but wanted to commit to growing it long.  Long hair is so great!  I love that when I am in a rush I can throw it up into a mess bun.  I love being able to have it down and have big glamorous curls. I love not having as much up keep with hair cuts!  I was in the salon all the time trying to keep up the shape I wanted from my short hair cut, but now I can go weeks without a hair cut!  I have realized one big problem with going long stretches without a hair cut… Two words: Split Ends. Nothing messes more with my sleek, shiny, healthy hair like split ends.  Especially moving from super humid weather to super dry. My hair seemed extra super damaged and I had a ton of split ends.  It doesn't help I use a bunch of heat often on my hair.  I blow dry it often, and I use a curling iron or flat-iron every day.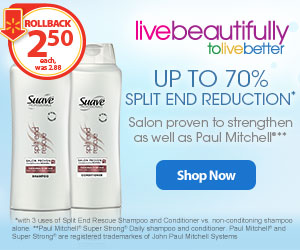 My husband just shakes his head at how much I spend on products to try to help my hair.  Then I found some shampoo and conditioner that is specifically made for my poor, sad split ends.  Suave Split End Rescue shampoo and conditioner is exactly what my hair needs.  It is salon proven and can reduce split ends up to 70 percent.  Um… yes please!  It is also on Rollback right now at Walmart for $2.50!  My hair is not only healthier and happier, my wallet is happy too! If you are desperate like me for some help for your split ends Suave Split End Rescue shampoo and conditioner will help make your hair softer, healthier, and more manageable.