This review and giveaway was made possible by Double Duty Divas and Mamma Chia. I was compensated for my participation in this campaign, but all opinions are 100% mine.
It has finally happened…. my first baby has started school.  Hayden had his first week of Kindergarten last week!  I am pretty proud of how I kept it together.  Now full disclosure here, and if I'm being totally honest I cried almost every night leading up to taking him to school….so I was probably cried out, but dang it I held it together day of!  I watched him walk into his class and find his name right away like a champ.  He hugged me goodbye and was more than ready to be a Kindergartener.  I walked out, didn't look back, and refused to make eye contact with other parents or I for sure would have lost it.  I only got a little teary in the parking lot and went home.  He loves school so far and I am excited for this new stage in our life.
Getting ready for kids heading back to school is crazy.  From school clothes shopping, new shoes, new back packs, and school supplies there is a lot to do!  I also want to make sure Hayden has filling breakfast and lunches to keep him full and help his growing body.  Halli and I also need some good options for lunches and snacks.  Especially while we are on the go, running errands, or at play dates.  Mamma Chia has the perfect back-to-school snacks, lunch box fillers, and beverages for both moms and kids!  Mamma Chia's snacks and beverages are loaded with fiber and protein, boost your brain with up to a day's worth of Omega-3s, and give you sustained energy and vitality.  Mamma Chia products are gluten-free, vegan, kosher, Non-GMO's, and USDA certified organic!

Chia seeds are packed with the richest plant-based source of Omega-3s.  They also are an excellent source of dietary fiber, protein, and antioxidants.  Both Mayans and Aztecs held the ancient grain in high esteem for increasing vitality and strength.  
Founder and CEO Janie Hoffman created Mamma Chia in her kitchen, and it became a national brand in September 2011.  Mamma Chia also donates one percent of gross sales to support farmers, community groups, and organizations that build healthy local food systems.  Mamma Chia sent me some Chia squeeze vitality snacks and Mamma Chia Vitality Beverage vouchers.  I was so excited for my entire family to try some Mamma Chia Magic!
Mamma Chia Vitality Beverages are made of organic chia seeds that are infused with organic fruit juice, and they are lightly sweetened with less than one tablespoon of organic agave nectar, and come in 9 different flavors:
Blackberry Hibiscus
Cherry Lime
Coconut Mango
Cranberry Lemonade
Guava Mamma
Pineapple Coconut
Pomegranate Mint
Raspberry Passion
Strawberry Lemonade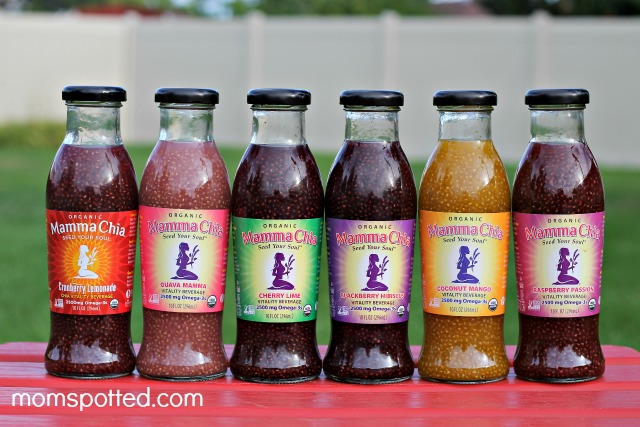 On the Mamma Chia website there is a store locator so I could find a retailer closest to me.  I found 6 of the 9 flavors at Target. Y'all, these are so crazy delicious, and kept me full.  These are the perfect on the go snack, lunchtime beverage, or great for a pre or post-workout.  They contain more than an entire day's worth of Omega-3s(2500 mg), and have 6 grams of fiber and 4 grams of complete protein!  Pretty darn impressive.  They also taste really good!  I have loved grabbing these while I am rushing out the door.  They are refreshing, sweet, and I have enjoyed all the flavors so far.  My most favorite is the Raspberry Passion, and Guava Mamma!  I hope the other 3 flavors come to my stores soon!
The Chia Squeeze Vitality Snacks are nutrient-rich chia seeds deliciously infused with fruit and vegetables and have no added sugar.  They are conveniently packaged in a 3.5oz BPA-free pouch, and are easy to toss into a gym bag, diaper bag, or a lunchbox.  They have 1200mg of Omega-3s, which is about the same as a single serving of salmon.  They also have 4 grams of fiber, which is equivalent to the amount of fiber found in an average apple.  They come in 6 different flavors:
Apple Cinnamon
Blackberry Bliss
Green Magic
Mango Coconut
Strawberry Banana
Wild Raspberry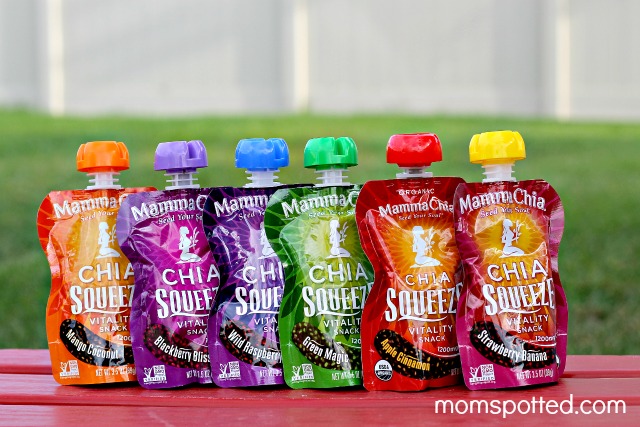 Halli was immediately interested and was trying to sneak one away.  Hayden loves applesauce and I knew the apple cinnamon flavor would be a hit with him.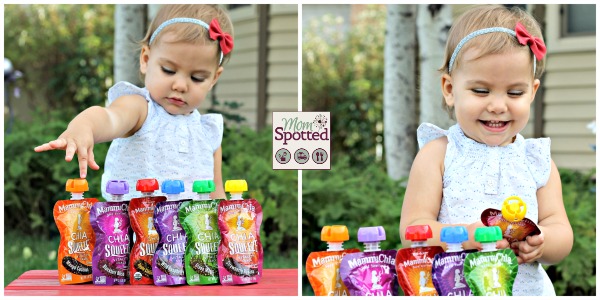 Halli and I have loved each of the 6 flavors!  You don't notice the chia seeds at all and they are so so delicious.  Hayden is a super picky eater and only likes the apple cinnamon flavor, but I will take what I can get with that picky boy.  My favorite is the Wild Raspberry and Green Magic.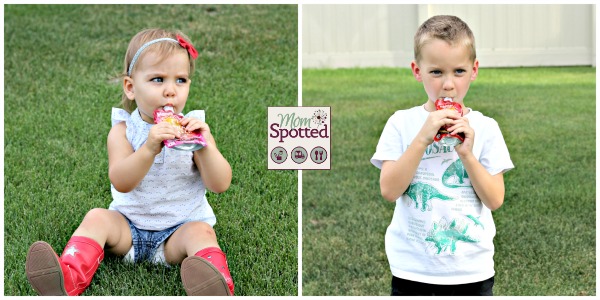 I am for sure keeping my pantry stocked with these snacks.  They are great for me or my kids at any time of the day.  Hayden likes the apple cinnamon at lunch time, Halli is seriously obsessed with all of them, and I love them as a healthy snack.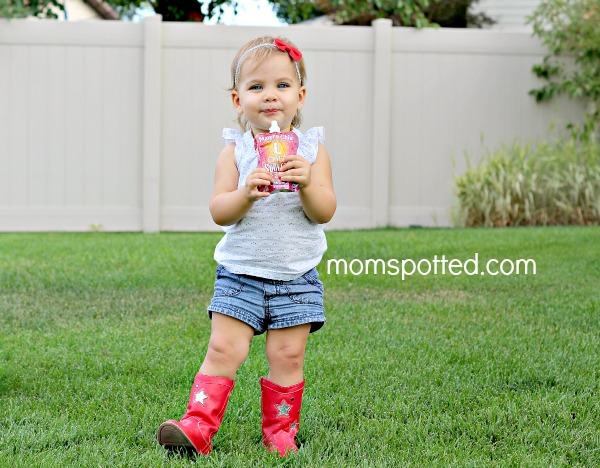 Mamma Chia also has a new product coming in September.  Mamma Chia Clean Energy Vitality Beverages are the first drink that combines the power of chia with the clean energy of Guayusa(gwhy-you-sa) resulting in a truly healthy, fulfilling and delicious energy beverage that nourishes you entire body and soul.  The beverage delivers 2500mg of Omega-3s and 90mg of natural caffeine(about as much in a 8oz. cup of coffee), twice the antioxidants of a cup of green tea, along with fiber and protein.  Like all Mamma Chia products they are Non-Gmo verified, gluten-free, vegan, kosher, and certified organic by the USDA.  They will retail for $2.99 in four flavors: Blackberry Blast, Cherry Charge, Raspberry Razz, and Grape Power.
Find Mamma Chia at a retailer near you so you can have some #MammaChiaMagic just in time for back-to-school.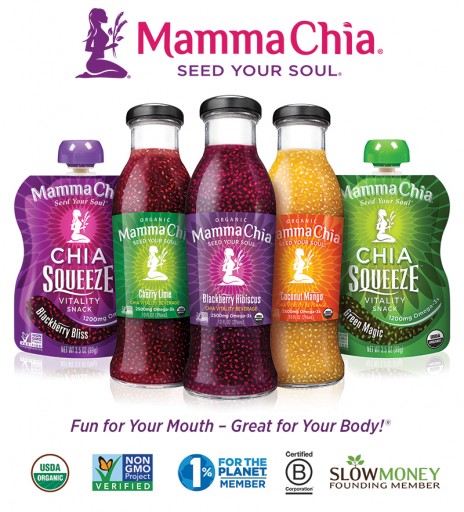 Right now one (1) Mom Spotted readers has the opportunity to win a Mamma Chia Prize Pack that includes:
ONE (1) full bag each of Mamma Chia's NEW black and white chia seeds
ONE (1) week's worth of Chai Squeezes(7)
ONE (1) week's worth of beverage vouchers (7)
ONE (1) copy of Janie's new book – Chia Vitality
For a total approximate retail value of $75!!  To enter use the Rafflecopter form below. Good Luck!
Contest ends 9.10.14 at 11:59pm. For Official Giveaway Rules click here. U.S. Residents Only.