Pregnancy and nursing is tricky business when it comes to anything you eat, drink, or put on your body.  I am so paranoid about all that stuff.  I push my body to the limits when I am pregnant and nursing.  I never want to take an antibiotic or other medication unless I absolutely have to.  I am equally careful about what I put on my skin.  Ever since I had Hayden and Halli I swear I break out worse sometimes than when I was a teenager.  I think Tina Fey made a joke about having "chacne," and to be jealous because she "has the chin of a teenager."  Well y'all better be jealous of my chin too!  Hormones are crazy and if I am not on top of washing my make up off and taking care of my skin I know I will break out.
Belli has a completely safe and effective skin care products for pregnant, new moms, and women in general.  Belli has great skin care solutions that pamper and protect without harmful chemicals. I really love that they are all allergy tested, and they don't use any artificial dyes or fragrances.
The ingredients in Belli products are selected based upon an extensive review of published medical studies. Belli even follows a unique safety screening process to avoid ingredients with known links to birth defects or harmful effects while breastfeeding. OB/GYN & Dermatologist Recommended.
I was sent two all-natural, paraben, salicylic, glycolic and benzoyl peroxide-free skin care products to test out.  First was the Belli Fresh Start Pre-Treatment Scrub.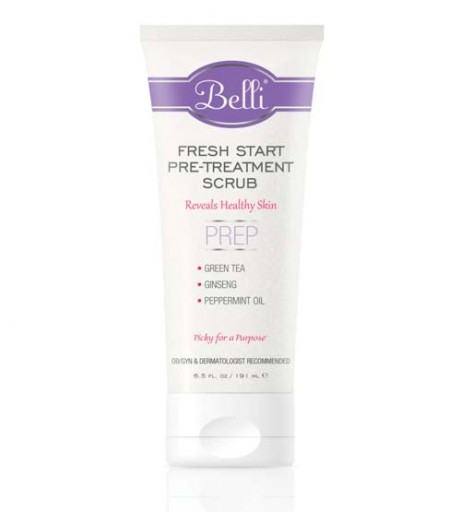 • An invigorating scrub for face and body that sweeps away old skin cells to reveal healthy skin.
• Features green tea extract and ginseng, both are rich in antioxidants
• Helps prepare skin for the application of other Belli products
• Includes the refreshing aromatherapy of peppermint oil
• Cleanse with Belli Anti-Blemish Facial Wash or Belli Pure & Pampered Body Wash for best results.
I love this scrub!  It has really fine and gentle scrubbing granules that get my skin so smooth.  It also smells so good.  I love using it in the morning because the smell is so invigorating.  The peppermint oil in this scrub also leaves my skin feeling kind of cool and tingly.
The next product works really great with the Pre-Treatment Scrub.  It is called the Belli Anti-Blemish Facial Wash.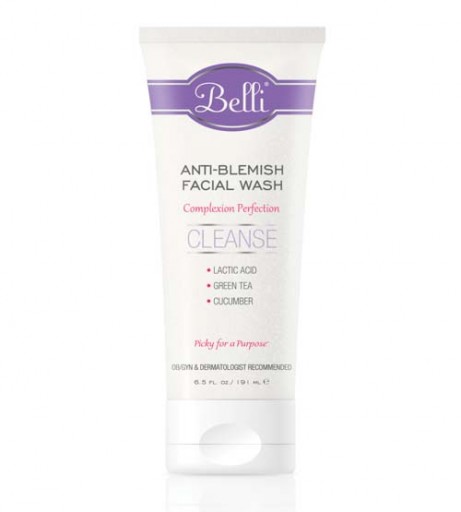 A pure facial wash that leaves skin clear and refined, without over-drying.

• Features lactic acid to cleanse and gently exfoliate acne prone skin

• FREE OF salicylic acid, glycolic acid, and benzoyl peroxide– common acne fighting ingredients that should be avoided during pregnancy

• Contains lemon peel oil, a natural anti-bacterial and skin brightener

• With green tea extract and cucumber, both are rich in antioxidants

• Follow with Belli Acne Control Spot Treatment for best results.
I use this face wash everyday.  It feels amazing on my face after I have used the Pre-Treatment Scrub.  I can really feel it cleaning out all my pores.  I absolutely love that it doesn't have any harmful chemicals.  Even when I am not pregnant or nursing I don't want to have any extra chemicals on or in my body.  This face wash really does keep my skin clean, bright, and clear.  It is strong enough to prevent the dreaded "chacne" without over drying my skin.  If I am feeling like my skin is starting to get clogged it also works really well as a quick mask.
Next time I am pregnant or nursing these will be the only products I will trust!  Halli and I just finished nursing but I will definitely continue using them now as well.  My skin feels so fresh and clean after I use them.  Belli has tons of other skin care products I am anxious to try ASAP.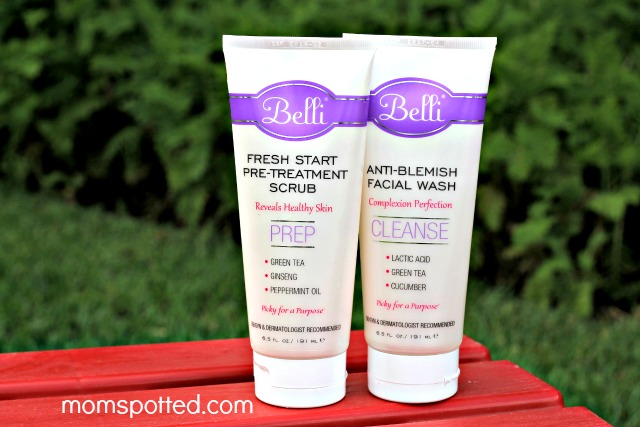 The Belli Fresh Start Pre-treatment Scrub retails for $24.00 and the Belli Anti-Blemish Facial Wash retails for $22.00.  You can also purchase them separately or together as a Value Duo on Belli's website for $44.00.  BUT, right now the Value Duo is on sale for $39.00!