If you've been a long time reader of mine you already know I'm addicted to buying kids clothing. I love dressing my boys in all the latest fashions from all the best brands. Having three boys that can be expensive though. I have to watch the sales and pinch the pennies.
Another thing you'd know about me is that I love to consign. My kids are all almost 6 years apart which means it's not always in our best interest to save clothing to be passed down. Not only would I need a lot of storage but my boys don't have the same builds and have different styles and personalities. The problem? Consigning is sooooooo time consuming. You have to wash, hang, tag, sort. It's such a process.
What if I told you that not only could you sell your clothes without touching a single safety pin or buy your next season of clothing without leaving your home and skipping all the rack rummaging. Why? Well, because now you have Moxie Jean Upscale Resale.
This year, moms can maximize their Back to School budget while still dressing their kids in the latest styles. MoxieJean offers unique, stylist-created looks from favorite brands like Gymboree, Gap, Tea Collection, Hanna Andersson, Mini Boden, Baby Lulu and Ralph Lauren, plus designer brands like Oilily, Mayoral, DKNY, Burberry, and Juicy Couture, all at 75% or more off retail prices!
I was given a credit to shop their site and let me tell you they have a lot of choices. I liked that I was able to sort between brands and sizes helping me filter the clothing pieces down. Since fall is on its way in I really wanted a few sweaters for Sawyer. Not only did I find two sweaters but I also got him a really nice button up and a full fleece sweat suit all shipped to my door for under $40.
Since the site really intrigued me I read through all the pages about what brands they did and didn't accept, what quality was acceptable and so on. They states the clothing had to be in excellent, like new condition and that they didn't accept any bargain brands. When searching around I definitely saw lower end brands but for the most part they had an awesome selection of higher end ones such as Lands End, Hannah Anderson, and Ralph Lauren. I also want to point out that as I've looked over the site in the past few weeks the selection of clothing has grown by quite a bit. I do also want to point out that you do want to really look over each item before buying. I like that they have the zoom in feature. I should have used it more because I would have noticed that some of the clothing had names written in them (which was visible before purchasing).
Sawyer just loved all his new clothing. So did Mommy! Doesn't he look adorable?
This Old Navy button up ($5.99) that I wasn't even looking for turned out to be one of my favorite pieces in his wardrobe coming up.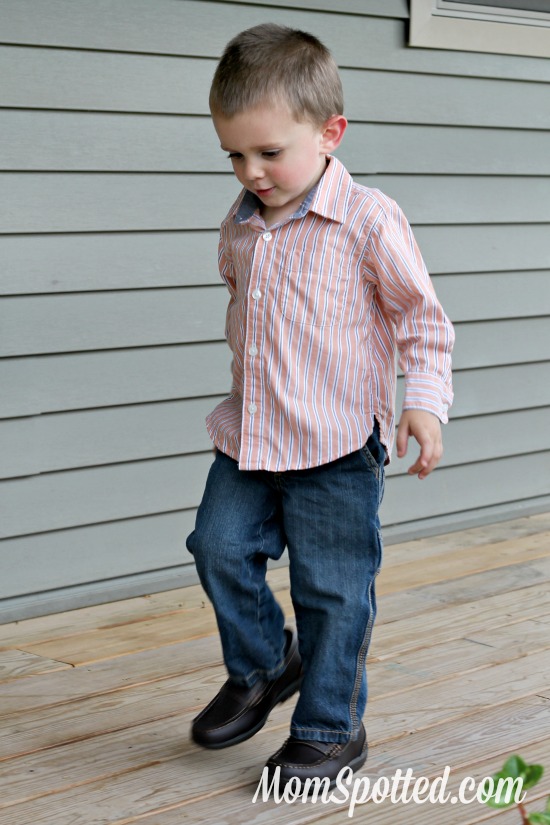 Sawyer loved trying on all his clothing! He even let me take his photo and put together this little photo shoot:
Isn't this Lands End sweater ($9.99) going to be perfect for fall photos down by the pumpkin patch?
Did you know that this year's press release from the National Retail Federation about Back to School spending says "shoppers will spend an average of $231.30 on clothes, up from $230.85, and $124.46 on shoes, up from $114.39 in 2013." That's $355 each family will spend on Back to School clothes! Isn't that crazy?
Moxie Jean wants to take the burden off a little and help you with that expense by offering this great giveaway of a $171.50 gift card to shop!
This is a sponsored conversation written by me on behalf of Moxie Jean. The opinions and text are all mine.