My birthday is at the end of May and I turned the big 2-8! Y'all… I think I'm about to the point where people could say I qualify as "30 ish." Minus the wrinkles I have started to notice on my forehead, I don't mind approaching my 30th birthday. Especially when I really look forward to my birthday cake, this Strawberries and Cream Cheesecake Dessert Recipe. There is one dessert I ask for every year on my birthday. I have had this dessert as my birthday cake for years because it is my very favorite! Ever! …of all time!!! You must make it this summer for your next family get together or BBQ.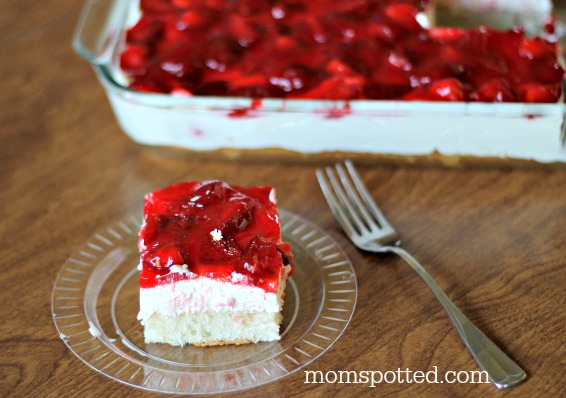 This strawberry dessert is a layer of white cake, then a whipped cream/cream cheese layer, and then on top are strawberries in a strawberry glaze. You can make it all year long and use frozen strawberries, but it is especially delicious with fresh strawberries. It is so so delicious and perfect for summer time.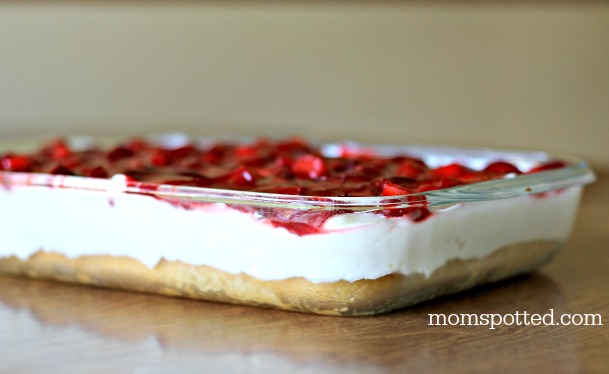 The top strawberry layer uses Danish Dessert. I could not ever find it when we lived in Texas.  My mom would mail me some Danish Dessert because she knows my love of this dessert. If you can't find Danish Dessert at your grocery store you can buy some from Amazon HERE. Then you can have a nice little stash of Danish Dessert to make this dessert all summer long! Or a regular strawberry glaze would probably work great as well.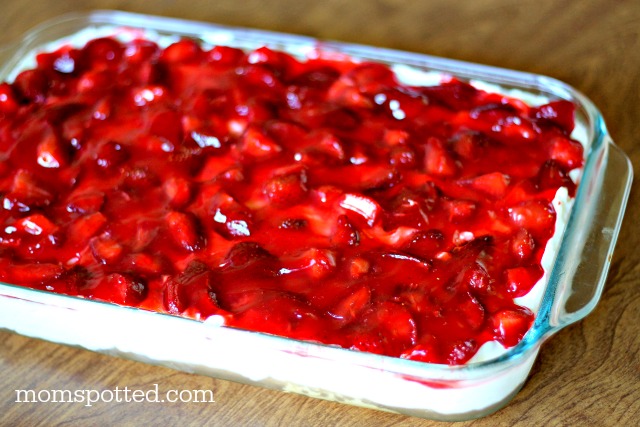 This was my first birthday around extended family in a long time. We just recently moved from Texas to Utah. My cute mom made my birthday cake this year. Can you ever be too old to have your mom make your birthday cake? I hope not, because I totally want to make my kids birthday cakes or some special birthday treat for forever….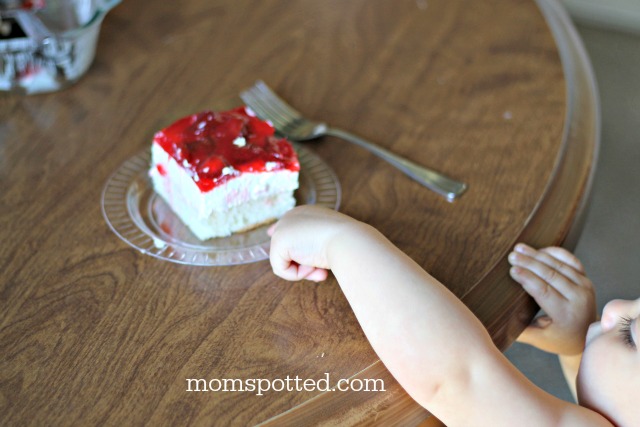 You do have to plan ahead for this cake, but don't let all the steps scare you off. It is worth it, and all comes together easy. Everyone loves this cake.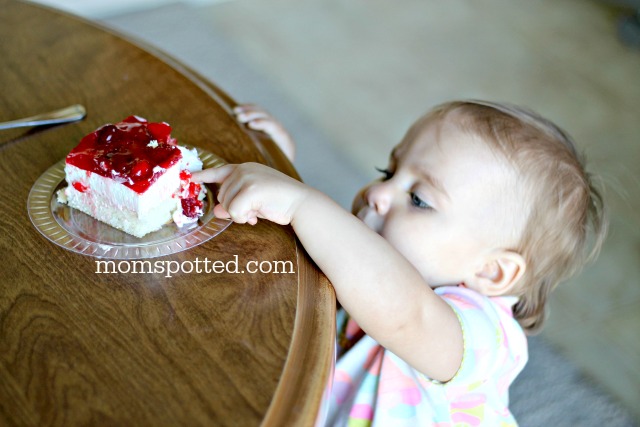 Halli couldn't keep her little fingers out of the Strawberries and Cream Cheesecake Dessert recipe we made while I was taking pictures. I don't blame her, it is so delicious.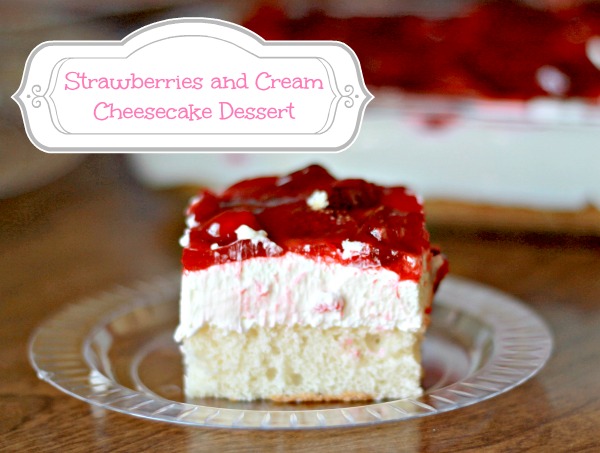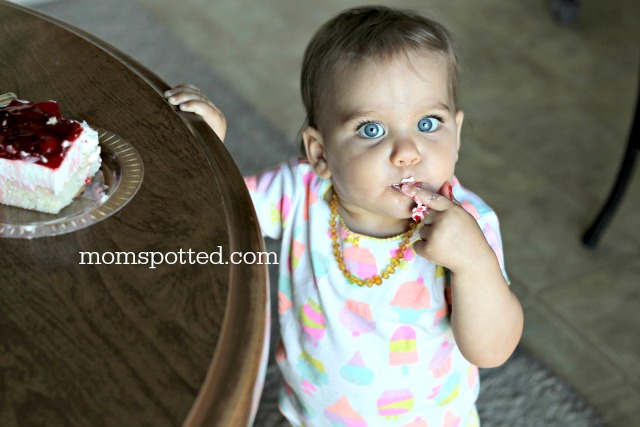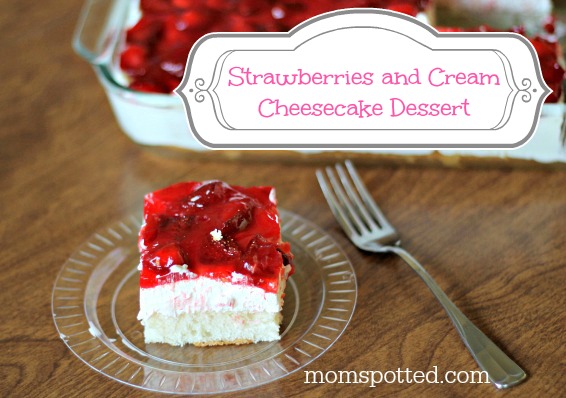 Strawberries and Cream Cheesecake Dessert
A delicious strawberry dessert all year round
Ingredients
1/2

pkg. white cake mix

2/3

C.

water

1

T.

flour

1

egg

8-

oz

pkg. cream cheese softened

2

C.

powdered sugar

1

pt.

whipping cream

1

strawberry Danish dessert

1 1/2

C.

water

1

qt.

fresh strawberries sliced OR 1 box frozen strawberries
Instructions
Preheat oven to 350 degrees.

Mix together cake mix, water, flour and egg until well blended. Then bake in a greased 13x9-inch cake pan for 15 minutes.

Cool cake completely.

While cake is cooling, beat together the cream cheese and 1 C powdered sugar.

In a separate bowl, beat together the whipping cream and the remaining 1 cup of powdered sugar.

By hand fold in the whipping cream and softened cream cheese, then spread this over the cooled cake.

Combine the Danish dessert and water, then boil for one minute. (If using frozen strawberries add to the Danish dessert mixture right now to help it cool.)

When the Danish dessert has cooled add fresh sliced strawberries stirring gently. Then carefully spread over the cream cheese mixture.

Place in the refrigerator for at least 4 hours before serving.
Notes
Can be made the day before you intend to serve it. Store covered in the refrigerator.