Have you noticed that your inbox is looking a little empty? Have you noticed you're not getting emails from some of your favorite bloggers? Well the reason might because they are using FeedBurner. It seems that Feed Burner is failing more and more each day and anyone using the program is having issues, issues like Mom Spotted. In the past two weeks 2500 of my subscribers have not had an update in their inbox! Chances are your favorite blogger is having these issue too so you might want to check in on their sites and see what is going on.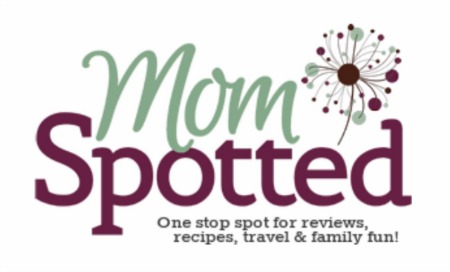 I've been looking for an effective replacement that would work. I'm in the process of switching over to FeedPress. In the meantime I've transferred my list of subscribers over to them and they have now delivered emails out to all of you two nights in a row. It may take me a few days to work out all of the kinks but in the mean time if you could resubscribe just in case it would be greatly appreciated.
http://feedpress.it/e/mailverify?feed_id=momspotted
Unfortunately I can't find my last subscriber download from the fall and the list I downloaded is short 2500 so many of you might have to resubscribe. So if you haven't received an email this is you. If you for some reason are receiving two (which I don't think is happening) please feel free to unsubscribe to the one from FeedBURNER.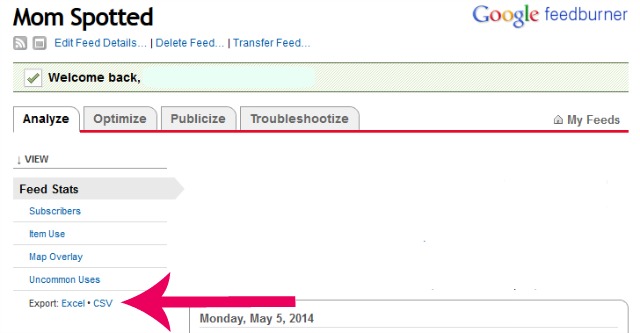 Now, if you are a blogger scratching your head on how to transfer your subscribers you need to go in and export them in. Download your CSV from FeedBurner and upload it here. I do have the $30 six month plan and I don't know if that made a difference.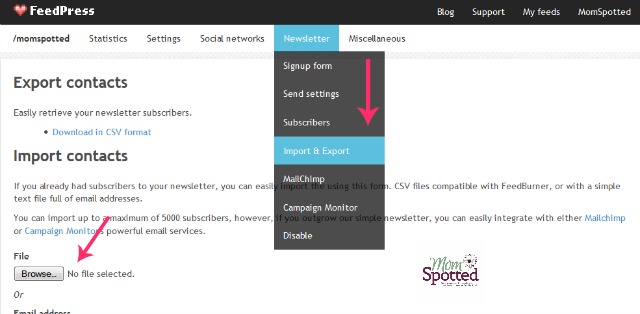 Once I followed these steps, FeedPress was pretty simple to understand. I am always the last one to understand all this so if I can get it hopefully it will take you even less time. If you get stuck feel free to leave a comment and hopefully someone can help, I just can't promise I can, but I will try!