We're back with another awesome giveaway from Blast Zone! Personally I can't image not having one. These are awesome on those long hot summer days when you don't want to go anywhere, spend any money, or deal with crowds. You can just pull out your water slide and relax on a chair in front and watch your little ones wear themselves out.
Megan, my contributor, had the opportunity to try one out with her kids and they love owning one too! If you missed her review on the Blast Zone Spray-n-Splash 2 Inflatable Water Park you can read it here.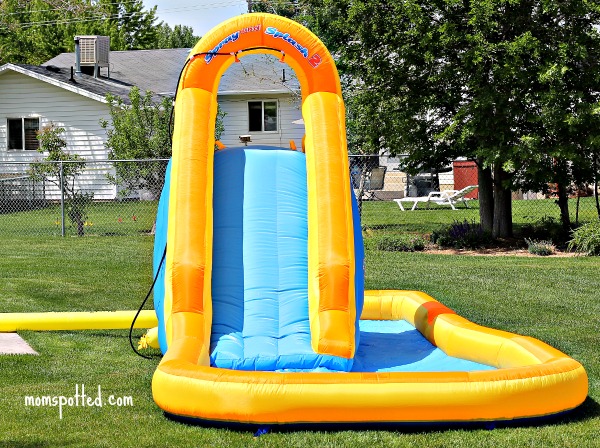 Shortly you'll see us sharing ours on our social channels too! I actually look forward to this smaller size. I think it will be perfect for when I'm the only adult home to supervise. It's smaller size will also be easy for me to manage setting up and taking down on my own too! I can't wait to see Sawyers face the first time he goes down! He'll love the pool to put all his boats in too!
The Spray N Splash 2 Inflatable Water Park brings the excitement of the Water Park to your back yard. Stop wasting money on gas and rentals and turn your yard into a cool water park. This upgraded version of the best-selling Blast Zone Water Park includes the features our customers have asked us for, including an inside return so kids don't exit the pool to climb the slide and a new slide design for a smooth landing. Setting up your splashing paradise is easy. Just unroll the colorful Spray N Splash 2, hook it to the continuous blower, inflate it and attach the hose and you're ready to party. Your kids will have a blast climbing up the back, zipping down the slide and splashing in the pool, over and over. Forget summer boredom. The Spray N Splash has enough room for up to 4 Kids to Splash, Climb and Play all day. Beat the heat with the included sprayer system. Just "hook-and-loop fasten" it on, attach the hose and splash. The sprayers spray down onto the top of the slide and water runs down into the splash pool. The Spray N Splash 2 is lightweight and portable, for traveling fun. Dimensions: 17′ Long 8′ Wide 8′ Tall
Between their choices of bounce houses and water slides you're sure to find the perfect fit for your family! They even have combination inflatable bouncers where you can have the best of both! Definitely check out their full selection!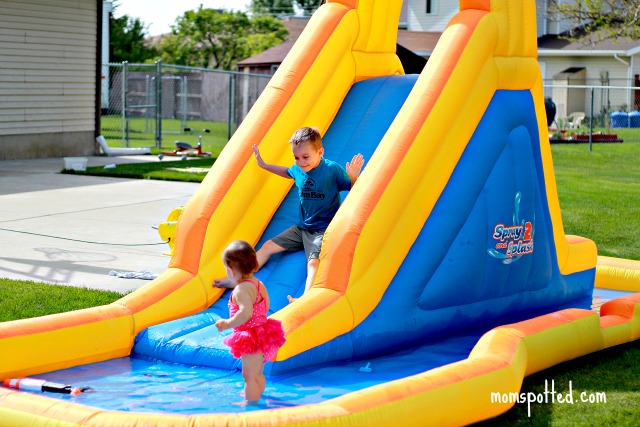 Right now I have teamed up with some other amazing bloggers for the chance to win one of THREE Blast Zone Spray-n-Splash 2 Inflatable Water Parks! Just use the Rafflecopter entry form below.

Giveaway is brought to you thanks to My Silly Monkeys. Ends 6.20.14