Johnny has been on a crazy baking string and this Double Chocolate Chip Banana Bread is the latest win. He's been going through my Pinterest boards and baking up tons of different things. If you follow me on Instagram you've been drooling over these as this recipe has definitely gotten your attention. I've gotten emails even asking for this one!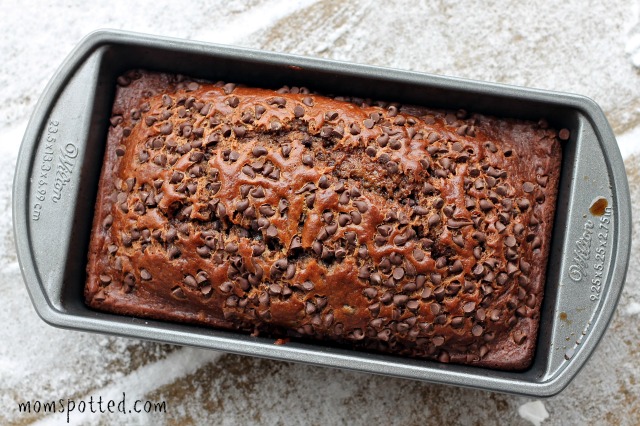 It all started with a bunch of bananas sitting on the counter in jeopardy of ending up as compost. Johnny hit up my Pinterest Boards and came across this recipe for Banana Bread.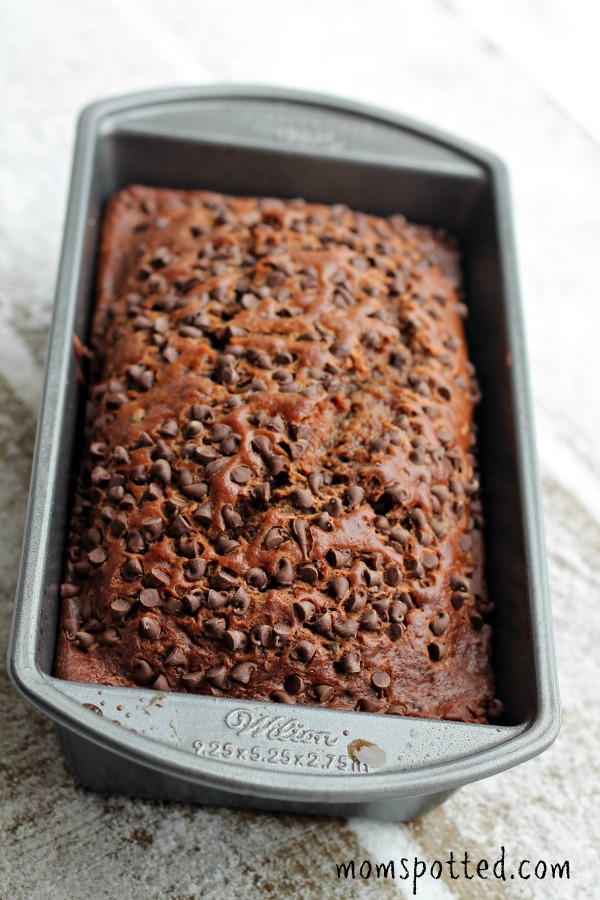 It was simple to make but when it was all done Johnny really wanted a chocolate bread. Since we still had some cocoa powder out from some crinkle cookies he made we decided to put a spin on it.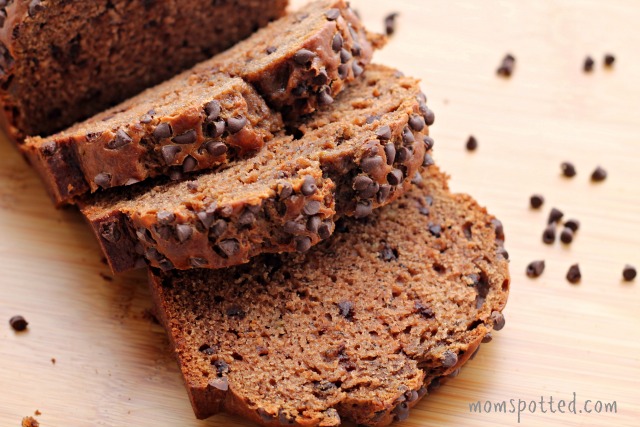 He also added some chocolate chips to the top of one and it got us thinking. We also added some to the batter. In the end, we had this gorgeous, delicious Double Chocolate Chip Banana Bread.
Oh, and it makes two loaves so you can eat one now and throw the other in the freezer! Yum!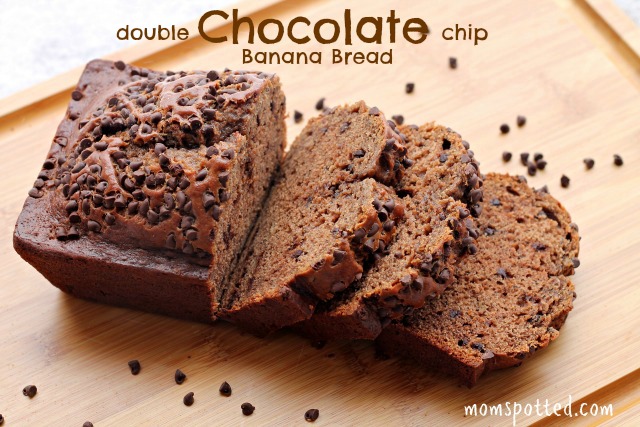 Hope you enjoy this bread as much as we have. It's one we plan on making again and again! I love that it's a double batch so we can save one or gift one! I hope you enjoy it as much as we did!
Ingredients: 
4 C. all-purpose flour
2 Tsp baking soda
1 Tsp salt
1 Tsp Vanilla extract
1 C. oil
1 Tsp baking powder
4 Eggs
5 Bananas, mashed
1 TBS Milk
2 C. sugar
1/2 C. Semi-Sweet Chocolate Chips (additional for bread top)
1/4 C. Unsweetened Cocoa Powder
Directions:
Preheat oven to 350. Add flour, baking soda, baking powder, sugar and salt to a small bowl.
In separate mixing bowl mash bananas and then combine in oil, eggs, vanilla, and milk. Add in dry ingredients and mix until combined. Try not to over mix.
Grease 2 bread loaf pans and divide bread batters between them. Sprinkle an additional handful of mini chocolate chips over the top.
Bake for one hour or until the cake tester (or toothpick) comes out clean.
Let sit in the pan, for 10 minutes and then remove and let completely cool on wire rack. Remember your top mini chips will still be soft so try and remove it slowly and grab it by the side.
Once completely cooled, you can wrap in plastic and then tin foil and freeze your extra loaf while you enjoy the other.