Partnered post on behalf of Glam Media.
I wish my kids could have met my great grandmother. She was amazing in every way. She passed away when I was in middle school but I can still remember so many wonderful memories when we would visit. My Gram lived a very simple life and lived in a one room shack in the woods. It didn't even have electricity in it. One my earliest memories is sitting on my great grandfather's lap trying to light the lanterns before dark fell.
When my grandfather passed my grandmother convinced my great grandmother to finally put some of today's conveniences into her home. Can you believe they got her to put in running water and electricity but they couldn't get her to give up that old style stove. To this day I've never seen anything like it. It made things taste amazing and with my grandmother's cooking the two were untouchable. Whenever we'd go up (which was often!) there was a huge meal to be had. We always finished it off with multiple pies. She made one for each of us. My favorite was her chocolate banana cream.
This Mile High Chocolate Stout Pie is a far cry from what my Gram made but it's definitely one of the first I'd like to try. Pi Day is on March 14 which also happens to be Sawyer's birthday. Maybe I could start making my Pi baby some pie every year to celebrate!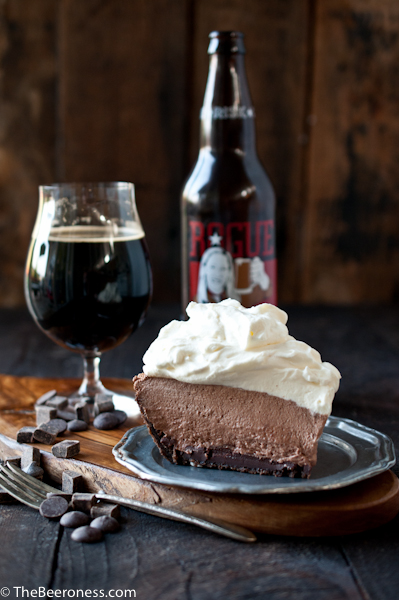 What's YOUR favorite kind of pie?