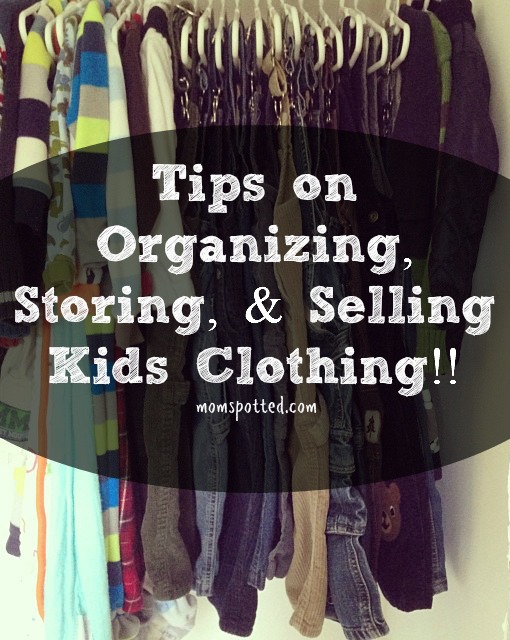 I like to shop the clearance sales. It's the best way to get the best brands, best quality at the best prices. I'm not always the best judge of size so I try to at least space out the necessities. Knowing what I have in each size is important. It also means I won't miss out on really cute items because it was mixed in the wrong place.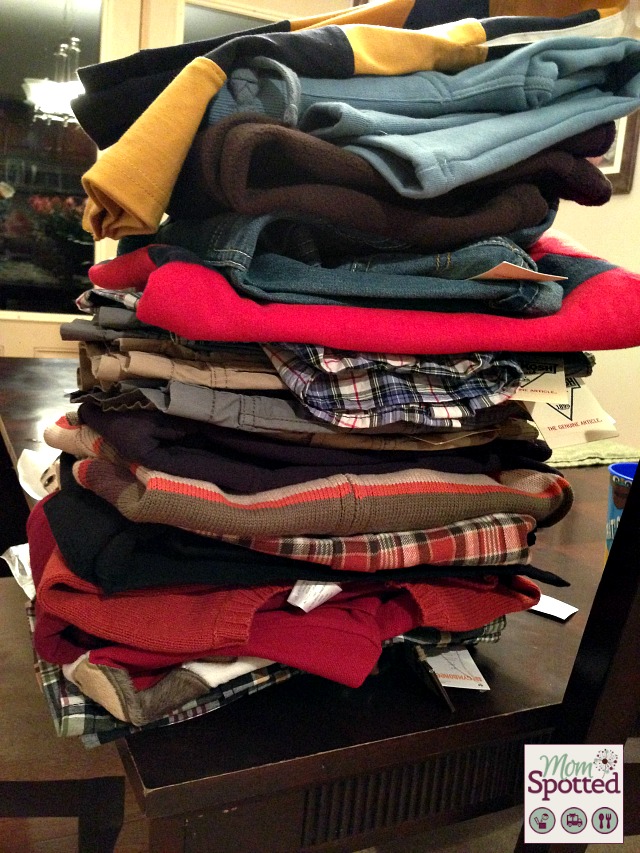 I also have two older boys and like most I try to save what I can. Realistically, I've come to terms knowing they are all almost 6 years apart and handing something of Johnny's down to Sawyer just isn't going to happen. However, things like snow gear, jackets, sports equipment, etc can be if I store it properly and know where it is when I need it.
I went with tubs I already had on hand so they are all mismatched in size. They are all also full which means this is just a temporary fix but hopefully in all the juggling I'll clear up other containers elsewhere. I always buy clear because seeing inside them is really helpful.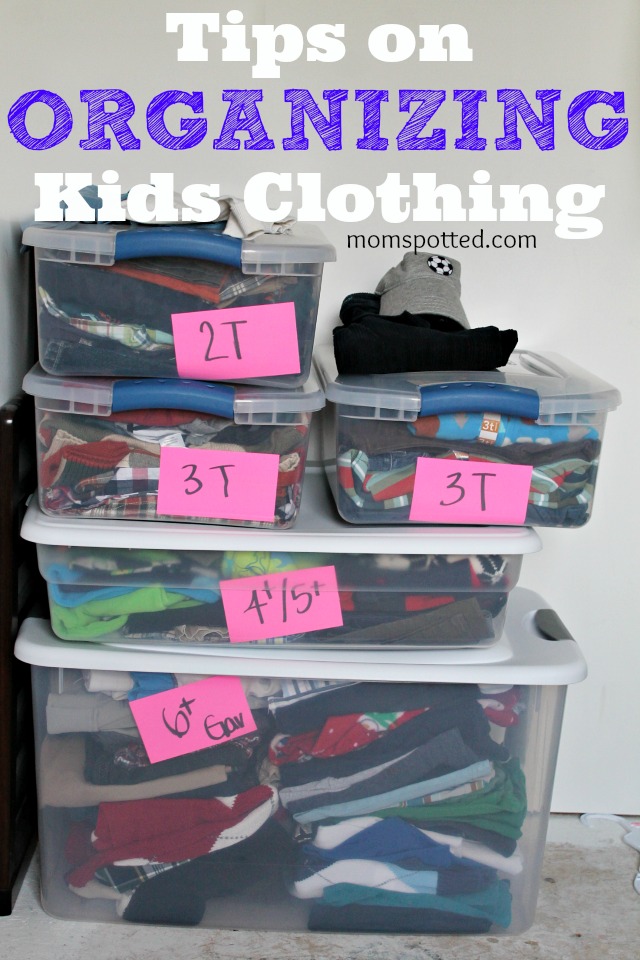 I brought all the clothing out and spread it out across my bed. Then I paired it up by size. I stuck an index card in with the size on it on the side of each tote so when I find other deals I can quickly and easily put them away in the coordinating bins. I also wrote GAV on the bottom tote. This box is all used clothing and by used I mean bought and washed once and he refused to wear it. Gavin is a very picky child and combine that with how stubborn he is and I give up. Last school year AFTER we went school shopping he decided he hated jeans and refused to wear them again. We have lots of clothing like that.
Since he has the space we leave them in his closet like this. If we needed to place it in the basement we'd still use them same totes but maybe I'll wrap mailing tape around the middle to keep the sides tight just in case a mouse or squirrel got in. The plastic is great because if a pipe burst whatever is inside is protected. I always purchase clear totes so I can see what is inside without having to tear into them all.
Be aware of where you are storing clothing. Any kind of moisture or dark place usually have something that could make the clothing smell, discolor, or deteriorate. Keeping the clothing in tip-top shape is important. We keep a humidifier in our basement so I know my stuff will stay mold/mildew free.
What about the clothes I'm using?
Hang By Size- I bought Sugarbooger Baby Closet Dividers and they were super helpful. I placed them on the bar when I was pregnant and whenever I washed new clothing it went right in behind the proper size tag. This was a huge help.
Use Organizers- If you don't have a lot of drawer space invest in good closet organizers. If I was to start all over I'd definitely invest in something like this crazy cheap Delta 48 Piece Nursery Storage Set in Beige. It has everything you really need to get you started.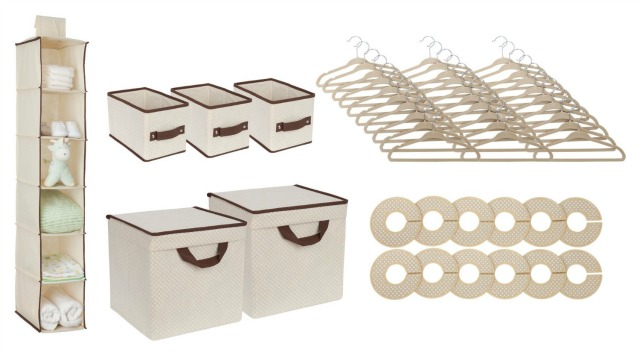 Use Drawers Accordingly- Figure out what you can't hang. Sawyer's drawers turned out to be way shorter then we expected which meant they could only hold so much. We chose to use our drawers strictly for onesies, socks, swimwear, pants of all kinds, and linen (spare sheets and changing pad covers).
Inventory Often- If it doesn't fit clear it on out! Don't go searching for (or buying!) hangers when you have clothing you're child can't or won't wear anymore. If it doesn't fit, get rid of it.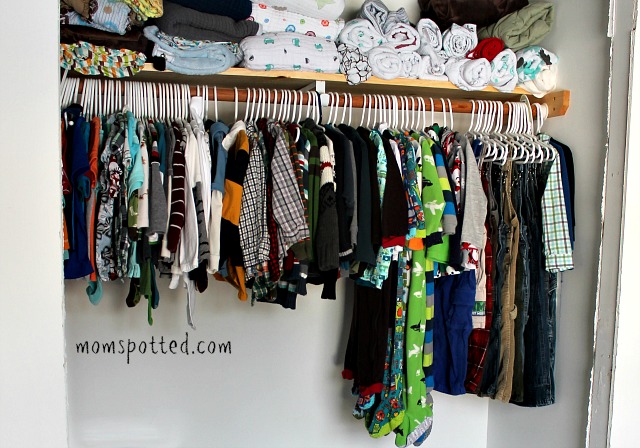 That brings us full circle to organize your stored clothing. As you remove it box it up immediately. Don't let it start a mess in the room.
What if we don't need to save it anymore?
There several options for you. First you need to know if you want to donate or sell.
If you want it gone immediately and out of the way your best bet is to donate. You can bring it to the Goodwill or find a place local to you that needs items. Contact your local churches or schools. I've found that churches are often in need and schools can help connect you to families in real need (or at least point you in the right direction). We've also donated to daycare centers who are constantly in need or spare clothing because the other spare clothing never gets returned. Of course if you have a close friend or family member who needs them I'm sure they'd greatly appreciate them too!
If you choose to sell it it will require some effort on your end. There are many different ways to sell your kids clothing. My favorite way is consigning. If you don't know where your local consignment shops are check out Consignment Mommies for a full listing. Some are open year round or, like my favorite one, it's twice a year. These sales often require you do all the hanging and tagging to their specifications. They often charge a small percentage and flat fee too.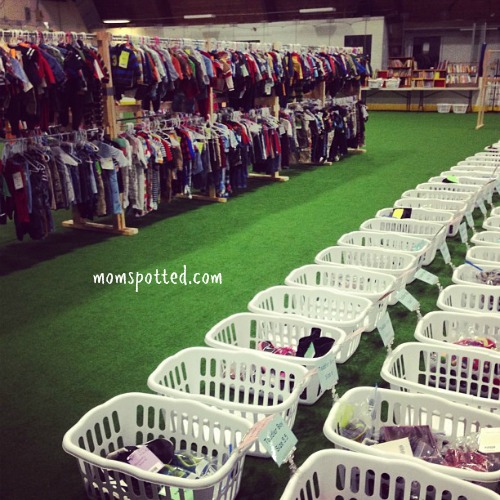 Another option is Craigs List and Facebook Groups. You take photos of everything, make a listing, then meet up with the people. I'm not as good at these. They require more fast attention and I get frustrated with people not showing up or wanting a bag full of clothing for $1. No matter what my main advice is to meet these people in a public setting! I always meet in the same three spots but if possible I always send my husband.
What are your tips to keeping your children's clothing organized?