Disclosure: I received complementary Portable North Pole products in exchange for this review. All thoughts and opinions are my own.

I love experiencing the magic of Christmas with my kids.  Santa is of course a big part of the magical side of Christmas.  Hayden looks forward to Christmas all year long.  It is for sure his favorite holiday.  He loves planning what kind of cookies he will have out for Santa, and will leave out some carrots for the reindeer.  He has been thinking about his Christmas list for months!  I have heard about a "red lightsaber" on his list since at least August.   We will make our way to see Santa this year and I'm sure that lightsaber will be the first thing Hayden tells him.  Hayden is such a good boy and tries his hardest to be on Santa's nice list, I'm sure he will find some great things under our tree this year.
Another great we bring the magic of Christmas and Santa to our Christmas traditions is the Portable North Pole.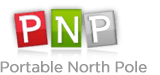 The PNP is perfect for anyone, young or old.  Hayden of course really loves it because he is totally invested in Santa, but even adults will enjoy the great customizable videos.  There are so many ways you can personalize your messages from Santa.  It is also so easy to make a video and only takes a few minutes.  It is also really fun!  You can add what grade your child is in, big events that may have happened during the year, and a specific gift they may want.   I loved that I was able to add that we had a "new addition" to our family this year.  I also really like that you can say what your child has been working on such as potty training, listening to mommy/daddy, or sharing toys.  Hayden has been working on cleaning up and putting away all of his toys this year and I know he will be excited to hear that Santa has noticed. 
Another great feature is when you are first adding the name of your child or video recipient you can test the pronunciation of their name.  That way you can make sure Santa is really going to say your kiddos name correctly. 
There are multiple different video scenarios.  You can have Santa be with reindeer or in his workshop.  You can even pick a video for nice and naughty kids or adults. 
PNP is such a special way to experience Christmas with your kids.  Hayden loves it and I love watching his eyes light up as he sees Santa talking to him.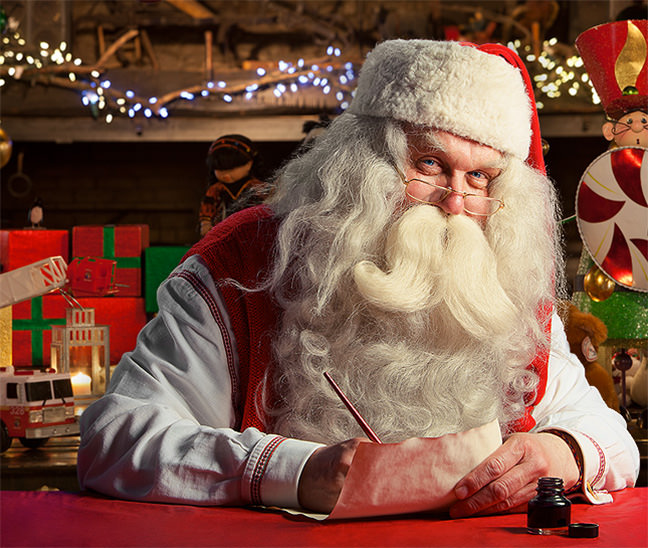 You can visit www.portablenorthpole.com where you will find lots of different personalized products you can purchase to help you remember your Christmas memories.  A few of the choices are the very popular personalized video message, a letter from Santa, a coloring book, or a place mat.  PNP currently collaborates with over 40 regional Children's Hospitals in the U.S. and donates 5% of all online sales to the  Children's Hospital close to the buyer's location.
•         Portable North Pole's standard Santa's Video, Retail: Free
A FREE personalized video message from Santa Claus filled with magic and exciting discoveries for your loved ones.
•         Premium Video, Retail: $3.99
Premium videos includes almost 6 minutes of personalized video message from Santa Claus, features 3 additional photos and more personal details, a clip of Santa's riding on his sleigh and even a personalized Christmas carol!
•         Portable North Pole's Mobile App, Retail: $3.99 for iOS and Android; $4.99 HD app for iPad and iPad mini
Portable North Pole offers iOS and Android users an application to create Christmas magic on their mobile devices. The newly updated PNP app includes: credit to create and access premium videos, call from Santa himself, an Advent Calendar game, Christmas Radar, Countdown game and access to a PNP account to synchronize with your online content.
•         Santa Sprint: PNP Adventure, $2.99
This unique Christmas adventure game, for iOS devices (iPhone, iPad, iPod), provides hours of fun for the whole family. Guided by the voice of Santa, kids can help him get ready for Christmas and unlock exclusive video stories as they complete the different levels.
(In App purchase $1.99 for coin doubler; $0.99 for 10 "second chance" bundle)
•         Portable North Pole's Santa's Phone Call, Retail $3.99 for one call or $6.99 for three calls
Santa has a very important message for your loved one! He will pick up the phone and call directly to deliver his personalized message. Santa's call will last approximately two minutes and you can choose between 14 message options.
The Portable North Pole is such a great way to make Christmas magic with your family.  It is also a great way to say "Merry Christmas" to your friends from Santa.
You can learn more about the PNP Santa here:
·         Find us on Facebook: www.facebook.com/PNPSANTA
·         Follow us on Twitter: @PNPSanta and @PNPElf
·         Pin on Pinterest: http://www.pinterest.com/pnpsanta/
·         You Tube: http://www.youtube.com/user/PNPSanta