I participated in a campaign on behalf of Mom Central Consulting for Sturm Foods, Inc. I received a promotional item and product samples as a thank you for participating.
I love coffee. If you know only a few things about me this should be one of them. I also love my Keurig. I've had it for just over a year but I hadn't been using it much. I had played around with a few brands of K-cups but I felt many of them were just so pricey that I couldn't justify it.
I tried to find different brands and play around but the boxes were so expensive and when you stand in one of those big box brand stores they have walls and walls of choices. It just all seemed overwhelming to me.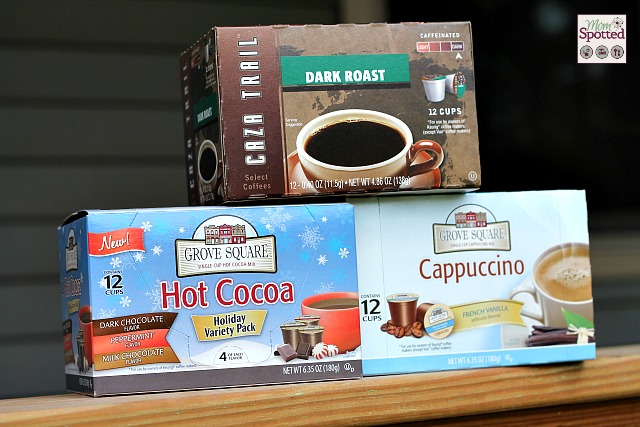 Then I was asked if I wanted to participate in a tasting of a few different kinds of K-cups from Caza Trail & Grove Square. I immediately said yes because they were all kinds I hadn't yet tried. When it came in my kids immediately went for the hot cocoa and they loved it! I, on the other hand, went for the cappuccino!
You may have actually heard me talking about it over the last month because it's my new go-to favorite! Wanna know the best part? Amazon sells it super cheap! I don't have to worry about breaking the bank when I stock up (and you can bet I stocked up!) and you can enjoy a nice cup of cappuccino any time!
When it came to the Dark Roast from Caza Trail I passed that along to my Dad as I'm not a dark coffee drinker. He loved it and made it clear he'd like the box for future uses and asked where he can buy more. I told him to check out Amazon since both Caza Trail & Grove Square are available there and that is where I bought more cappuccino from for under $10 for a pack of 24 K-Cups!
Have you tried Caza Trail & Grove Square coffees yet? If not, here's your chance! If so, then you're in luck!hold One of my readers will receive a 1-box product sample of Donut Shop Coffee! To enter just leave a comment which flavor you want to try most! Contest ends 12.19.13 at 11:59pm.