At our house we love reading.  Ever since Hayden was a little baby we would read.  We read during play time, we read before naps or bed time, and we even read during bath time with fun tub books.  I think because we started to read lots of books early and often Hayden now has his own appreciation for good books.  He is almost 5  and has been starting to sound out words and trying spell!  I about passed out when he started having an interest in sounding out words.  For now, Hayden and I do all his preschool learning at home and I am always looking for new ideas or inspiration to create fun learning opportunities.
I jumped at the opportunity when Mom It Forward Blogger Network asked me to be apart of the Alpha-Bits cereal campaign and they sent me 2 boxes of Alpha-Bits cereal to try.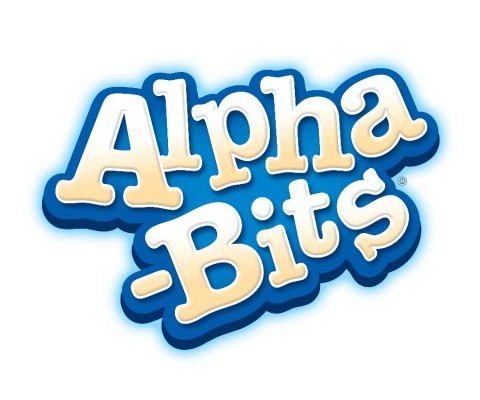 Hayden and I both loved this cereal.  I remember loving it as a kid and I can't believe I hadn't thought to use it as part of our learning activities and crafts yet!  Hayden loves Alpha-Bits because it is yummy!  He also loves that he can find all the letters in his name, and can try to spell lots of words.  As his mom I love it because it is a good option for little snack and it has been a fun  resource to teach him with.
Here are a few more fun facts about delicious Alpha-Bit cereal:
• Alpha-Bits is a nutritious, delicious breakfast for children. With 20g of whole grains and 12 essential vitamins and nutrients per 30g serving.*
• The shaped pieces can help little ones become familiar with the letters of the alphabet.
• Little ones love playing with their food and Alpha-Bits can help make breakfast and snack time educational!
• Alpha-Bits contains nutrients to support healthy brain development, like zinc and iron.**
• Involving your child in making snacks and fun recipes with Alpha-Bits can be a bonding experience, as well as a learning moment.
• If you would like more information or to find out where to buy Alpha-Bits you can visit Alpha-Bits website.
*Nutritionists recommend eating 3 or more servings of whole grain foods per day (about 16g whole grains per serving or at least 48g per day).
 **Post® Alpha-Bits® cereal is fortified with nutrients that help support healthy brain development in children. Iron helps deliver oxygen to the brain & body. Zinc helps brain & body cells grow and develop. Vitamins B1, B2, B6 & B12 help support a healthy nervous system.
Hayden and I made a fun little craft and a snack mix with Alpha-Bits cereal.  At Thanksgiving time I like to stress all the things he and our family has been blessed with.  I don't want our family being swept up in the "stuff" that the holiday season brings in.  I helped him make his own mini "Blessings Book."  He and our family have so many things to be grateful for and I thought this would be a good way to set the tone while we get ready for Thanksgiving.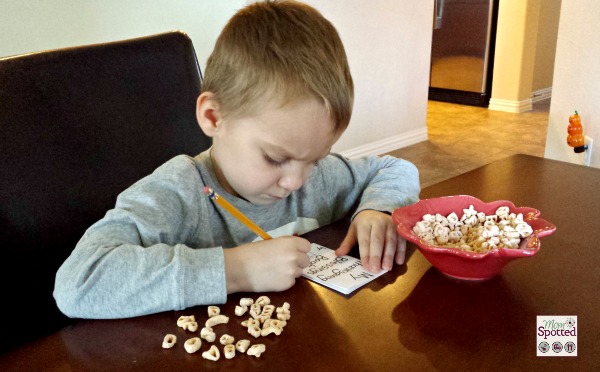 He told me things he was thankful for, we would sound out how they should be spelled, and then Hayden would draw a picture of the thing(s) he was thankful for.  Then we would search through our Alpha-Bits cereal to spell out the word and glue it onto the page.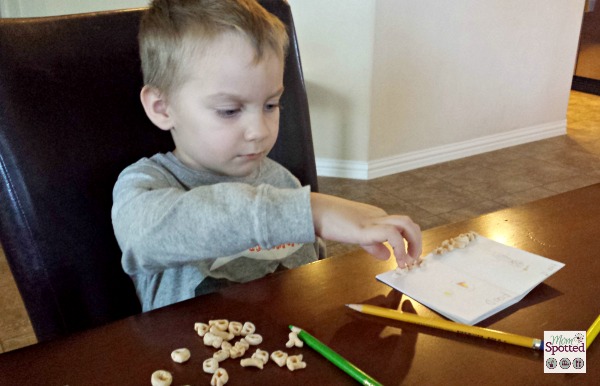 It was so fun searching through all those little letters to find the letter we were looking for.  Hayden kept calling it a "scavenger hunt for letters."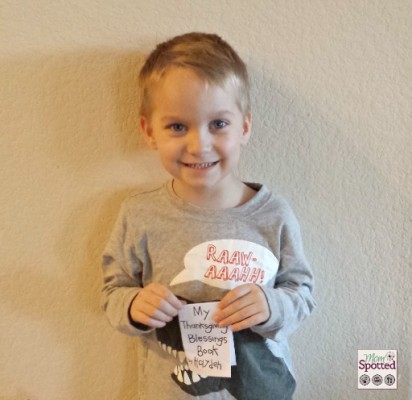 This was a quick, easy, fun, and yummy activity to do with my preschooler.  We were able to color, write, do some letter recognition, and then spell.  I loved hearing all the things he was thankful for.  It melted my heart when he said Halli was the very first thing he was thankful for.  He sure is a great big brother.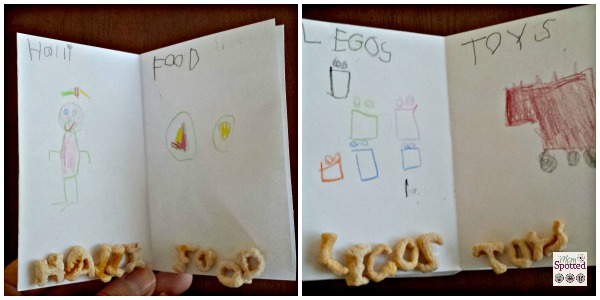 While we were on our "letter scavenger hunt," I had the thought of this being a perfect idea to keep little kiddos busy while waiting for their dinner on Thanksgiving.  I think kids would have a blast trying to spell out fun Thanksgiving words while waiting for some turkey.  Hayden and I made a snack mix using the Alpha-Bits cereal and put them into little cornucopias.  If you add a little name card in front of them this could be the perfect little name card for the kid(or grown up) table to keep hungry tummies busy.
To make the snack mix: Hayden and I added our Alpha Bits cereal, honey roasted peanuts, candy corn, m&m's, dried cranberries, and pretzels to a bowl.  Then we mixed away. It is so yummy.  The perfect combo of salty and sweet.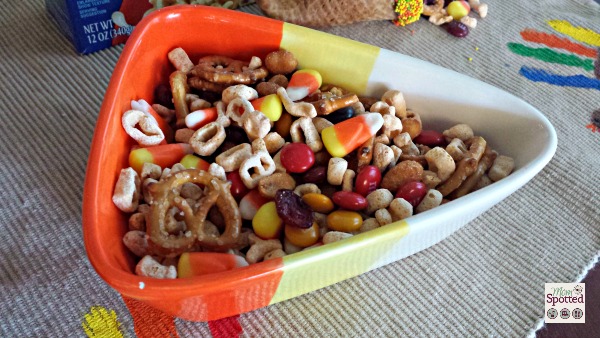 To make the cornucopia: I wrapped a damp paper towel around the bottom of a sugar cone.  I then put it in the microwave for 30 seconds.  Then I took the sugar cone out, unwrapped the paper towel, and started to bend and wrap the bottom around my finger to curl it.  To get it to curl more, place the paper towel back around the sugar cone and place in the microwave for 10 second intervals, unwrap the paper towel, and continue to curl the end.  Repeat this until it is as curled as you would like.  It is HOT so do NOT let your kiddos help with this part!  You also need to work quickly before your sugar cone cools.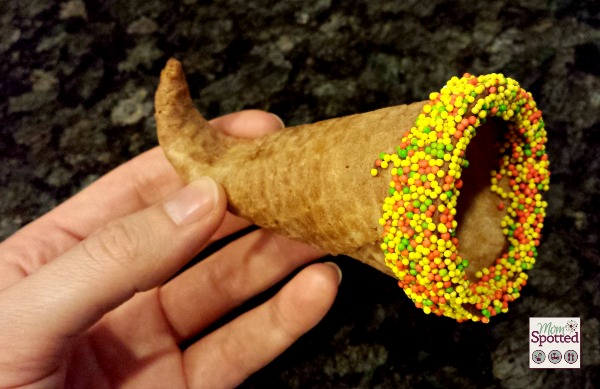 Then we melted some chocolate bark and dipped in the side with the opening.  Then we dipped it into some sprinkles.  Let it dry and then add the yummy Alpha-Bits snack mix.
You could have a list of Thanksgiving words on the table for your guests to try and spell. Like turkey, gobble, or pumpkin.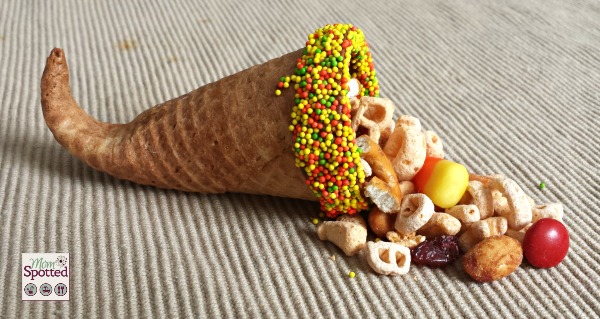 Hayden and I LOVED Alpha-Bits cereal.  We will eat and use it for fun snacks or activities all year long!