Is everyone ready for Halloween?! Can you believe it is only a few weeks away?  I think Halloween is one of my favorite Holidays.  Especially with kids.  All the spooky decorations, fun Halloween themed crafts and treats, and getting to dress up!  Plus hello…lots of chocolate and candy! Halloween is so much fun.  At my house we go all out at the holidays, and I always try to add fun seasonal books to our home library.  We have a new favorite Halloween book that has recently been made into a movie that I've been so excited to share with y'all!  You will love it and so will your kiddos.
"Room on the Broom" is the story of a kind witch who invites some unexpected animals to join her on her broom, much to the frustration of her cat. Just as the witch is about to be eaten by a hungry dragon, all the animals use their wits to work together and save her. The charming story is full of humor, adventure – and just the right amount of suspense!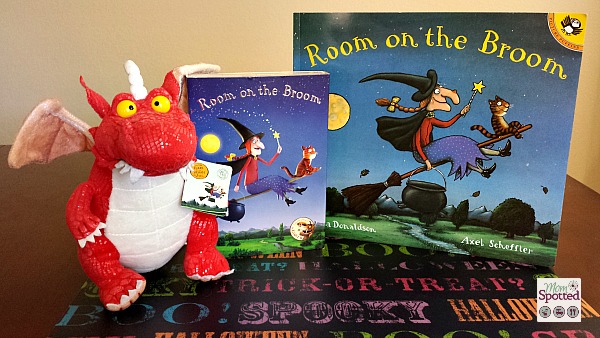 It is the perfect book and movie combo for Halloween.  The art work in the book is gorgeous and the story line is so clever.  Hayden wasn't expecting such a thrilling ending and now often pretends to be a hungry witch eating dragon. 🙂  You MUST read this book and then watch the movie with your kids.  We have read it so many times now that Hayden knows it by heart and often reads it to himself or Halli multiple times a day.  It is such a great story about friendship and all the characters are so darling.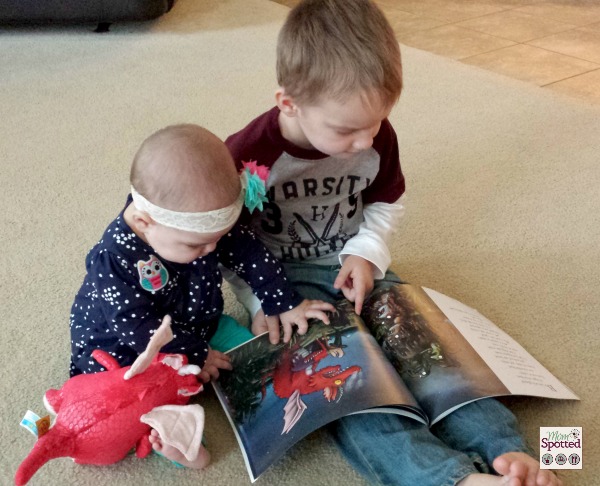 The movie is also really well done, and I loved that they added a little more back story to each of the animals.  It adds so much personality to each of the unique characters.  Hayden couldn't help but giggle all the way through.
One of you lucky boys and ghouls(see what I did there? 😉 ) have the chance to win a really awesome SPOOK-tacular prize pack.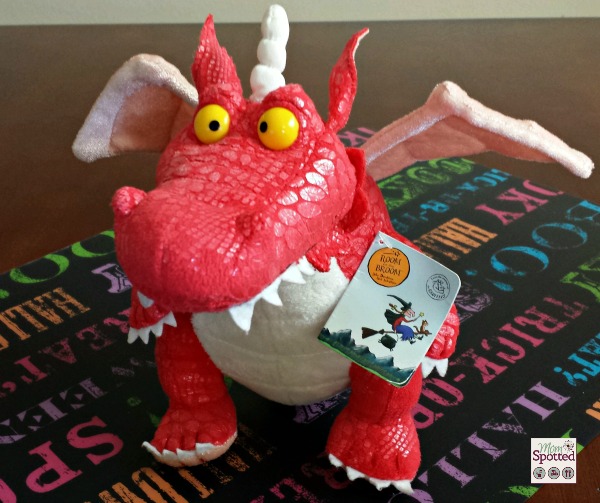 •   "Room on the Broom" DVD
•   "Room on the Broom" softcover book
•   "Room on the Broom" plush toy- We received the Dragon plush toy. He is darling with his yellow googly eyes, and has a tiny bit of shiny to his scales.  Hayden is in HEAVEN! playing with him.  The Dragon looks just like the one in the book and he has been flying around our house for days.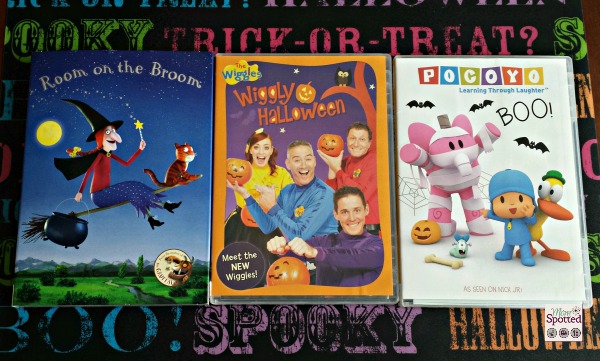 •   The Wiggles "Wiggly Halloween" DVD–  To be totally honest, The Wiggles aren't always my favorite.  BUT!  This DVD has lots of fun Halloween songs that we have had fun singing even when the movie is over.  Any kiddo would love singing about Mumbles the Monster.
•   Pocoyo "Boo" DVD-  Hayden loved how silly Pocoyo and all of his friends are.  It is the perfect silly Halloween DVD.
Total Prize Value: $65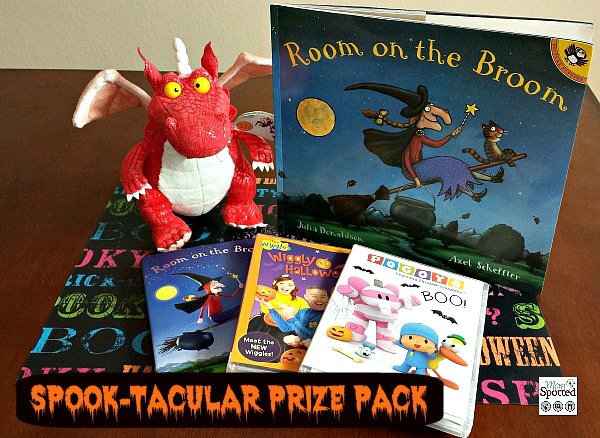 I love that this Halloween Prize pack is FUN, and not scary. Your entire family will love it.
Right now one (1) Mom Spotted readers has the opportunity to win a Halloween Themed Prize Pack. To enter use the Rafflecopter form below.
Contest ends 11.11.13 at 11:59pm. For Official Giveaway Rules click here.