I am addicted to reading food blogs.  I love them.  I love finding great food blogs that always have tried and true recipes.  Recipes that don't require weird ingredients, that are always delicious, and can please my 4 year old.  Is that too much to ask?  Mels Kitchen Cafe is one of my favorites.  I use multiple of her recipes in our weekly dinner rotations.  One of my family's favorite meals is Mel's Honey Lime Enchiladas.
They are good.  Like really goooood.  Knock your socks off, and impress your friends good.  They are sweet with just a tiny bit of spice (but not hot! my 4 year old eats them) to give them great flavor.  They use already cooked shredded chicken(or pork) and are a breeze to put together.  I make them for a take in meal for someone, when friends come over for dinner, and I have brought them to potlucks.  I always get compliments and asked what is in them because they aren't your average enchiladas.  I might be being a little dramatic, but these enchiladas will change your life.  I rarely make another version anymore.  Right before I had Halli I made a ton of freezer meals and this one worked perfectly.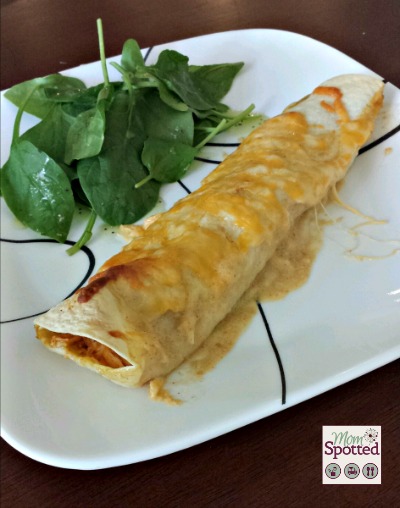 Make room for these heavenly enchiladas on your menu plans.  They are a great go to for a week night dinner that your entire family will gobble up.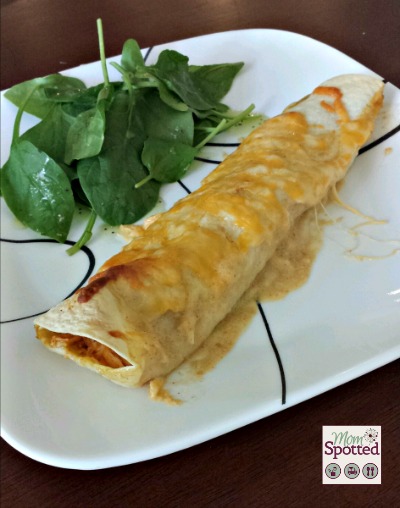 Honey Lime Enchiladas
I love that this recipe calls for COOKED chicken. I usually shred or cut lots of chicken ahead of time and then use it throughout the week. I make the marinade in the morning and it is ready to all be thrown together at dinner.
Ingredients
6

tablespoons

honey

5

tablespoons

lime juice

1-2 large limes

1

tablespoon

chili powder

1/2

teaspoon

garlic powder

2

pounds

chicken

cooked and shredded (3-4 boneless, skinless chicken breasts)

1

medium onion

diced

2

cloves

of garlic

diced

8-10

fajita-size flour tortillas

1

pound

Colby jack or Monterey jack cheese

shredded

16

ounces

green enchilada sauce

1/2

cup

plain Greek yogurt

or heavy cream, sour cream, or half-and-half
Instructions
Mix together the honey, lime juice, chili powder and garlic powder into a Ziploc bag (or other covered container) then add the COOKED shredded chicken. Sauté onion and garlic in a little olive oil and add to the meat mixture. Place in the refrigerator and let it marinate for at least 1/2 hour and up to 8 hours.

Lightly grease a 9X13-inch pan with nonstick cooking spray and pour 1/2 cup of the enchilada sauce on the bottom of the pan. (I have also lined my pan with foil first, then spray the foil for easy clean up.)

Lay out tortillas and equally fill them with cheese and the chicken while reserving the leftover marinade. Save about 1 cup of cheese to sprinkle on top of enchiladas.

Roll tortillas up and arrange them seam down into the prepared pan.

Whisk the left over enchilada sauce and chicken marinade with the plain Greek yogurt (or heavy cream/sour cream/half-and-half). Pour sauce on top of the enchiladas and top with cheese.

Bake at 350 degrees for 30-35 minutes until brown and crispy on top. Top with cilantro if desired.
Notes
*Freezable Meal: Using a aluminum 13x19 pan is great for freezer meals. It also makes for an easy clean up. Prepare enchiladas and cover with 2 sheets of foil.
To bake: preheat oven to 350 degrees and remove one of the sheets of foil. Without thawing first bake enchiladas for 1 hour and covered. Uncover and bake 30 minutes longer, or until bubbling and brown and crispy on top.