I love October. The leaves are changing color, the kids are back in routines, and the string of holidays is just about to start. It's also the time when our home starts filling up with candy and sweets. My boys love trick or treating and come home with piles of candy. Some of our favorites are Hershey's, anything Reese's related and my favorite- KitKats!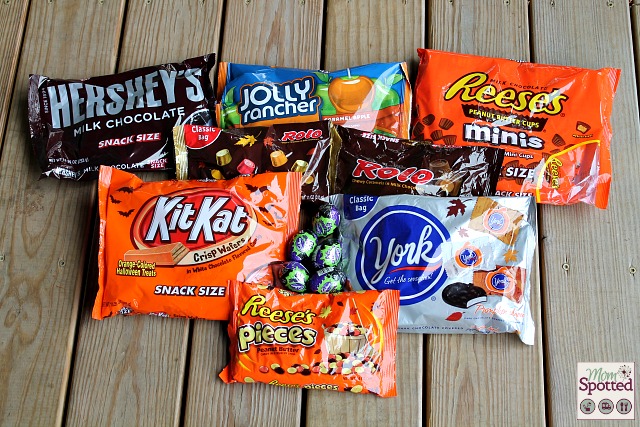 I know with my three boys all cute they will make a killing on the candy. How do you say no to this cuteness?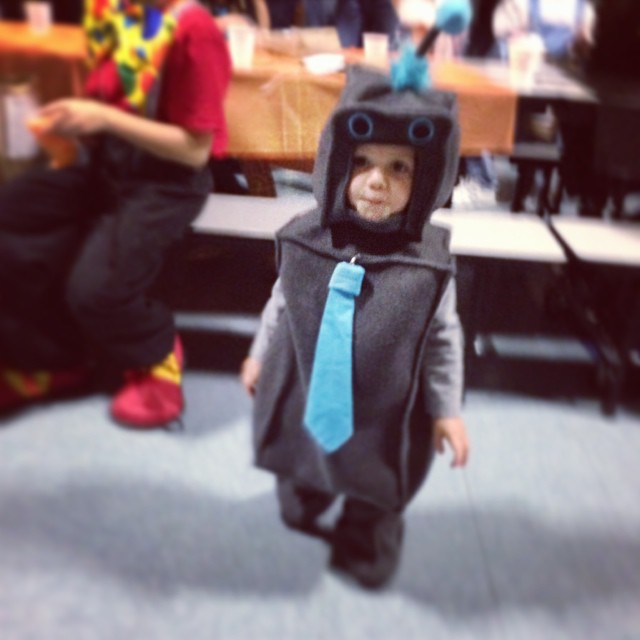 So I wanted to think of a fun recipe for before or after the holiday. Since we have lots of single candy this is a great way to use them up. Take your cake pan or if you have one- I love my 12-Cavity Nonstick Brownie Pan from Wilton. Layer cookie dough, then chocolate bar, then brownie batter and bake for 20-25 minutes (longer if you use a regular pan). Let cool then remove.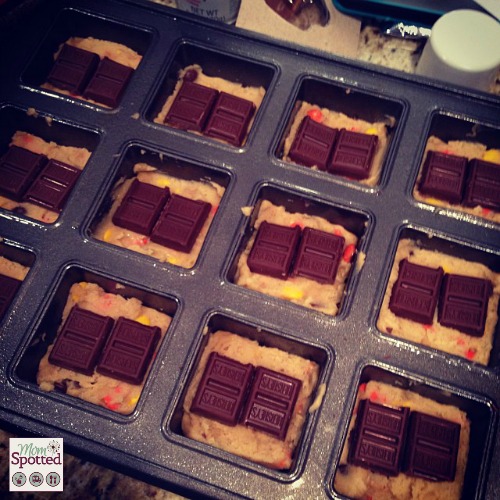 When you remove it from the pan you'll end up with this. Delicious but simple. I wanted something to take it to the next level.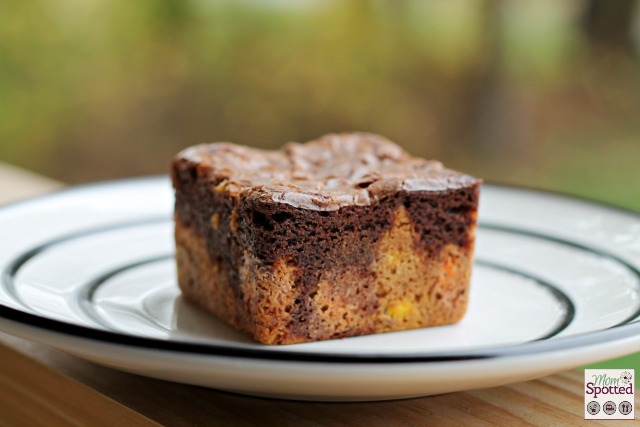 So I scooped some Reese's PB Cup ice cream on top. Drizzled it with Hershey's syrup and then shaved a Hershey's bar over it and sprinkled with Mini Reese's Peanut Butter Cups.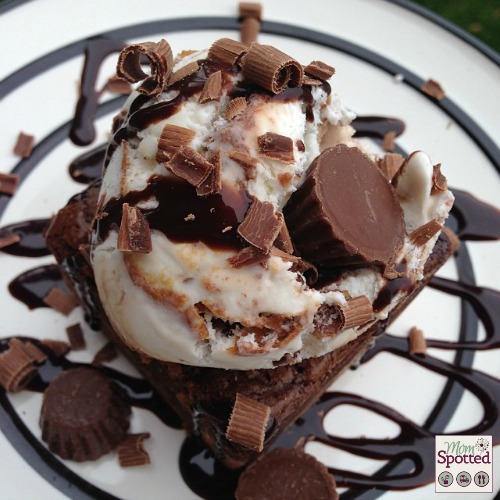 It was a huge hit! My oldest isn't a huge PB fan so we added little Hershey Bar pieces to his. Doesn't this look delicious. The boys love sticking them in the microwave for a few seconds to warm them up if they aren't being eaten at the time of baking. So good!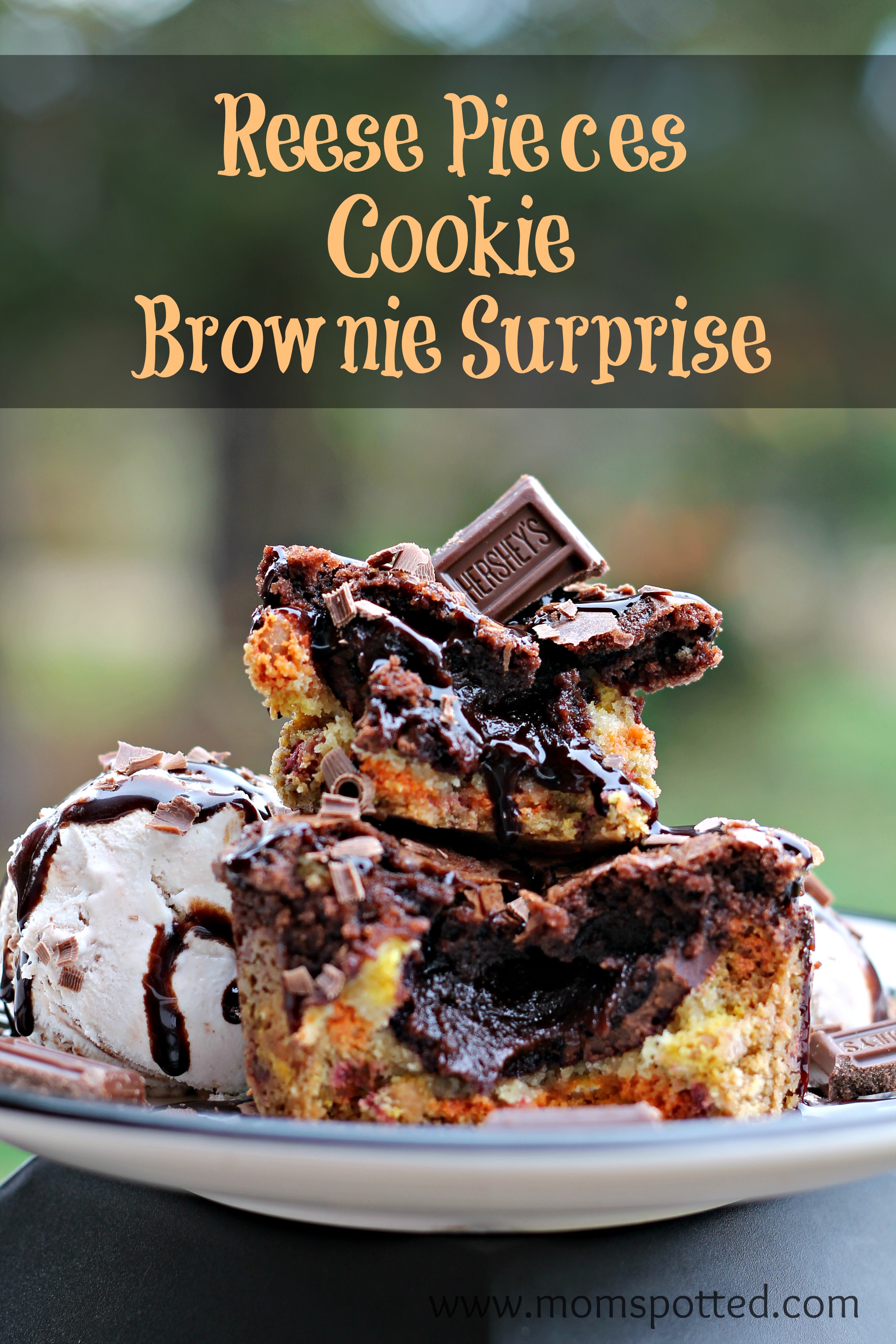 My boys said it was amazing! I have to agree.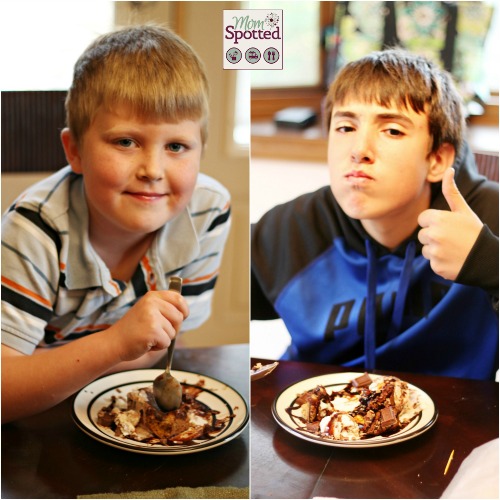 Here's the recipe all together in case you decide to print it 🙂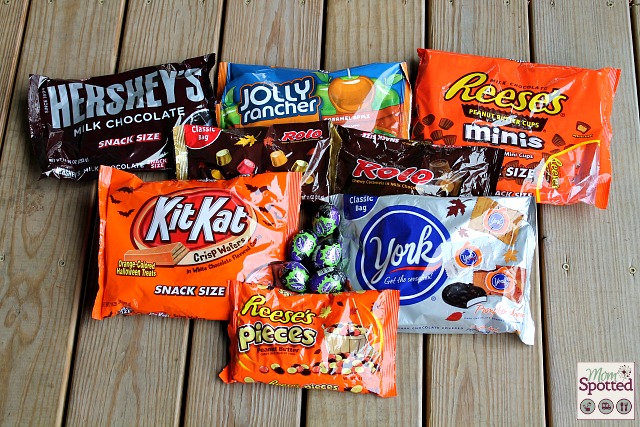 Reese's Pieces Cookie Brownie Surprise Recipe
Great use of Halloween candy!
Ingredients
Batch of your favorite cookie dough recipe.

chip free

2

Cups

Reese Pieces

Brownie Mix

any + ingredients required for mix

Mini Hershey Bars OR Full Size PB Cups
Instructions
Preheat oven to 375. Spray pan.

Mix in Reese's Pieces with your favorite cookie dough. We used favorite on the back of a chocolate chips package.

Next take cookie dough and layer bottom of cake pan. Only fill half way.

Break Hershey bars and place in middle (or place single PB Cup). Cover with brownie mix.

Bake for 20 minutes or until tooth pick pulls clean. Remember you will have a gooey center.

Remove and cool before removing from pan.

Serve with ice cream and favorite candy toppings. Use vegetable peeler to create fun chocolate curls with a chocolate bar.
This post is SPONSORED by Global Influence with PRODUCT provided by Hershey's.