My Facebook and Instagram are flooded with pictures of cute kiddos with fresh haircuts, backpacks, and new clothes.  Most of you are in full back to school mode.  I am grateful that I have one more year with Hayden at home before he starts Kindergarten.  Even without a kiddo actually in school, this time of year brings the feeling to get back into a routine and schedule.  To shake the sand out of the beach bag, getting out of pj's before noon, and have an actual bedtime again.  Part of my routine is meal planning and having real dinners again.  Sometimes there are just those days when it is 4:00pm on a week night and you know everyone will be hungry in about an hour but you've got nothin'…. I have that something for you!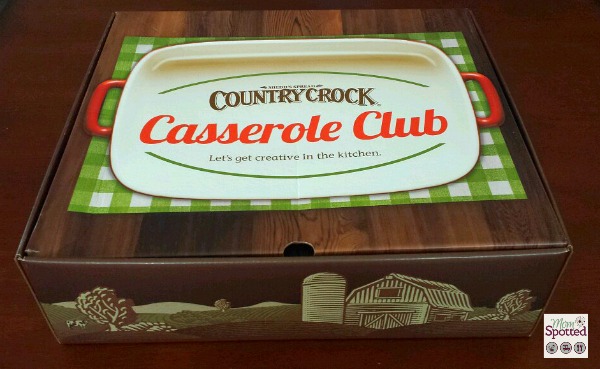 Country Crock let me be apart of their Country Crock Casserole Club and asked me to put a twist on one of their recipes.  It was so fun!  They sent me an awesome kit and said to get creative with the contents inside.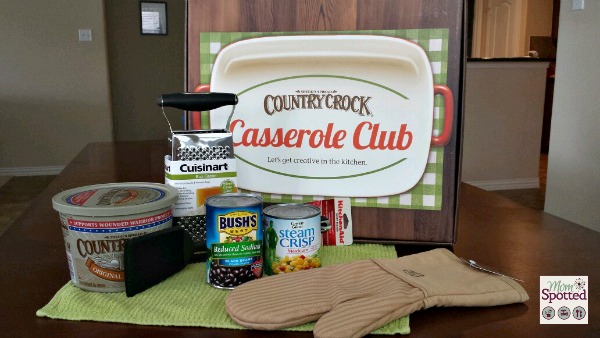 Those great people at Country Crock gave me some tools to help me with my culinary challenge.  One of the tools was a recipe card for Mexican Beef and Corn Casserole.  The great thing about casseroles is you can tweak them to your own family's taste and use what you have in your own pantry.  I did just that and made Tex Mex Cornbread Casserole.  It came together super fast and my family gobbled it up.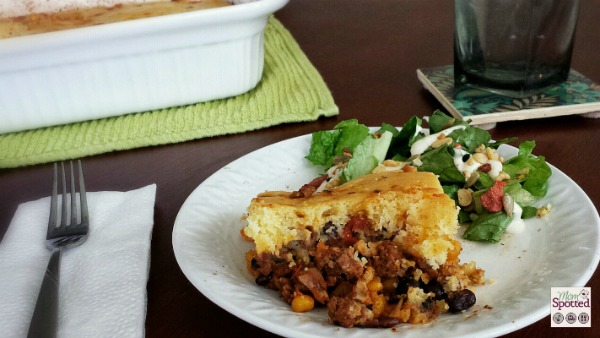 Tex Mex Cornbread Casserole
INGREDIENTS:
1 lb. lean ground beef
1 Medium Onion, diced
2 cloves garlic, minced
1/3 cup chopped fresh cilantro, (optional)
1 can (15.5 oz.) reduced sodium black beans, drained
1 can (11 oz.) Mexicorn, drained
2 Tbsp. Country Crock® Spread
1/2 cup salsa
2 tablespoons chile powder
2 teaspoons ground cumin
Salt and Pepper to taste
1/2 cup shredded low fat cheddar cheese
Corn Bread Topping:
1/2 cup cornmeal
1 ½ cup flour
1/3 cup sugar
1 tablespoon baking powder
1/2 teaspoon salt
1/3 cup oil
2 eggs, beaten
1 ¼ cup milk
DIRECTIONS:
Preheat oven to 375°. Cook ground beef, and onion in a large 12-inch nonstick skillet over medium-high heat, stirring frequently, until beef is done. Remove beef from pan onto a plate and drain grease.  Set cooked beef aside.  Add Country Crock® Spread, black beans, corn and garlic back into the pan stirring until well combined.  Stir in chili powder, cumin, and salsa, cook an addition 2-3 minutes.  Remove from heat and add in the cooked beef and cilantro. Salt and Pepper to taste.
For the cornbread topping: Combine cornmeal, flour, sugar, baking powder and salt in a medium bowl. Make a well in the center and add the oil, beaten eggs and milk. Whisk together until just moistened and no dry spots remain.
Pour beef mixture into a lightly greased 13×9 casserole dish.  Top the beef mixture with cheese.  Then carefully spread the cornbread topping evenly over the cheese. 
Bake 40-45 minutes or until a tooth pick inserted into the center comes out clean or with a few moist crumbs. Let stand 5 minutes before serving.
Would you like to make this casserole, the original version or maybe one of your own?
Right now six (6) Mom Spotted readers has the opportunity to win a Prize from Country Crock.
ONE (1) GRAND PRIZE:
-KitchenAid Gourmet Short Turner
-Boxed Cheese Grater
-Oven mitt
-Country Crock VIP Coupon (good for one free tub)
-Recipe card- Mexican Beef & Corn Casserole
FIVE (5) Runner up prizes:
-Country Crock VIP Coupons.
To enter use the Rafflecopter form below.
Contest ends 9.23.13 at 11:59pm. For Official Giveaway Rules click here.