I love my dog. He really is a great dog. I never thought I'd say that. I remember when we first got him and how much I fought getting him. Now, I can't imagine not having him. Charlie, our family dog, has been such a great addition. I really thought getting a puppy just a couple weeks before having a baby was going to be too much but it worked out really well. Charlie is a Morkie. If you haven't heard of a Morkie before that is a designer breed between a Yorkshire Terrier and a Maltese. It just so happens it's the perfect mix. He's sweet, small, and best of all hypoallergenic.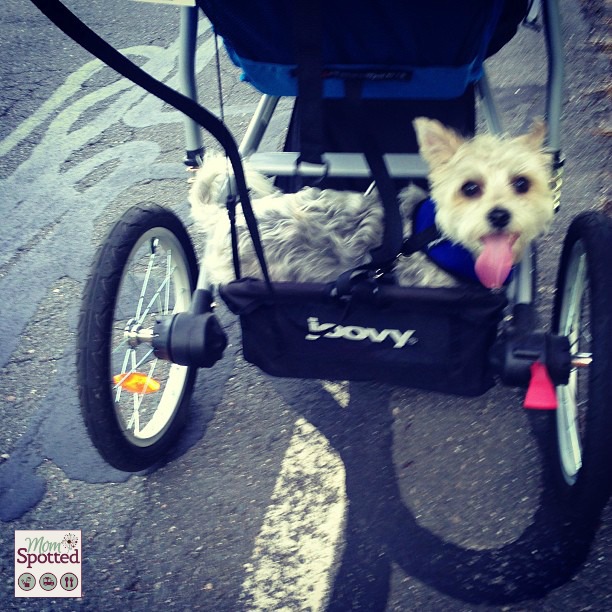 As you know I've lost a lot of weight lately. I'm up to 35 pounds now. I've done it by hitting the trails. Along the way I've tested out quite a few apps. I really like using an app because it allows me to see how far and how fast I've gone. Purina® Pro Plan® and MapMyFitness have teamed up for a great promotion! If you haven't heard of MapMyFitness before let me share that it is a great site to track you workouts, routes, and your achievements. You can also use it to track what you're eating and how many calories you're consuming. I tested it out and really liked it. I'm currently using two apps together that do exactly what this one app does.
Right now Purina® Pro Plan® and MapMyFitness have a challenge to get pet owners more active with their dogs! I love taking Charlie down to the trails with me. People often are impressed with my ability to run with a stroller with one hand and my little dog on a leash in the other. He's very afraid of the cars near the entrance and we have to take the road up to get to our street so I place him in the bottom of the stroller like you see above.
Beginning today through November 13th every time you sign up for one of their app challenges you'll also be signed up to WIN PRIZES. For more information on Purina® Pro Plan® click here. Remember to sign up for the Purina® Pro Plan® Fitness Group Page and take the 30 Day Leash On Challenge!
Purina® ProPlan® has partnered with MapMyFitness and created the Purina® ProPlan® Fitness Group Page to get pet owner's more active with their dogs. Check out the Fitness Group page here and start getting active with your dog today!
This is a sponsored conversation written by me on behalf of Purina® ProPlan® . The opinions and text are all mine.