My husband loves sports, and it has been fun watching him teach Hayden how to hit a baseball and throw a football.  He is passing down that "love of the game."  I know he will do the same for our 3 month old daughter too.  My husband follows so many sports related twitter accounts, blogs, and ESPN.  He knows and can remember a ton of sports trivia, stats and facts.  I tease him that if I told him the grocery list in sports, play by play form or was holding a ball while talking he would probably remember it better.  🙂
Hayden has been absorbing and loving all the little details of sports that my husband has been teaching him.  That sports time together is great "daddy time."   The Sports Illustrated Kids Big Book of Who: Football has been perfect to help get Hayd ready for football season, because Summer will be over before you know it!  It is a great hardcover book full of "The 101 Stars Every Fan Needs to Know."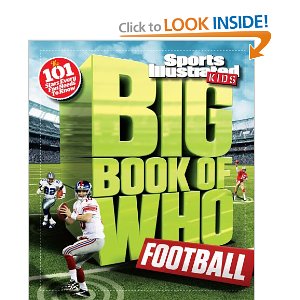 The second book in the series, this 128-page, full color collection of football profiles, facts and stats will bring the best players in professional football history to life. 
Young sports fans will return to again and again to The Big Book of Who: Football as an encyclopedia football resource with the classic touches that Sports Illustrated Kids is famous for— informative age-appropriate writing and world-class action photography.
Featuring gridiron greats like Dan Marino and Emmitt Smith, as well as current players such as Tom Brady, Cam Newton and Ray Lewis, The Big Book of Who: Football highlights football's greatest:
· Champions: The players who achieved football's ultimate prize, many of them more than once.
· Personalities: Men who are known for more than just the way they play the game on the field.
· Record Breakers: Players whose feats set the standards by which future accomplishments are measured.
· Super Scorers: Their specialty is putting the ball either through the uprights, or into the end zone.
· Yardage Kings: The players who have excelled at moving their teams up and down the field.
Hayden is definitely just like his daddy because he is remembering all sorts of football facts  that he has learned from his book.  He likes to read it with me while daddy is at work so he can ask him "Did you know…" questions when he gets home.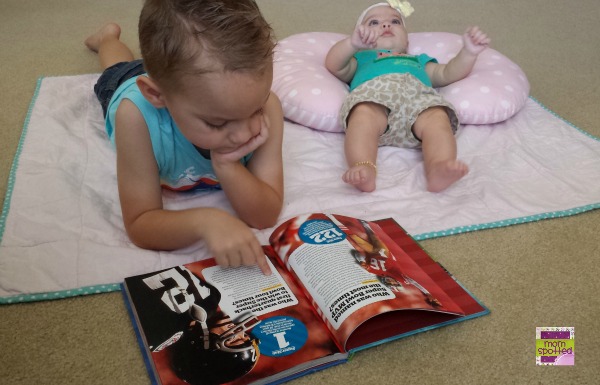 Reading this book with Hayden has been great for me too.  Confession: I do not really enjoy sports, and no very little to nothing about them.  I don't know players, the technical rules are lost on me, and I know zero sport history.  My poor sport loving husband… So I have been trying to make an effort to know more about football and sports in general so we can enjoy watching it together.  After all, he watches the Bachelorette with me and remembers some of the Bachelor's names.(he will love that I'm sharing that info with the world 🙂 )  But certainly I can remember a few quarterback names right?
The Sports Illustrated Kids Big Book of Who: Football  is great for any sport's lover in your life.  Or if you are like me and looking to brush up on your football knowledge.  There are some really great, and interesting facts that are sure to impress.  For example when I casually mention that my husbands all time favorite player Dan Marino holds the NFL record for the most career game-winning drives in the fourth quarter or overtime with 51, including playoffs.  Or when I talk about the player who has the most sacks in a season… (**cough** Michael Strahan **cough**) Boom.  He will be so impressed. 🙂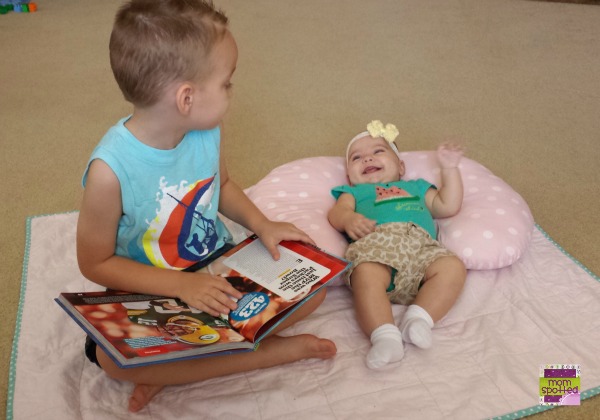 (how sweet is he to want to read and teach his little sister about football?  *sigh…oh my heart.)
I don't want to rush Summer, but I am getting excited for the Fall.  Bring on football season!
You can purchase the Sports Illustrated Kids Big Book of Who: Football directly from our affiliate Amazon! It retails for $17.95 and is currently marked down to $13.72!