I have a special place in my heart for all things Disney.  I grew up watching all Disney movies, and watched the Little Mermaid so many times I broke the VHS (ya know, the tape things before DVD's).  Now I get to enjoy all the Disney classics with my kids, and love all the new stuff Disney keeps coming up with.  Some of my son's favorite TV shows are on Disney Junior.  I just can't say enough good things about Disney.  I know the music will always be positive, family friendly and I don't ever have to worry about what my kids are listening to.
Disney has some great gift cards so you can download your own Disney music.  The Disney Music Store is easy to navigate and was fun finding music to download with my 4 year old.  There are so many options to choose from.  Anything from Jake and the Never Land Pirates, Aladdin, Cars, or Disney Lullaby's for my baby.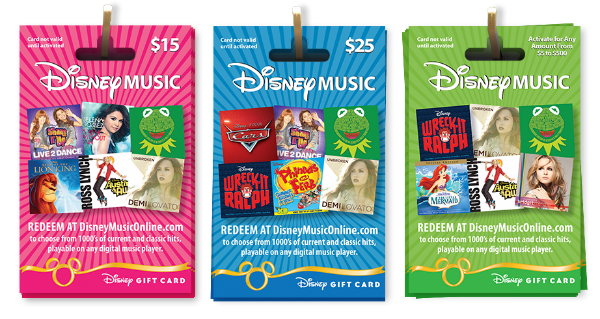 Disney music gift cards make music shopping simple and are perfect for graduation, birthdays and other special occasions. Consumers buy the cards, with face values of $15, $25 and custom variable amounts, at Wal-Mart and grocery retailers everywhere, where cards are activated upon purchase. From there, users may go to the Disney digital music store, enter a code and shop for instant downloads from a menu of over 12,000 tracks.
If I am ever stumped on what to get as a gift, Disney Music Gift Cards will now be my go to gift.  Songs may be purchased by entire soundtracks or individually.
The catalog of music available at the Disney digital music store includes current hit artists (Selena Gomez, Bridgit Mendler, and Demi Lovato), Disney Channel series and original movie soundtracks (Shake It Up, Austin & Ally, Let It Shine), film soundtracks (Brave, The Muppets, TRON: Legacy), inspired-by compilations (Frankenweenie Unleashed!, Muppets: The Green Album, Almost Alice) plus classic soundtracks (Beauty and the Beast, The Lion King, The Little Mermaid), Disney Junior soundtracks (Sofia the First, Jake and the Never Land Pirates), Disney Princess and Fairies compilations, Radio Disney favorites, Spanish language, Songs & Story, and many more.
We have been loving our new Disney tunes.  We listen to them while in the car, cleaning and doing our chores.  If your kiddos are ever dragging their feet to get things done, try turning on some Disney music.  Disney music always seems to help put a jump in our step, and makes everyone happier.
For more information on Disney music gift cards and a full list of retailers, please visit www.disneymusicgiftcard.com. To access the digital music store directly, go to www.disneymusicstore.com.