I've talked about how much we love learning at my house.  Hayden loves to learn.  He also loves dinosaurs and trains.  So who ever had the brilliant idea to create Dinosaur Train is #1 in my book.  I love that Dinosaur Train is educational, and Hayden loves that it combines two of his favorite things.  I also really appreciate that on Dinosaur Train they are constantly encouraging kids to get into nature and have kids make their own discoveries.
There is a "Dinosaurs A-Z" special that is being aired as part of PBS KIDS' summer learning initiative.  It will be airing on July 8th and 9th.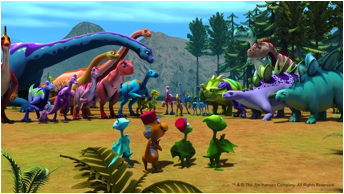 These fun episodes begin aboard the Dinosaur Train where Tiny gets the idea to gather all the dinosaurs in the "Dinosaurs A to Z" song for a picnic at Troodon Town. The conductor agrees, and as the Train starts picking up dinosaurs, Tiny, Buddy, Shiny and Don, help keep track of how many of the different species have come on board. They learn about classification and organize the dinosaurs by their species, features, and size. When all 26 dinosaurs finally come on board, the Train has more extra cars than ever before and they need an additional engine to help pull it! Once they arrive at Troodon Town for the picnic, Tiny leads the 26 different "A to Z" dinosaurs in a fun, rousing, and historic singing of the "Dinosaurs A to Z" song!
Airing on July 8 (Check your local TV listings for specific times)
Part One: Dinosaurs A to Z The Big Idea
Part Two: Spread the Word
Airing on July 9 (Check your local TV listings for specific times)
Part Three: Dinosaurs A to Z Classification
Part Four: Dinosaurs A to Z Picnic
We were so excited to find out that there is a great book that goes along with this episode.  Dinosaur Train's "Dinosaurs A-Z" by Andrea Posner-Sanchez and illustrated by Terry Izumi.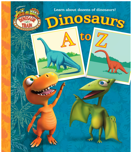 Meet 26 dinosaurs—one for each letter of the alphabet—in this Dinosaur Train™ alphabet book where Buddy, Mr. Conductor, and the other Dinosaur Train™ characters from the hit PBS KIDS animated series introduce dinosaurs from Apatosaurus to Zigongosaurus! Young paleontologists-in-training will love learning cool facts about 26 amazing dinosaurs. This awesome non-fiction book with a sturdy padded cover makes a great gift! Ages 3-5; SRP $11.99; 30 pages. Available wherever books are sold!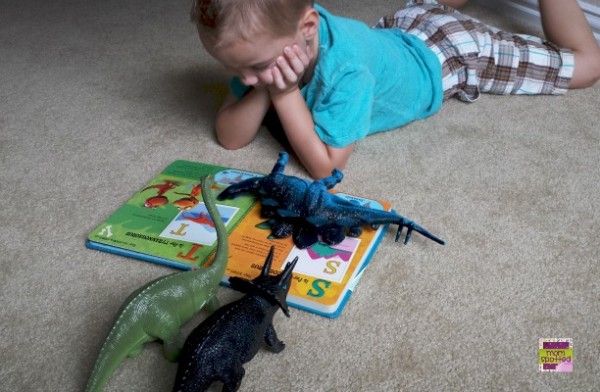 The book is amazing quality!  It is a good size book with a really nice padded cover.  Hayden loves all the pictures of his favorite friends from Dinosaur Train.  He has been getting his own dinosaurs to match to the pictures.  I really love that there is a ton of interesting facts and great learning material.  The books says where each dinosaur is from, what they eat, and a few other fun facts about them.  There is also a pronunciation guide next to the dinosaur's name(thank heavens!).  But Hayden already knows most of them and can say them perfectly.  The kid loves his dinosaurs and this is a great addition to our library.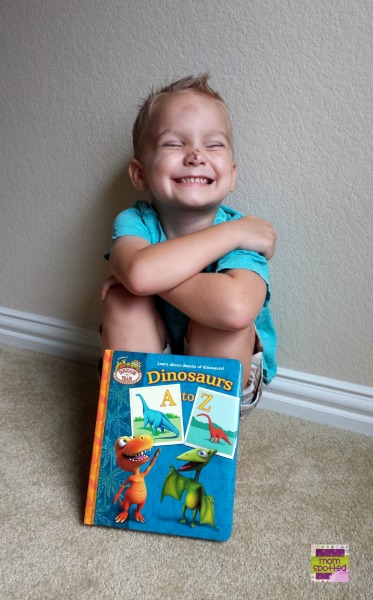 (…and if you are wondering what happened to my sweet boys poor face lets just say: 4th of July.  Racing. Tripped. Face first.  Winner concrete.  It's a right of passage for boys right? *sigh…his poor nose..and forehead.)
Follow Dinosaur Train, Follow The Jim Henson Company on twitter and facebook, Follow Random House Children's Books on twitter and facebook, and Follow PBS KIDS on twitter and facebook for all their latest updates.
Right now one (1) Mom Spotted readers has the opportunity to win a Dinosaurs Train's A-Z Book. To enter use the Rafflecopter form below.
Contest ends 7.22.13 at 11:59pm. For Official Giveaway Rules click here.