While getting ready to have my second baby I kept hearing the same funny comments from other moms about this being my second baby.  "Oh that second baby is rough/demanding/etc."  Then when we found out we were having a girl the comments continued, "Oh little girls are so fun, but emotional and dramatic…"  I didn't mind any of the comments.  I already felt prepared, this wasn't my first baby and their opinions only helped me feel more prepared.  My son was a really easy going baby.  Looking back I remember feeling frazzled and stressed as a new mom but he was such a good baby!  My daughter is almost 2 months old and all the comments were mostly true.  I like to say she is sweet and feisty! 🙂 She demands loves to be held, talked to and loved on at all times.  She cries much more than my son ever did, and isn't shy or quiet to let us know when she isn't happy about something.  I love her so much, but I am already a little nervous for the strong willed, opinionated, gorgeous little toddler my baby will grow into.  She definitely keeps us on our toes.
Thankfully we were able to try out the Bright Starts™ Playful Pals™ Portable Swing.  A good swing is one of those "must have" items on your getting ready for baby list. This would be the perfect swing to add to your list!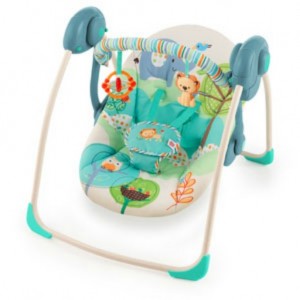 Bright Starts™ Playful Pals™ Portable Swing – another great way to soothe baby while allowing mom to be hands free! The swing has a comfort recline seat with 2 different positions to provide extra comfort for baby and comes with a TrueSpeed™ technology which maintains 6 different speeds as baby grows. The seat easily folds for storage and travel, perfect for the mom who is always on the go! Available at Target.com and BuyBuy Baby ($49.99)
I am able to put my sweet Halli in the Bright Starts™ Playful Pals™ Portable Swing and she is happy to just be sitting and swinging!  I am able to get the dishes done, vacuum, shower, or have some mommy time with my son.  I like that there are 6 different speeds on the swing.  I seem to up the speed level according to her fussiness level and it calms her right down.  She loves a to kick her little legs in the swing and "play."  She is safe and secure with the 5 point harness and won't wiggle herself out.  I really appreciate that the seat has 2 different recline positions.  The lower recline position perfectly cradles her and she has fallen asleep a few times while swinging.  Halli has reflux, so the days her reflux is bad the higher recline position is perfect.  The higher recline position will also be great for when she is a bigger baby and doesn't want it to be laying down.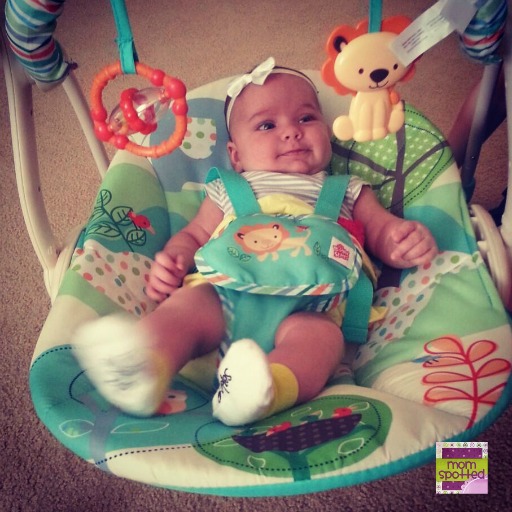 (she loves looking at that Lion!)
The chair is brightly colored with a darling nature scene.  It is light weight and easy to move from room to room.  It also folds up really quickly to store away.  I know I will be packing it up in the car when we go to a friend's house and would be perfect to take to grandmas.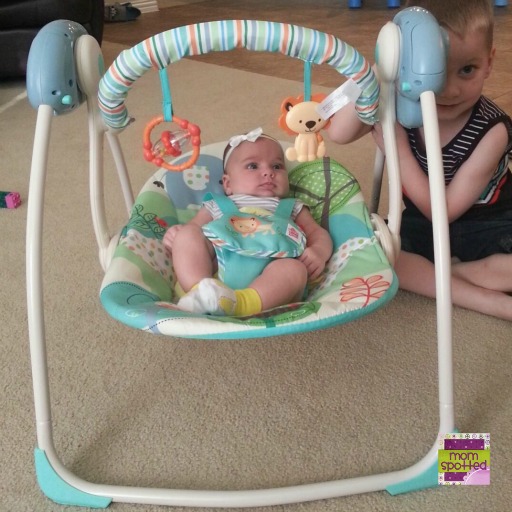 (brother couldn't let sister get all the attention 🙂 )
This would be a great gift for a baby shower or for your own baby necessities list. You can find it for purchase directly from their site, major retailers such as Buy Buy Baby and Target, or our affiliate Amazon for $54.99.
Have you found the "second child" thing to be true?  Who is easier to raise boys or girls?