Confession:  I am a hair product hoarder.  My poor husband gets only about 1/4th of the shower shelf.  Or bathroom space in general.  (Poor guy…this also applies to our closet)  I had heard of amika hair products before and had only heard great things.  My sister is actually in love with their hair straightener.
I'm pretty particular about my shampoo and conditioner.  I color my hair and most shampoos turn my blonde brassy and fade it quickly.  I also live in a ridiculous amount of humidity, so I need my shampoo to clean, and smooth it without weighing it down.  That's not asking for too much right?  ….Oh and it needs to smell good.  I love getting a wiff of my freshly cleaned hair.
amika Obliphica Color PHerfection Shampoo met all of my shampoo and hair needs!  And let me tell you…it smells sooo good.  I wish I could add a scratch and sniff button for you.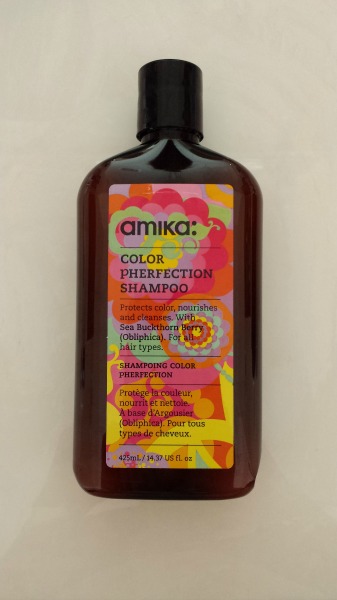 This breakthrough formula combines Obliphica (Sea Buckthorn Berry) seed oil & Wild Cherry Bark extract to deliver a luxurious lather that rinses clean. Vitamin E infuses strands with increased manageability, while the pH range 5.0-5.5 locks in color — leaving hair insanely radiant and shiny. This fabulous shampoo is for all hair types and free of parabens and artificial colors.
After using the shampoo my hair really was clean and shiny.  My hair was manageable and wasn't frizzy at all.  Because it is also paraben free with a perfect pH range I know my color will last and be fabulous for a long time.
It is by far my favorite shampoo that I would highly recommend to anyone with colored hair.