Last week my boys had the week off of school for spring vacation. We wanted to do something fun and away from home but we didn't want to go to far from home. We have visited Mystic, CT in the past and knew it was a great place to bring the kids. It's 2 hours away and we wanted to make the most of our time there so we decided to spend the night at the Hilton Mystic.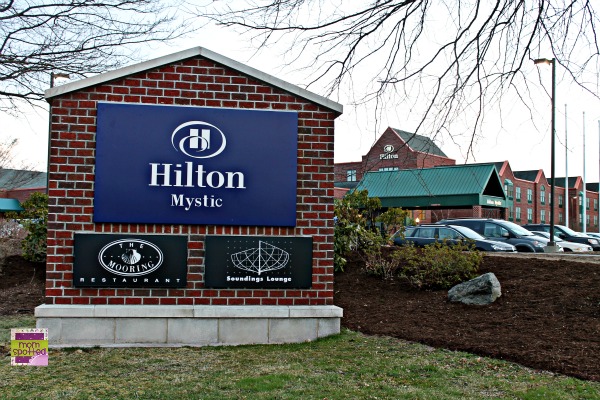 Discover a refreshing collection of guest rooms and suites at the Hilton Mystic. Each of our spacious accommodations features traditional fabric patterns with rich gold, tan, burgundy, and brown. Relax in a Jacuzzi suite while ordering room service. Take care of business with convenient high-speed Internet access and a comfortable work desk. It's all up to you. Whatever the reason for your stay, you can be certain that our alluring Mystic accommodations will offer the comfort and benchmark service you deserve.
182 spacious guest rooms, filled with thoughtful amenities
Five Jacuzzi suites, offering total relaxation for your vacation
High-speed Internet access
Two-line phones with voicemail
Comfortable work desks
In-room coffeemaker
In-room dining available
Hair dryer
Iron / ironing board
Hilton HHonors, frequent guest program
Check in time is at 3:00 pm daily
Check out time is at 12:00 pm daily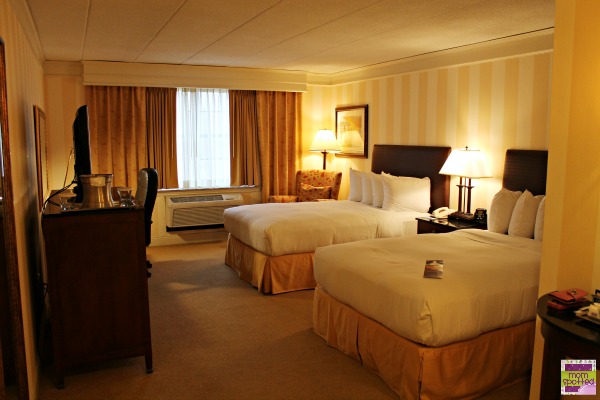 The rooms were specious and had great light and were welcoming from the moment we walked in.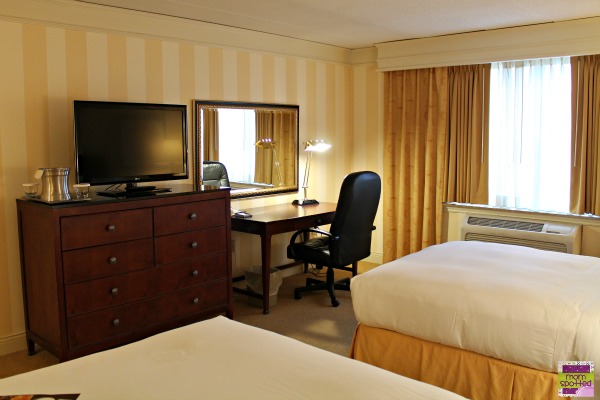 Since we had four children with us we required two rooms. The Hilton Mystic was able to accommodate with adjoining rooms. This was a huge hit with the older kids as they were able to have their own room and the adults and baby stayed in this room. This was also great for our peace of mind.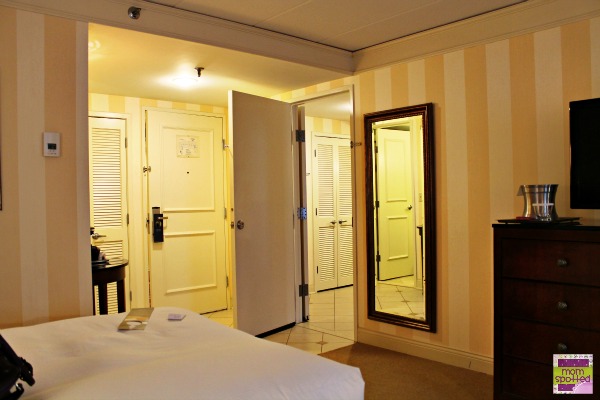 The bathrooms were slightly smaller then other Hilton's I've stayed at but it was still able to completely accommodate us. It does include a hair dryer too for those curious.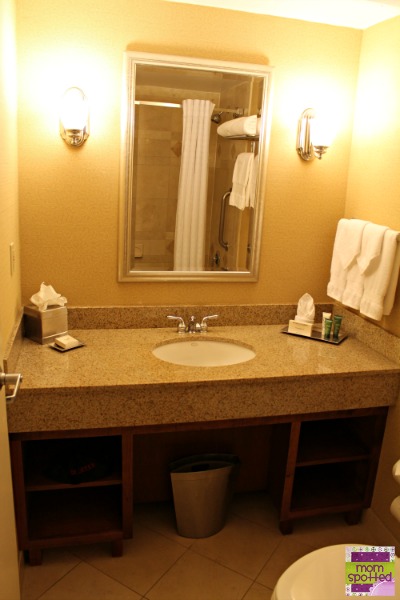 They have a heated indoor swimming pool, with outside pool deck. The pool was smaller then we expected with the deepest part only being 4.5 feet. There was plenty of places to sit though even though the pool was definitely the place to hang out at night.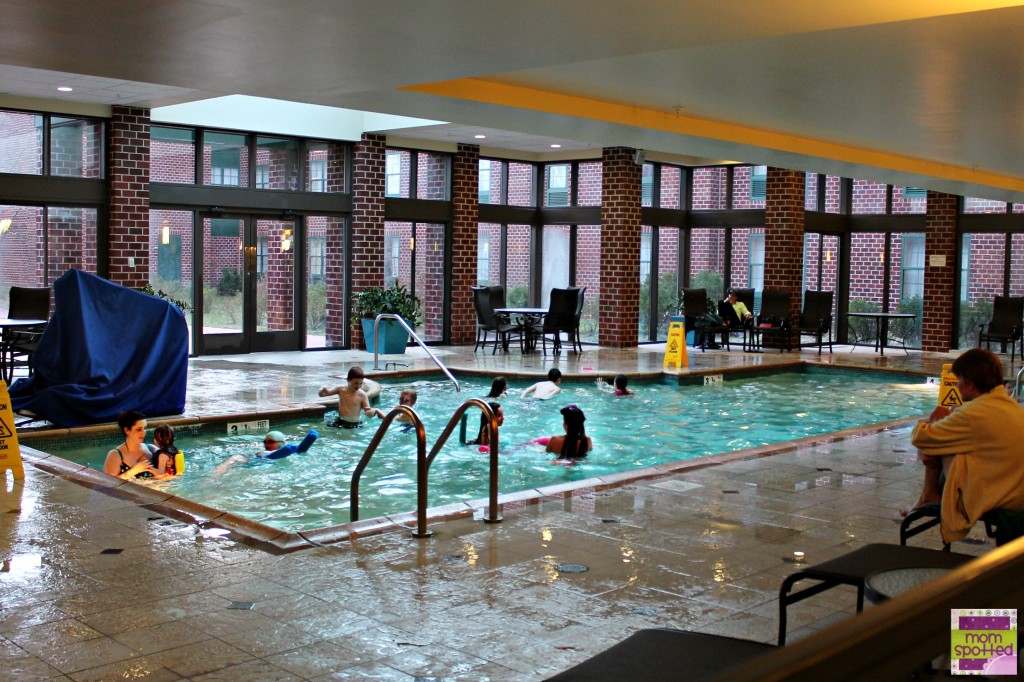 The kids had a blast in the pool and it was a great place for them to use the rest of their energy while we were able to crash on some lounge chairs. The pool was open until 10pm which was nice as we were able to enjoy our day and not worry about rushing back so our kids could enjoy some swim time.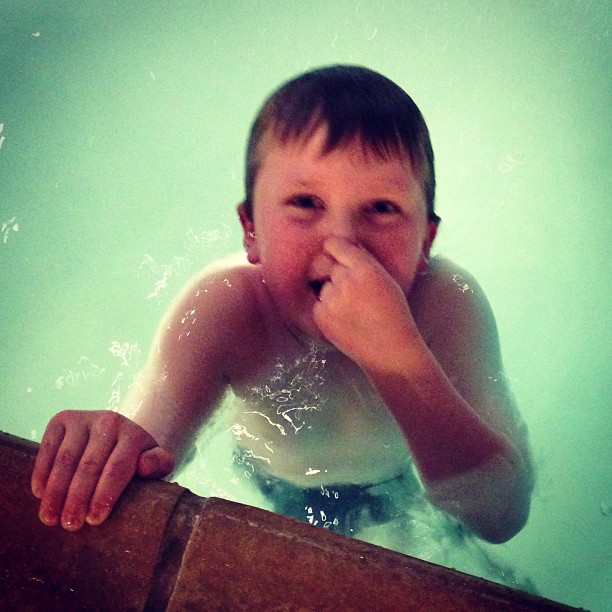 If you want there is also a gaming room with several vending machines. You can access this area at anytime so it's perfect for late night munchies!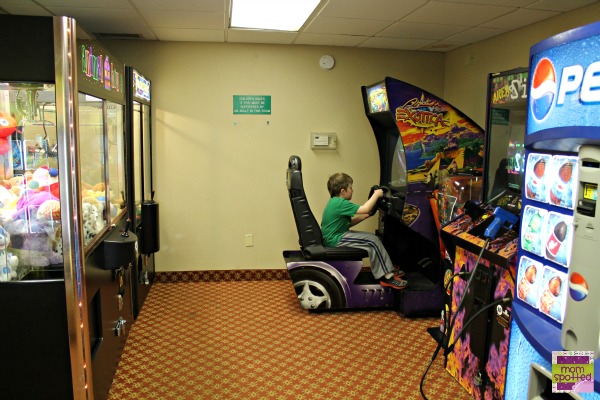 There is also a New Precor fitness center, with state-of-the-art cardiovascular and weight-lifting equipment. I've recently started running and I loved seeing this! I get so mad when I skip a day because the day after that one is a struggle. I love how you can see the pool too from the window.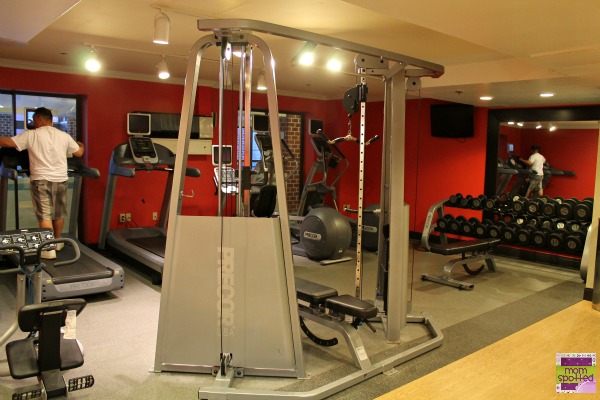 If you are hungry and looking for more then some munchies out of a vending machines then you actually have two great options!
The Mooring, a comfortable restaurant serving classic breakfast cuisine.
Soundings Lounge, the ideal setting to unwind after a busy day, with a casual atmosphere and crackling fireplace, ideal for cocktails and conversations, great for families and friends.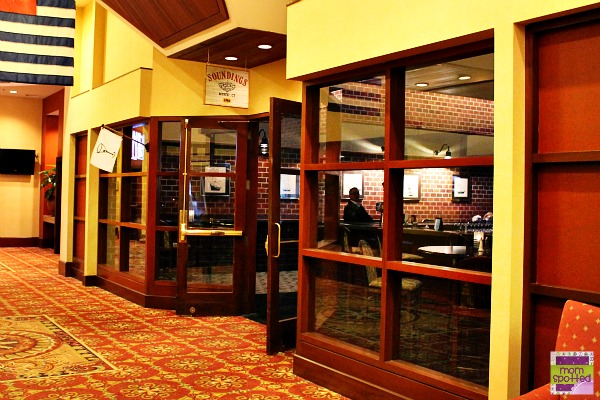 If you need to get some work done they have two small work areas available for use too. I didn't bring my laptop along with me but I like knowing if I needed to access something I had this available. It's always when I'm away that I find I need to print/sign/fax something that is time sensitive. I wish more hotels had an area like this!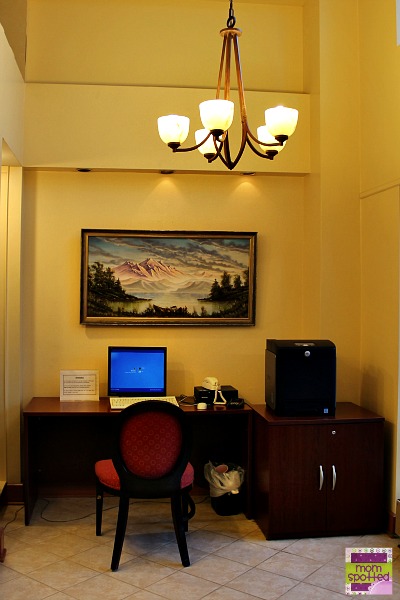 Don't forget there is so much to do in this great town! If the Mystic Aquarium is on your checklist you should know it's just across the street! I took this picture from the hotel parking lot! (This is a wonderful aquarium! If you haven't been click the link above for my review from a few years ago!)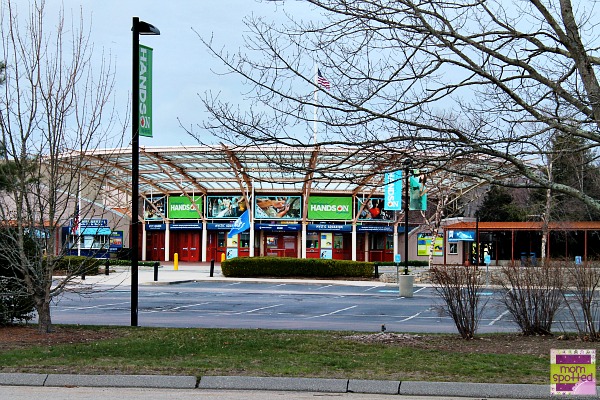 We were very pleased with the Hilton Mystic and received great service from check-in to check-out. The staff was friendly and accommodating. Every area we visited was clean and well stocked. We were extremely pleased with the rooms and the hotel overall and would definitely choose this hotel again! Even Sawyer gives it a big thumbs up!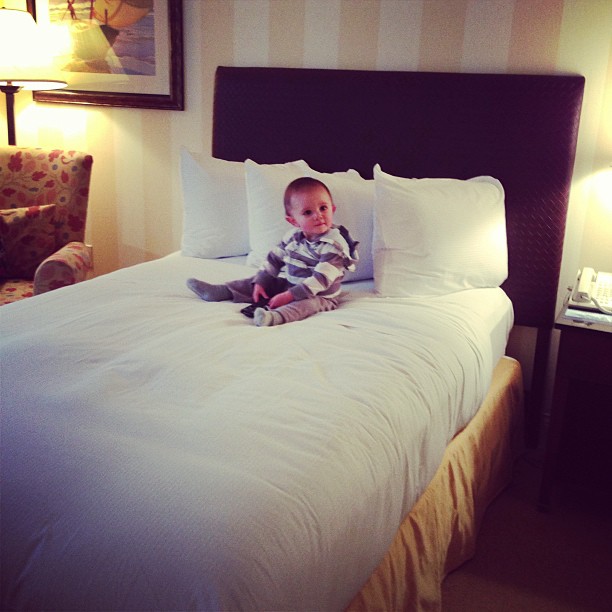 To book your stay at the Hilton Mystic you can visit their website or call them at 860.572.0731. I highly recommend checking out their site as they have some great package deals that include tickets to many of the area attractions!
*The fee of one of the rooms was waived in exchange for my opinion on our visit.