I thought I was so ready and prepared before having my second baby.  Since my son is almost 4 and a half I knew I would be a little rusty with the baby stuff.  But, this wasn't my first baby, I totally knew what I was doing and it was all going to be so much easier.  Uhh… ya, WRONG!  wrong, wrong, I couldn't have been more wrong.  My daughter is already so much different than my son.  They have two different personalities, two different temperaments, two different demand levels.  My son was a really pretty easy baby but my sweet daughter on the other hand has left me thinking a time or two, "wow, I have no idea what to do now…"  The first week of her life was rough.  The poor girl had the saddest screaming cry that would go on for hours.  After 3 days, ridiculously long nights, zero sleep, lots of tears (from me and her), a ER visit, and 3 doctor checkups we figured out she has terrible acid reflux.  Thankfully after some medicine, the reflux is more manageable.  She actually sleeps some now and there is less crying!  But a lot of the time she needs to fall asleep on me and needs to be up right so gravity can help keep everything down in her belly instead of burning in her throat.  I love snuggling her but it is hard to hold, bounce, and rock her all day when my son needs attention as well, my house is a hot mess, and I haven't showered or brushed my teeth and its already 2pm!
Enter this lovely blessing: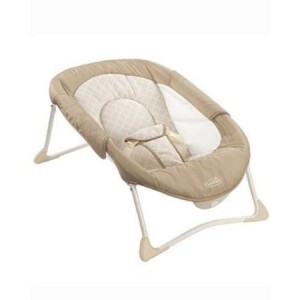 The Summer Infant Resting Up Napper
The Summer Infant Resting Up Napper provides a comfy incline so baby can sleep sounder. The soothing vibration help baby to fall asleep. The Resting Up Napper folds easily for transportation from room to room so that baby can nap peacefully anywhere. This convenient napper from Summer lets baby rest up at home and on-the-go. The seat inclines to a 30 degree angle for better sleep. Features: Soft, breathable mesh keeps air circulating Soothing vibrations calm baby 3-point harness keeps baby secure Seats folds up for easy travel Machine Washable Ages Birth – 5 Months
I love knowing it is already inclined at a 30 degree angle, which is how her pediatrician suggested she be angled to sleep.  She is positioned nice and upright instead of curled over like in her car seat, which can make reflux worse.  It is light weight so I can easily take it from room to room easily while I am holding her.  I can get things done; she is close by and can be upright instead of just lying on the floor.  The Summer Infant Resting Up Napper has been a huge help for her reflux and my sanity.  I can tell the vibration feature is really soothing and the best part is it has a 20 minute timer!  No more wasted batteries! I am the champion of turning something on and then forgetting to shut it off, with the 20 minute timer I don't have to remember or buy a ton of back up batteries.  I also really like that I can easily fold it up and take it on the go.  It is great to take it to a friend's house for her to sleep in and sit.  If grandma's house was closer I know we would take this to her house all the time.  The material is easy to get on and off and washes fantastic.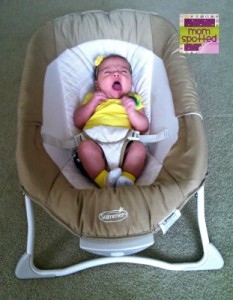 I only wish it was a little higher off the floor.  When I put her in it to sleep at night it would be more convenient if it would be more bedside level.  It also didn't come with a newborn insert which could be a problem for smaller babies.  She is cute and chunky so we don't have a problem.  It is lightweight, easy to clean, and travel friendly.  I have been able to get more done because she is comfortable and my mind is at ease because I know it is helping her reflux.  The Summer Infant Resting Up Napper has become one of our most used baby items.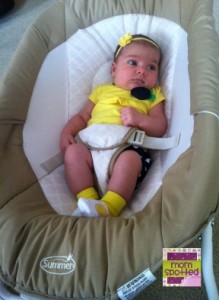 You can purchase the Summer Infant Resting Up Napper for as low as $50 from our affiliate Amazon.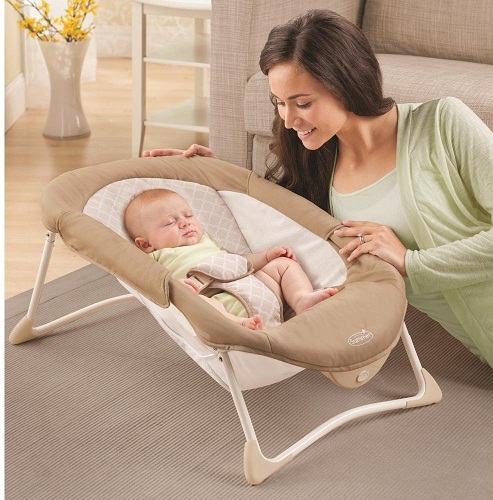 Right now one (1) Mom Spotted readers has the opportunity to win a Resting Up Napper! To enter use the Rafflecopter form below.
Contest ends 5.20.13 at 11:59pm. For Official Giveaway Rules click here.