My 4 year old son, Hayden, is busy.  Super busy and super smart.  He loves imagining and pretending.  I am often not "mommy," but a robot, super spy, or a train conductor.  His favorite new thing to be is a "master of disguise."  I love it; I love that he is using his brain and being so creative.  It is difficult sometimes finding things to keep his brain going though, and encouraging him to learn more.  He surprises me with how smart he is sometimes!  One way he loves to learn is through books.  Hayden has always loved to read.  Since he was just little he would sit forever and just let me read to him.  He still loves being read to but now that he is older he will sit and "read" to himself while looking at the pictures.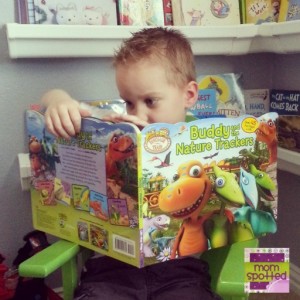 We have a new favorite book in our life.  This book has also turned us both into paleontologists and the occasional dinosaur (I'm usually a stegosaurus..I know you were probably wondering 😉 ).  Hayden LOVES the book "Buddy and The Nature Trackers.'  Have you and your kids watched the TV show on PBS called Dinosaur Train?  It is such great show, and so cute.  It involves two of any kids favorite things: trains, and dinosaurs.  I love that it is educational and Hayden really is learning about dinosaurs.  It also always encourages kids to "get into nature" and discover the world around them.  This book goes right along with it's cute TV show and you get to learn with the dinosaurs: Buddy, Tiny, Shiny and Don.  The book teaches through fun activities about opposites, action words, colors, object number correspondence, and has a cute page matching mommy dinosaur to baby.  It has 45 flaps to lift and learn along with, Hayden sat forever lifting those flaps over and over.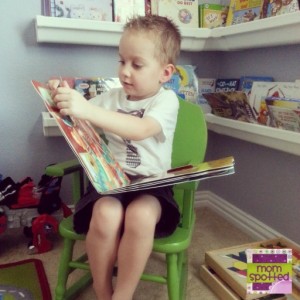 This summer I know we will also be doing a lot of the other fun activities you can find on the Dinosaur Train's website through pbskids.com.  For example, Hayden is now an official Dinosaur Train Nature Tracker's Club member!  You can sign your little explores up here, and best of all it is FREE!
What is the Nature Trackers Club?
Dinosaur Train Nature Trackers Club is a community of young children, their families and educators committed to learning about nature and doing good things for their environment. Nature Trackers enjoy exploring and having adventures, respecting their environment, collecting things, tracking and observing plants and animals, and challenging themselves to get outside and make discoveries every day. We post new Nature Trackers Challenges monthly – sign up for our e-newsletter to get them sent right to you inbox!
How do I become a Nature Tracker?
Buddy, Tiny, Shiny and Don formed a Nature Trackers Club and you can join too! Print out the Nature Trackers Guide Book to get started. All you need to do is complete a Nature Trackers Challenge, and you're on your way! And to receive your official Nature Trackers token, complete all four challenges and mail in the membership form included in the Guide Book. You can also print out your own Nature Trackers Club sign to mark your clubhouse!
And remember, the first rule of the Nature Trackers club is to have fun!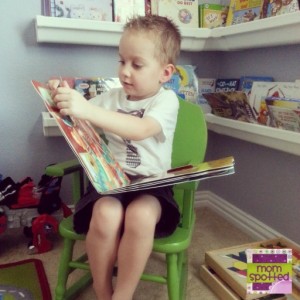 (Here he is telling me all the actual dinosaur names.  "Taranadon, stegosaurus, etc " and silly me I called a frog, a frog… really it's a "paleobatrachus."  He is four people! I had to google it to see if he was right.  He was…. He learned it once on Dinosaur Train and it is in his brain forever.  Smart little turkey that kid….)
Hayden is in heaven being a "Nature Tracker."  I appreciate that it gets him outside, and keeps his body moving with his brain learning new things.  This summer we will also be doing some Dinosaur Train Geocaching.  I think Hayden will really love that as well, plus it is great family time.  I love activities that help us make memories as a family. 
Take the Dinosaur Train Geocaching Challenge! Geocaching is a modern day, worldwide treasure hunt whereby participants can both hide and seek containers called geocaches. Geocaching encourages children to explore their surroundings, use observational skills and have an adventure right in their own neighborhood. Geocaching is a family friendly outdoor adventure that blends technology, gaming and environmental discovery. Each geocache features one of the dinosaurs found on the online Dinosaur Train Field Guide and contains educational information related to that dinosaur.
Have you ever let your kids play on pbskids.org?  Hayden loves it and has a blast while learning.  Dinosaur Train has a new game called "Backyard Theropods."
Learn all about today's dinosaurs – birds! Join Dr. Scott and help place interesting birds in their appropriate habitat. Use a bird caller to attract the bird, listen to the clue and then select where you think it lives. You will learn what different birds sound like, look like, what they are called, where they are likely to live, and about the ancestral connection between birds and dinosaurs. Once you learn a little more about birds you can get out in nature and look for birds in your own backyard!
Kids learn the best through play and interacting with their world.  I love that PBSkids.org and Dinosaur Train has given me lots of ways to help him discover and learn new things every day!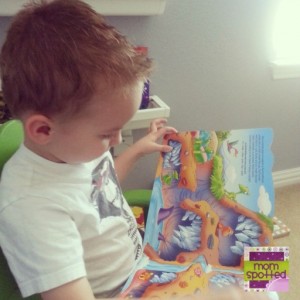 Check out Dinosaur Train, and PBSkids for other fun activities to do with your cute little adventurers here:
Follow Dinosaur Train on Facebook:
www.facebook.com/DinosaurTrain
Follow The Jim Henson Company:
www.facebook.com/hensonparents ;
www.twitter.com/hensonparents
Follow PBS KIDS:
Right now one (1) Mom Spotted readers has the opportunity to win a Buddy and The Nature Trackers Book from Dinosaur Train. To enter use the Rafflecopter form below.
Contest ends 5.27.13 at 11:59pm. For Official Giveaway Rules click here. Affiliate links used.