When we start trying to figure out everything that baby needs the list gets pretty long. The amount of products and the amount of selections are crazy now. When I first had Johnny my selection wasn't big. With Sawyer I feel like the choices are endless. If you can think it, it's out there.
1. Car Seat. This is probably the most important to get first. You need it to get home from the hospital. There are so many options so make sure you look over all of them.
2. Stroller. For some you might not use this right away but for others it will be essential. Personally, my needs of a stroller change over the years and the ages of my children. Start off with a stroller that will be most helpful for the first year. All strollers should last longer should you want to keep it versus replacing. Often times you can invest in a travel system which will take care of both your stroller and car seat. Many moms find the travel system incredibly useful the first year but bulky and big past then.
3. Baby Tub. It doesn't need all the bells and whistles. Chances are you'll never use them after the first bath anyways. Make sure you have something that provides a safe area and one that provides a pad for a newborn but removable for later when baby can support themselves better.
4. Diapering. Are you going to do cloth or disposable? Cloth can be overwhelming at first but if you're interested in it there are some great blogs out there with lots of information to make it easier. If you go with disposables that's okay too, I've never tried cloth myself.
5. Clothing. You can tell new moms not to go crazy on the clothes but it won't stop them from over buying. Pick out the outfits you'd love in NB and 0-3 sizes for your registry. When you shop buy 6+ months so when the surplus of gifted clothing ends you still have lots of cute clothing on hand.
6. Bedding/Decor. There are so many choices out there now the selections are endless. Do you want a theme, pattern, or print that is followed throughout? When you see the right one you'll know it.
7. Baby Gear. There are so many styles and choices this could be the most overwhelming part. Stick to the basics. Find a highchair, swing, entertainer and playard that you like best and fits your needs. Keep in mind how much space you have and the fabrics used. You'll want to be able to clean them easily. Pay attention to the small details. They are often the ones that will make the biggest differences. Can it plug in? Does it run on batteries? Does it have wheels? Fold up easily?
8. Feeding Items. Bottles are generally an obvious one but make sure to include all your first year feeding items too. Don't forget things like teethers and a good orthodontic pacifier.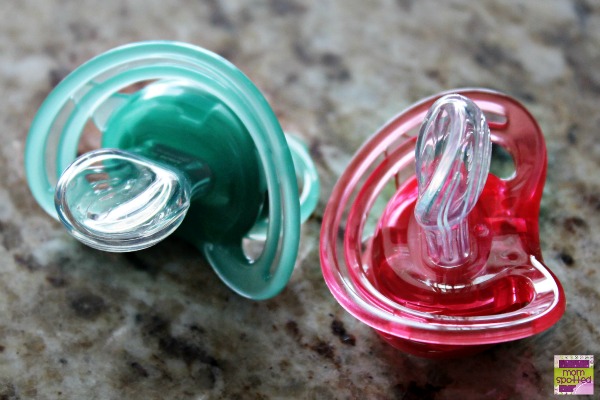 9. Toys. Your baby will be aware of the outside world sooner then you can imagine. Find a great playmat with a toy bar and some rattles are a great start but you'll also want things like an activity table, board books, and ride on toys. They'll be playing before you know it!
10. Diaper Bag. This bag will be your lifeline. Make sure it's big enough to put everything you need in it. My diaper bag can sometimes double as my purse too. As a result I have two. I have a smaller one that I can grab that stays packed at all times. It's the one I hand out to family if they watch him, without handing out all my personal stuff too.

The NUK® Advanced AirShield™ Orthodontic Pacifier has a sleek shield design that offers 3x the air circulation of regular pacifiers that helps reduce skin irritation. It also has an innovative button design that includes a discrete puller allowing you two ways to hold the pacifier without the risk of getting germs on the nipple. AirShield™ features the NUK® advanced orthodontic nipple that mimics Mom's nipple shape to support the natural development of jaws and teeth. And, it helps promote proper teeth alignment by helping your baby avoid thumbsucking.

With AirShield™, your baby will look stylish and be soothed and comforted.
What's is on your must have baby registry list? NUK® wants to know your must have registry items and have offered twenty (20) Advanced AirShield™ Orthodontic Pacifier packs to those that share.
Contest ends 5.13.13 at 11:59pm. For Official Giveaway Rules click here.
"This is a sponsored post written by me on behalf of NUK. The opinions and text are all mine."