I remember the first time I walked into Babies R Us thirteen years ago. It was one of the most overwhelming trips to a store I've ever made. While many of the items caught my eye and others seemed really interesting I really could tell what I need from what I wanted and what was a good deal and when I was being robbed blind.
In the end when it came time to do my registry I left Daddy at home and grabbed another mom. I knew that what went on the original registry didn't have to be the final registry and that I could go online with him later and knock things off and change colors if needed. This left him much happier to as he didn't have to spend hours getting dragged around a baby store.

We walked around and looked at basic nursery items like a crib, dresser, and the theme items. Those really came down to gender, price, and personal taste. Those were easy because you could easily make your choices by process of elimination.
The items that become more difficult are the items that, well, your baby will let you know if they will agree. For instance bottles. Some kids will take whatever you give them. With Sawyer what I picked worked so we stuck with it but with Johnny I must have gone through over 20 different bottle styles before he took one that he liked.
What he liked was an orthodontic bottle. Like the NUK Orthodontic Bottles.
Show off your baby's style with NUK® Tie-Dye Orthodontic Bottles that merge advanced NUK® bottle and nipple functionality with colorful and creative patterns for easy feeding for your baby!

It is the only bottle with an orthodontic nipple that supports healthy oral development. And, the bottle nipple features the NUK® Air System – a unique venting system – which helps reduce colic. The natural shaped nipple also mimic's Mom's to help make baby's transition from breast to bottle a seamless one. This unique nipple also has the drinking hole specially located on the top side – not the tip like round nipples — which allows the milk to mix more effectively with saliva and promote easier digestion.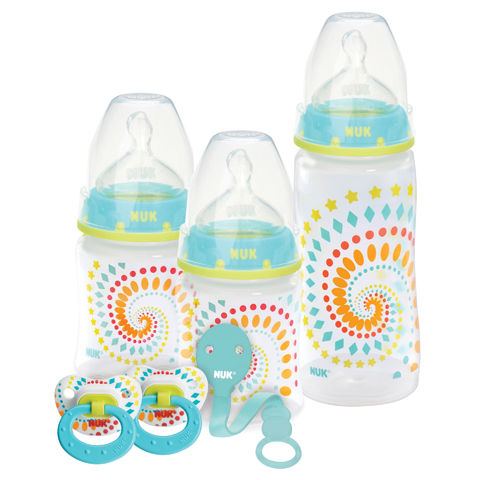 The NUK Orthodontic Bottles are made by the #1 selling orthodontic bottle company and are easy to clean with their wide neck and can even be tossed in the dishwasher for even easier cleaning.
Only NUK® bottles feature an orthodontic nipple that supports healthy oral development
Features the unique NUK® Air System which helps to reduce colic
Natural shape nipple mimic's Mom's nipple shape to allow easy back and forth between breast and bottle
Drinking hole specially located at the top side of the nipple – versus the tip on round bottle nipples – that promotes better, easier digestion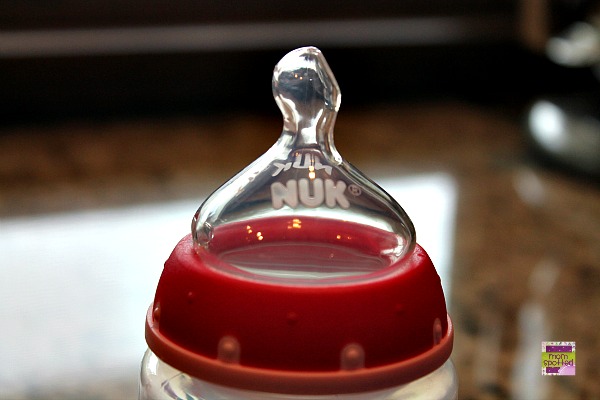 The NUK Orthodontic Bottles are available in both 5oz and 10 oz sizes and can be purchased at numerous retailers such as Babies R Us, Target, Walmart, and our affiliate Amazon.
What is/was your #1 must have on your baby registry? Answer below for a chance for a chance to win one of 20 NUK Orthodontic Bottles
Contest ends 4.9.13 at 11:59pm. For Official Giveaway Rules click here.

***Winners will NOT be contacted due to the number of winners but please check back as the full winners list will be posted here. Prizes will be shipped to the address provided.

"This is a sponsored post written by me on behalf of NUK. The opinions and text are all mine."