I have a thing for sweets – frozen sweets are one of my favorites!  Frozen pie is one of my all time favorites!  In honor of National Pi Day March, 14 Edwards frozen desserts has come out with not one, not two, but three new pie flavors! National Pi Day, normally celebrated for the mathematical symbol π –  but for Edwards® desserts it's all about "PI.E," which happens to be the mirror reflection of 3.14.  These delicious desserts hit shelves on March 14, just in time for National Pi Day.  However, my local store already had the Salted Caramel!  YAY!
Salted Caramel features a vanilla bean crème filling on top of a delicious salted caramel
covered graham cracker cookie crumb crust, topped with chocolate-covered salted
pretzels bits and finished with chocolate drizzle.
Banana Crème boasts a smooth banana crème filling on a vanilla cookie crumb crust
that's finished with a light whipped crème topping.
MOUNDS®* Coconut Crème tempts with a smooth coconut crème filling with pockets
of rich dark chocolate and covered in a layer of light whipped crème topping, all atop a
dark chocolate cookie crumb crust and finished with a dark-chocolate drizzle.
Edwards Pie is located in the freezer section of your grocery store/supermarket.  As soon as I saw the salted caramel I had to have it!  I even has chocolate covered pretzels on the top!
Their pies  come with a lid so if you don't use the whole pie you can put it back in the freezer without using saran wrap!
At first I thought I would LIKE this pie.. but I LOVE it.  I couldn't get enough – I had to have my husband take it away from me.  The saltiness and the caramel is just perfect!  I think the next time I have this pie I will add a few chopped up pretzels of my own too this way I don't eat a half of a pie again!  So delicious!
Also check out this cool info graphic about Pi Day!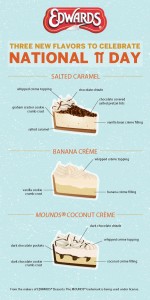 To Celebrate National Pi Day Edwards Desserts is giving one reader a coupon so they can get a pie too!
Contest ends 4.1.25.13 at 11:59pm. For Official Giveaway Rules click here.