Do you have a teen or tween girl? If you do you know all about One Direction. My niece is all about their music the last few months. Every time their music comes on the radio she cranks it. When she's home, she cranks it. When she's not even around music, she sings it. One Direction is a love of hers. She makes it clear to everyone too!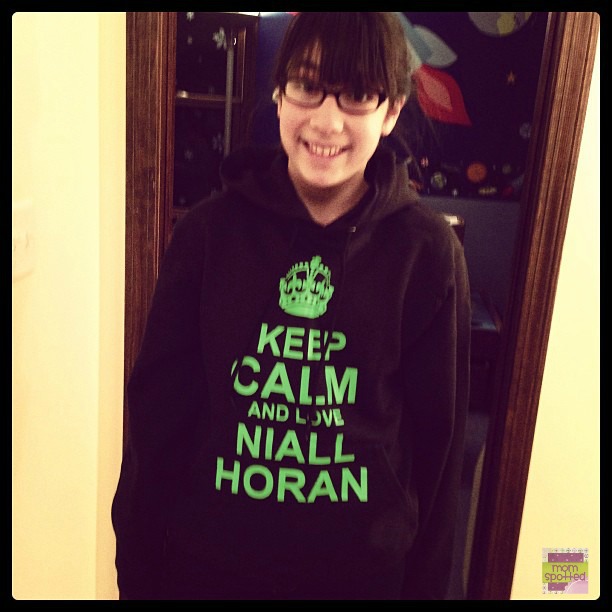 She thinks Niall Horan is cute that she even talked Nana into making this custom sweatshirt just for her. So when she was at the kitchen table working on her homework and saw a box come in with this ARM & HAMMER™ Tooth Tunes™ One Direction Toothbrush inside she was already begging for it to be hers.
From the makers of the #1 kids battery toothbrushes, ARM & HAMMER™ Tooth Tunes™ features one of a kind Music in Your Mouth™ technology. This proprietary technology streams sound vibrations from the bristles of the toothbrush through the teeth, allowing kids to hear the music while they brush.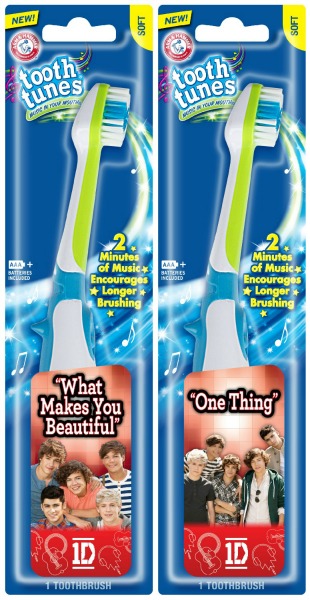 These two new ARM & HAMMER™ Tooth Tunes™ toothbrushes each feature a chart-­‐topping single from One Direction: o "What Makes You Beautiful" performed by One Direction o "One Thing" performed by One Direction
Did you also know that ARM & HAMMER™ Tooth Tunes™ featuring One Direction is the only toothbrushes that plays One Direction in North America.  ARM & HAMMER Tooth Tunes™ launched in July 2012 featuring:
-"All Day" performed by Cody Simpson
-"Dynamite" performed by Taio Cruz
-"I Gotta Feeling" performed by Black Eyed Peas
-"If I Ruled the World" performed by Big Time Rush
-"Round & Round" performed by Selena Gomez & The Scene
-"Tonight, Tonight" performed by Hot Chelle Rae
-"We Will Rock You" performed by Queen
So, of course that means Johnny quickly stated he wanted the one with Queen. You just hit the little button on the handle and it plays the song for 2 minutes which is the dentist's recommended brushing time and thanks to the music our kids don't even realize they are being encouraged to brush longer.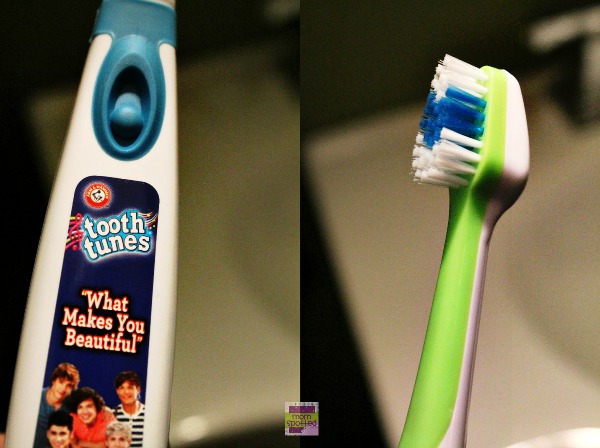 My niece thought it was hilarious I was trying to take her picture while she brushed her teeth. What this pic doesn't show is the three other times she plays it every night and the toothbrush subs as a microphone. For my sake I'm glad it's not loud.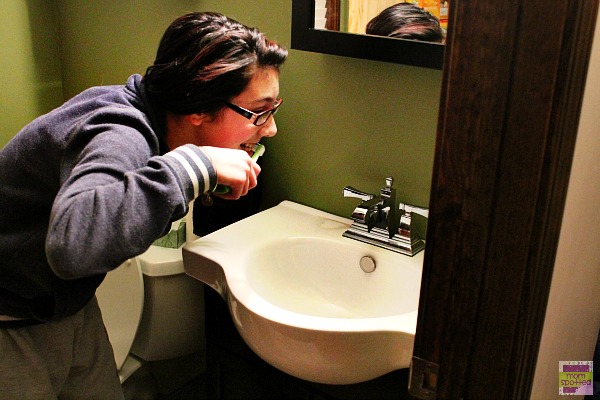 The brushes have a suggested retail price of $9.99 and are available at mass, drug, and food retailers nationwide. The entire toothbrush does need to be replaced. I do wish we could buy replacement heads. Maybe a future option? I'll make sure to follow the ARM & HAMMER's Facebook Page to stay posted on all the latest news and updates, you should too!
Disclaimer: I am part of the Mom It Forward blogger network. Mom It Forward and ARM & HAMMER™ Tooth Tunes™ partnered in support of this campaign. ARM & HAMMER™ Tooth Tunes™ compensated me for participation in this campaign. However, all thoughts and opinions are my own.