Oh the fun Sawyer is beginning to have. He is on the move and teething and having fun all at the same time thanks to Tiny Love. They have a bunch of great products to help you both get through the day with laughter and smiles during this fun yet trying time. We've been reviewing Tiny Love products since day one and not a single one has let us down. Many of the photos I share on here, facebook, and instagram will often show Sawyer with something from them too!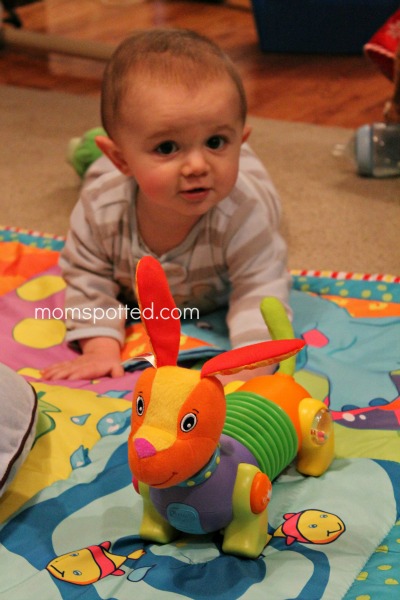 We just started crawling officially and one toy that Sawyer has loved to help him move is his friend Follow Me Fred. Now let me tell you about Fred. He's fun. He's also hilarious. If you own a dog Fred will confuse you at times. If Fred is ignored he will cry to make baby acknowledge him and play with him again. The cry sounds SO real. I love that when you touch him he plays music and starts to move away! Such a fun toy. I should note- if you love that awesome mat you often see Sawyer on- That's Tiny Love too!
Baby-activated electronic dog encourages baby to crawl by barking and playing a friendly tune.

Flexible middle allows Fred to turn in circles.

Promotes fine motor skills, cognitive and emotional abilities.

Adjustable speed control.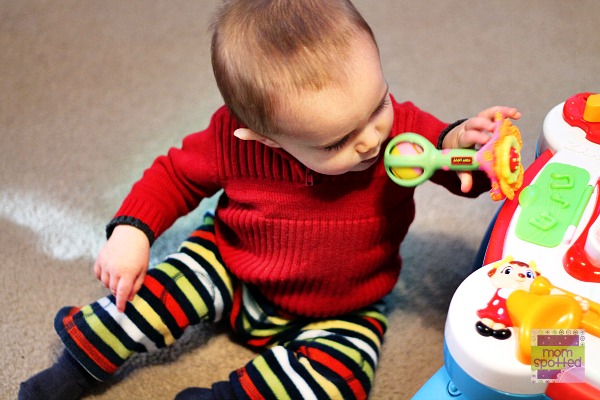 We are in the process of getting tooth #3 and everything seems to be edible. Rattles like Flower Power and Sunny Sunflower are perfect as they provide a toy that is easy to grasp at even a young age but as they get older it is fun to bang on other toys and play with on its own. Sawyer loves chewing on the petal parts while grasping the ball area.
Especially easy for younger babies to grasp and hold

Crinkly cloth, rattle ball and fun colors titillate baby's senses and curiosity

Fetching design featuring a green stem and colorful petals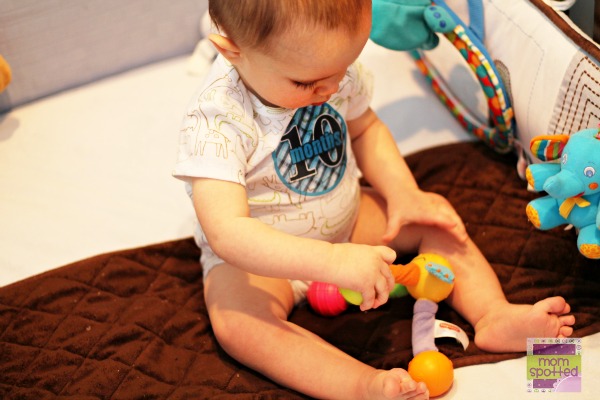 We also love that Jumpy always lands feet down. No matter how you play he jumps right back up making it fun for baby to play with and if you tap his head he jumps! Fun times!
This lightweight, happy figure bounces when tapped on its head

Helps develop gross motor skills by encouraging baby to crawl after it

Colorful, appealing design and an all-smiles expresssion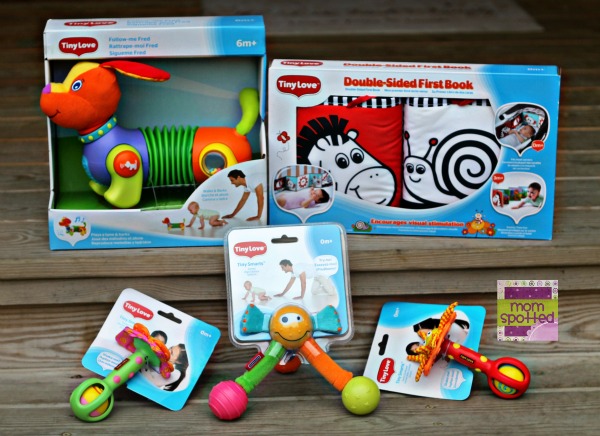 Wanna win these great toys shown in the picture above? I thought you would! Just fill out the rafflecopter entry below to win this great toy pack valued at just over $50!