Christmastime as a mom there are so many things I hope my children look back and remember. I know they love the annual ornament making and the gingerbread house making. Maybe they will even continue the new Christmas jammies on Christmas eve tradition they dislike but love all at the same time.
On December 3rd, Febreze started sharing their Memory List on their Facebook page to highlight the most popular memories from their fans. Febreze wants to excite people for the holidays by hearing their fans most cherished traditions. The Memory list questions will be posted to Febreze's Facebook once a day between 12/3 and 12/17 so be sure to keep checking in! Today's Memory List question is: "Take a deep breath and share the most memorable holiday SCENT from your childhood!"
Today they let us know that the most memorable toy was an easy bake oven.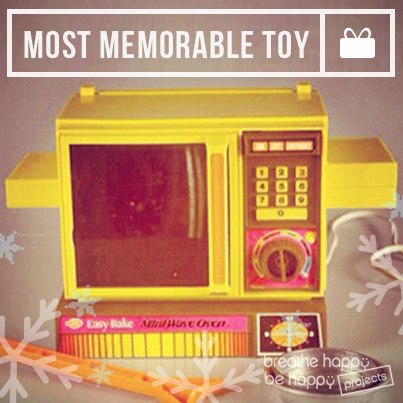 I actually never had an Easy Bake Oven. Oddly enough I don't remember any of my other friends having one either. My most memorable toy was my Cricket Doll. If you were a child of the 80's you just have to know how awesome the Cricket doll was. She was this awesome twenty five inch recordable doll. Did you have one? What was your most memorable toy?
Febreze will be collecting the Top 10 best holiday memories from their fans – tell them yours and they may add it to the list! Visit the Febreze Facebook page here and share your response.
"I participated in a campaign on behalf of Mom Central Consulting for Febreze. I received a promotional item to thank me for participating".