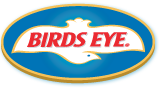 Now that its the holiday season things really are out of control and there is no time for anything it seems. The two older boys are both in afterschool programs AND sports making for some crazy, crazy schedules. I'm normally picking them up from an afterschool lesson and only have an hour or less until they are due at a sport practice.
Thing is those sports practices are a couple hours long and there is no way I can avoid feeding them before I drop them off. I really don't want them filling up on junk or fast food either.
I was recently given some kid friendly recipes from Birds Eye and knew when I saw the Grilled Cheesy Broccoli Pocket with Ham recipe that it would be perfect for my boys. It's fast, healthy, and really filling and it's enough to feed us all before running back out the door.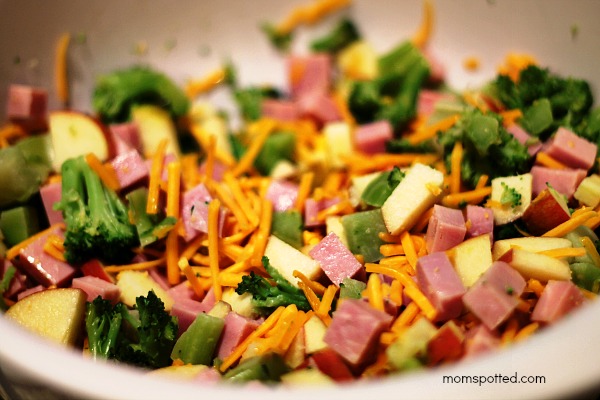 I chopped up 2 Braeburn apples, 2 thick pieces of ham cut thick from the deli diced, 2 cups of shredded cheddar, and a bag of the Birds Eye Steamfresh® Pure & Simple Broccoli Cuts mircowaved and all mixed together in a large bowl.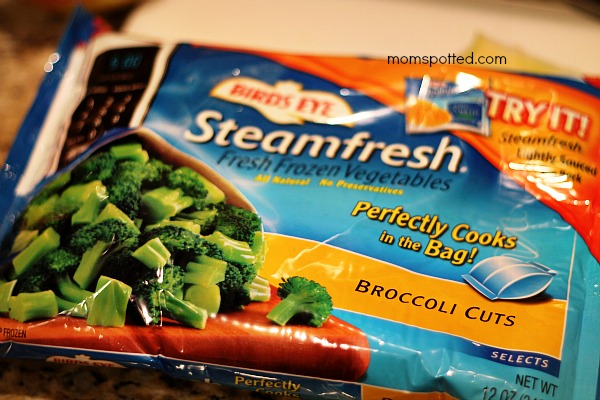 Next chop off the top of a pita and have your child help you fill them up with all the yummy goodness. The warmth of the broccoli will have already helped the cheese start melting.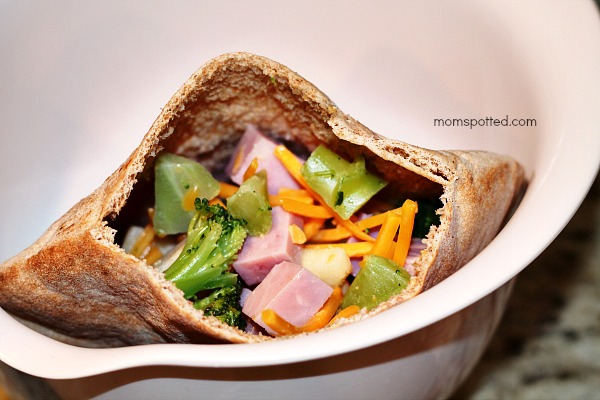 Next spray a pan and lay your pocket on its side.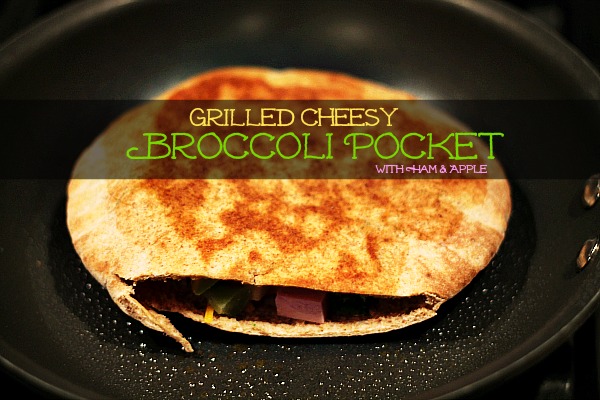 This was a great meal in a short time and being able to skip the water boiling and broccoli chopping was a huge time saver!
Gavin just LOVED these and he stated the whole time he didn't want to try them. Once he did he loved them though! His favorite part was the apples by far!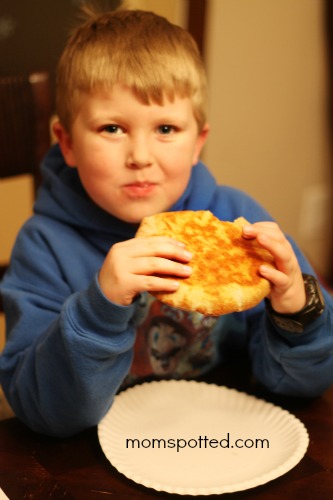 If you'd like to try out the Birds eye recipe here it is 🙂
Ingredients
1 cup Steamfresh® Broccoli Florets, cooked according to package directions
¾ cup shredded cheddar cheese
½ cup Braeburn or other sweet-tart apple, unpeeled, chopped small
½ cup (2 oz.) deli-sliced ham, chopped
2 whole wheat pita rounds, halved crosswise
Mayonnaise or mustard (optional)
2 teaspoons olive oil
Cooking Instructions
Preheat a griddle, skillet or panini pan over MEDIUM heat.
Combine broccoli, cheese, apple and ham in a bowl.
Gently separate each pita half to form a pocket. If desired, spread mayonnaise or mustard to taste inside the pita pocket.
Carefully spoon ½ cup of the broccoli mixture into each of the pita halves.
Brush or wipe the olive oil over the surface of the griddle using a brush or a paper towel. Add the pita halves, tucking in the filling. Grill for 2-4 minutes per side until golden, crisp, and warmed through.  Serve immediately
"I participated in a campaign on behalf of Mom Central Consulting for Birds Eye. I received product coupons to facilitate my review as well as a promotional item as a thank-you for participating.