Every year when the school year starts and in my head I tell myself I'm going to get up early and make pancakes, waffles, and all these yummy glorious foods for my kids for breakfast each morning. Then reality hits and we're running around like crazy. One of us wakes up late, the two boys will fight over the bathroom, and the baby doesn't want to be put down. Before I know it there is ten minutes left before the bus comes and the kids still haven't eaten.
That's when I realize it's going to be another cereal morning. With all the choices Kellogg's offers it's what my kids want anyways. Johnny always grabs some Kellogg's Corn Flakes and cuts up a fresh banana with it and Gavin's favorite cereal is Kellogg's Raisin Bran and it's all he wants anyways. In all this craziness we call morning it makes me feel good the one thought going through my mind doesn't have to be about if my kids are getting a wholesome, healthy breakfast just because it's simple.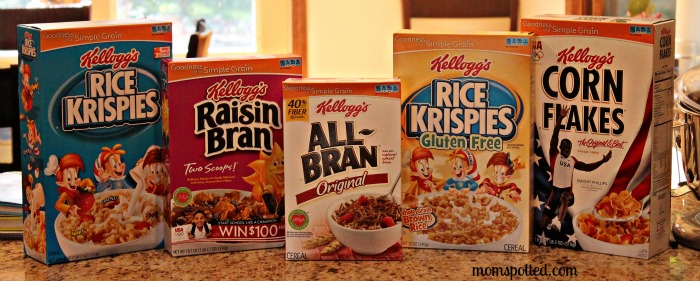 What I love about Kellogg's is that I can rely on them to not only give me healthy choices but I can also really enjoy knowing they have options that are low in sugar and I can even make Gluten Free Rice Krispies Treats this fall and all of my sons classmates can enjoy them now!
Right now Kellogg's has its Seed to Spoon going on with their Start Simple. Start Right. campaign. Make sure to visit their site to learn all about how your favorite cereals start from the seed and end up on your kitchen table and in your child's spoon.

"I participated in a campaign on behalf of Mom Central Consulting for Kellogg's. I received sample products to facilitate my review as well as a promotional item as a thank-you for participating."