SIX MONTHS!!!
Seriously where did the last half a year go? I still feel like I should be getting over the shook of finding out I'm preggers and here I am with a 6 month old beautiful happy baby boy. I am so glad that I have been so on top of taking all these photos and posting these updates. When I replaced my laptop I lost my photos and had to put them back on this computer. I had so much fun pulling out the old CD's and looking at how much he's grown. It feels like a blur now and it's another reminder that I need to hold him close because they get big so quickly.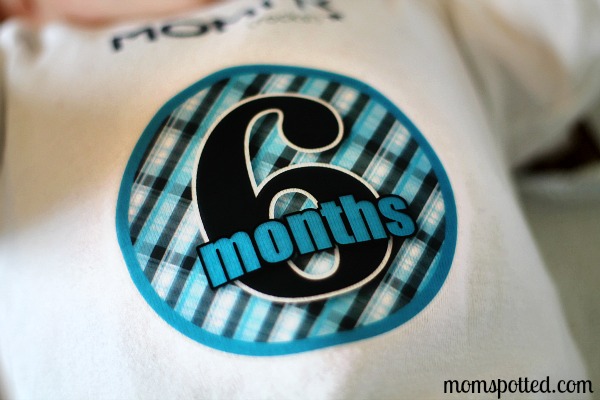 Sawyer Six Month Facts:
Head: 17.5 inches
Height: 26 inches
Weight: 15.7 pounds
21 % for height
17 % for weight
We also had 4 vaccines and the 1st dose of the flu shot. He cried as he received them but the moment I scooped him up and covered him in kisses he was happy again. He slept a little longer then normal that afternoon but was overall fine.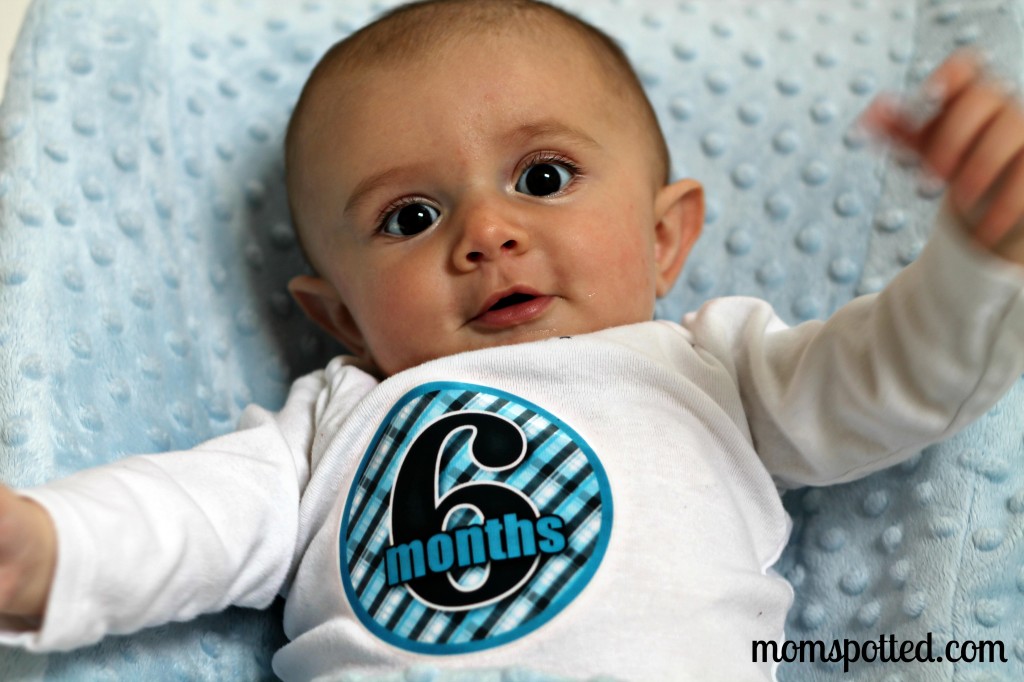 I guess Sawyer has a big head. They want to keep an eye on it. It's not a concern they said. Not flat either. I don't really know what to compare it to so I'd love to know what your childs head size was. It doesn't seem big to me. In fact, he is so stinkin perfect it's ridiculous. I always knew I needed to have just.one.more.baby but I didn't realize how much. I'm so in love with this perfect little boy that I can't see straight.
He is still on Gerber Protect for formula it seems to be working well with his reflux. We recently found a good deal and bought a ton of them so hopefully they continue to be too! He loves eating solids. We have covered most of the basics and I've made all his baby food. We also just tried our first puffs and mum mums. He loved them!
He is still sleeping fro about 8:30pm all the way till morning when I get up between 7-7:30am. He is still sleeping in his Fisher Price Newborn Sleeper right next to my side of the bed. I love having him close by and being able to just roll over and find him smiling at me. I've never had such a happy baby. Johnny & Gavin were good babies but they still woke up crying. Sawyer will just sit there and wait for me.
I know eventually we are going to have to switch him over to his crib so we've been trying to let him spend more time in it. I guess I need to take a few toys out before I expect him to fall asleep. I am setting up the monitor in his room this weekend and we are going to begin practicing nap time in it next week.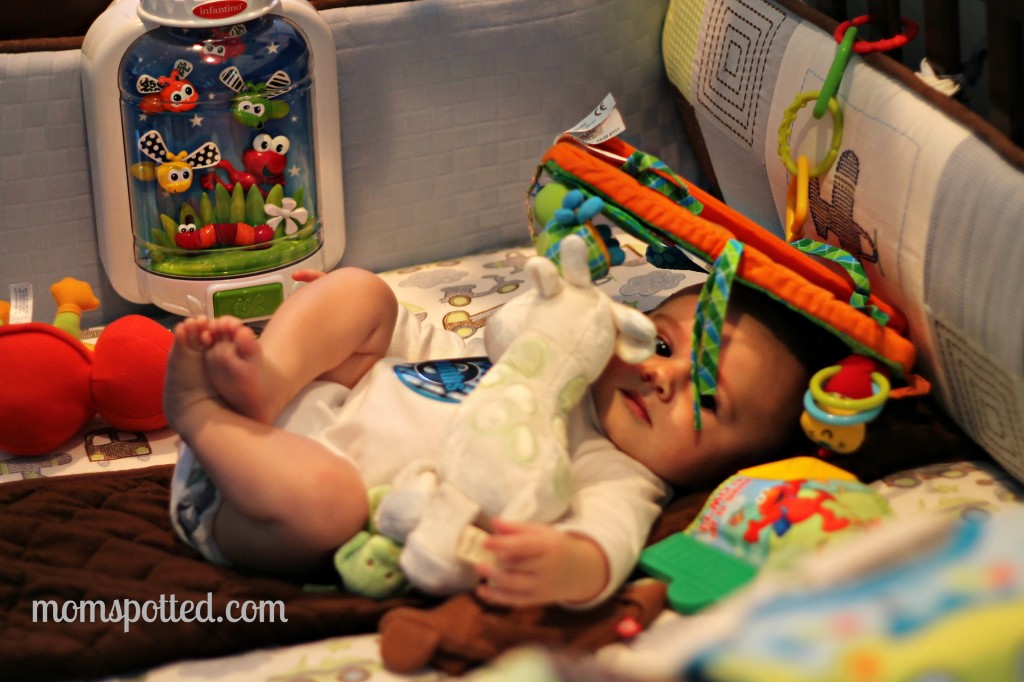 He can roll from belly to back. He can also roll back to belly. He does not like tummy time at all. In fact its really the only thing that makes him cry. He is just starting to want to play and reach out at everything. He isn't into water in his sippy cup that we tried but whenever I drink water from my Copco Tumbler he reaches for the straw and drinks small amounts. It shocked me that right from the start he could drink from a straw so easily.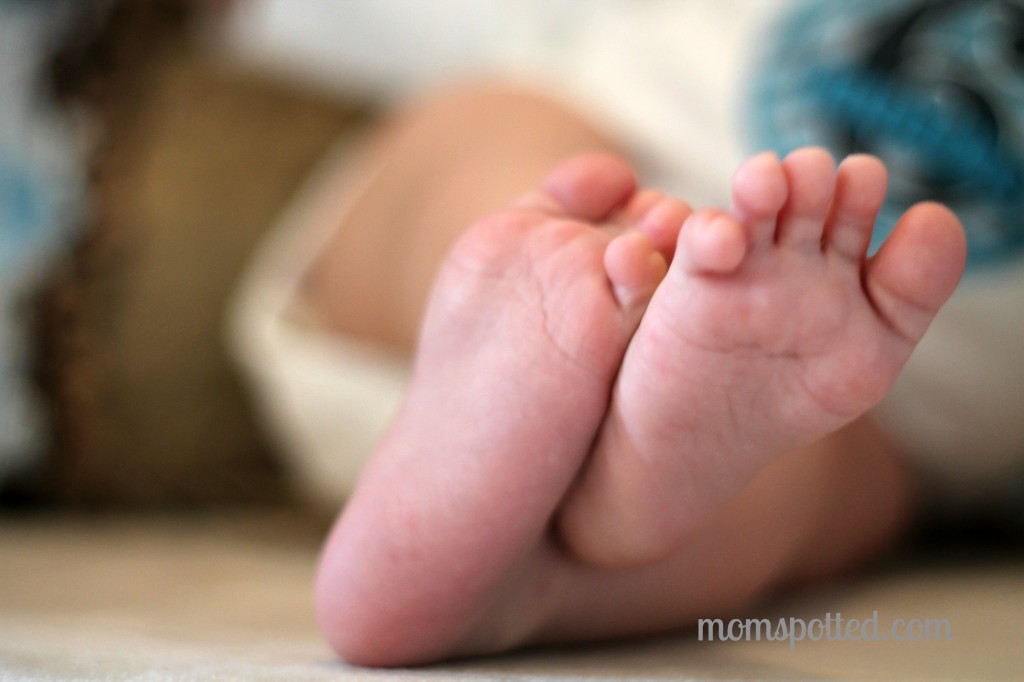 We are so healthy. We haven't been sick at all (knock on wood). He had the weight issues when he was born but other then that we haven't had to go see the doctor for anything other then well visits which is so nice! I hope we have a smooth sailing winter.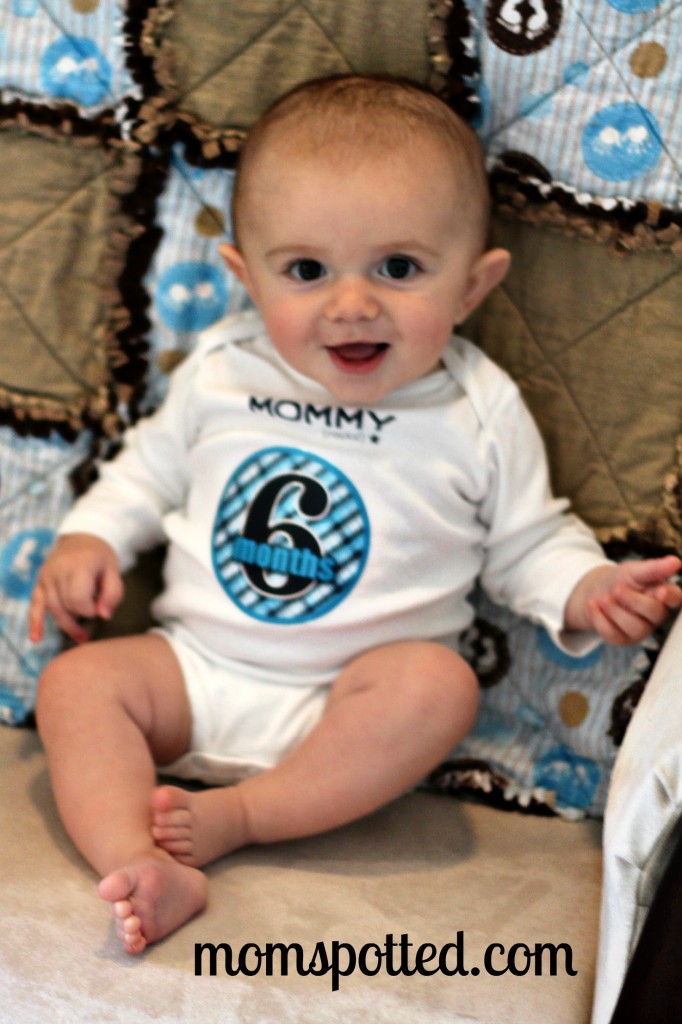 Side Notes:
You are wearing 3-6 month clothing right now. They fit you perfectly actually. I bought your wardrobe for the most part while I was still pregnant so you have a lot of shorts going into the fall. I've slowed down on the shopping since he's stayed small. Well, that and I can't afford it any longer…. lol
He's wearing a size 1-2 Pampers sized diaper. We're still wearing the cute prints style that we scored a huge deal on. I have one more box and then I'm going to move him up. I have one box of Huggies size 2 and then on to size 3's. It's been great that I haven't had to spend a lot of money on diapers. If I could only find a great deal on formula.
He loves making noise. We went to the mall the other day. He squealed as loud as possible the entire time so everyone would look at him. Of course everyone falls for him. How can you not love him? If you are lucky he'll even raspberry at you!