My house is filled with skin issues. I have severe psoriasis and my husband has allergies and eczema. With that against us, I want to do everything I can to be proactive right from the start for my boys skin. When I was pregnant with Johnny twelve years ago I was told about Dreft Laundry Detergent for babies. I loved how it was strong enough to fight all the stains from formula to food but still be gentle enough on their skin that I wouldn't have to worry about rashes or other skin issues popping up.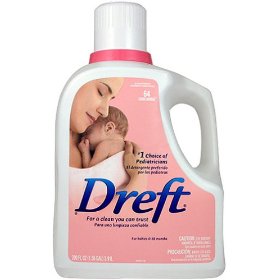 I used the Dreft on Johnny and Gavin up until their first birthday's and it never failed us. From blowouts to carrots it always came out.
When it came time to get things ready for Sawyer I actually went another route because our washer takes a large amount of detergent at once and disperses it as needed. I wasn't sure how to just use it on Sawyers clothing but now we're using it for everyone and everything. We haven't been faced with the stains from formula as breastfeeding doesn't leave the same marks but after using the Dreft now one thing I've really missed is the smell. The clothes washed in Dreft came out smelling like a baby. It has a soft baby powder smell and I love it.
One thing I forgot about was the spray stain remover. It definitely was a help with those major ones and made sure the stains came out every time. I'm going to need to remember to go out and get some so I am prepared for everything Sawyer plans on throwing my way.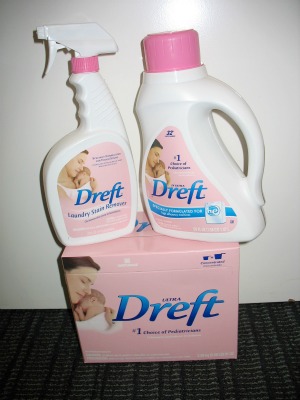 Dreft has offered one Mom Spotted Reader a Prize Pack of Dreft Products!!!

How to Enter:
THIS CONTEST HAS ENDED
Mom Spotted Review Policy: I was provided with the featured item(s) at no cost by the manufacturer and/or its PR agency in order to test the products abilities and give my own personal opinions on it. The opinions I have given are mine and may differ from others but it was not influenced in any manner by monetary means.