Both my boys were "binky" boys. What are binky's? That what we call pacifiers in our house. I know there are lots of different nick names but for us it's binky. With our first we didn't really even think about it whether or not we wanted our kids to have one. When we were at the hospital they gave him a MAM Pacifier and he was hooked. Of course as a new mom not having a clue as to how much my life was spinning out of control little did I know at the time what a gift that binky was.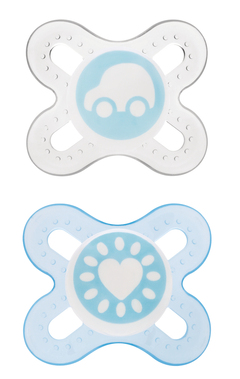 So, naturally, when we had Gavin I already had MAM Pacifiers For Newborns on hand. I had a chance at this point to look over all the other brands and styles and I was now observant of what they looked like and some just seemed so silly to me. If my baby was going to be a binky baby- he was going to be a MAM baby!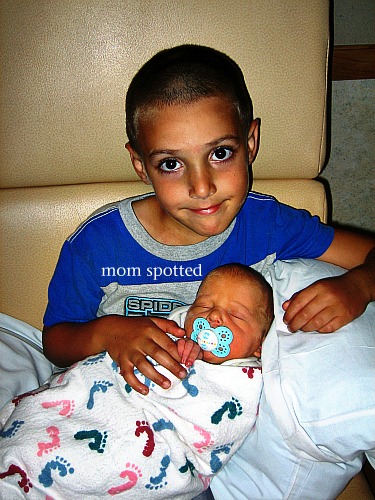 Sure enough Gavin loved MAM binkies! Now, that baby #3 is on it's way it's obvious at what brand I'm trusting to sooth my baby and ease my mind! MAM!
 Ultra Soft Silicone Nipple boasts all of the advantages of standard silicone and is also extra-soft: the silicone with that certain extra edge!   The reason for this is a development from the MAM Design Studio. The surface of conventional silicone is made silky soft by employing a special technology. A patented innovation that babies can feel – all MAM silicone pacifiers and bottles are fitted with the Ultra Soft Silicone Nipple.  Babies love the innovative Ultra Soft Silicone Nipple because it feels soft and familiar – like Mommy's skin. This makes the switch between breastfeeding and bottle- feeding particularly easy.  Babies can relax right from day one.

MAM pacifiers give babies the best start in life because they are designed and developed by pediatric dentists and orthodontists.  MAM's attention to detail and work with developmental psychologists have resulted in a wide variety of pacifier sizes that suits baby's various developmental stages.  The anatomically correct pacifiers allows for healthy jaw and teeth development and ensure a maximum level of comfort for babies of all ages.

MAM offers pacifiers with either a silicone or latex nipple.  The patented ultra soft silicone is silicone with a difference!   It's silky soft and no other silicone feels softer. Thanks to the anti-slip surface, the pacifier stays in baby's mouth easily.
When I found out the sex of this baby I wanted to start stocking up on everything I needed. One of those things I needed was of course MAM Pacifiers. Problem? They are so popular that I could never find them stocked on the shelves. So I did what any blogger would do- I went to their social media pages. To my surprise MAM was so much more then pacifiers!
Safety is a priority to MAM so all bottles and training cups, similar to all other MAM products, are CPSIA compliant and completely Baby Safe; BPA-free, Lead-free, PVC-free and Phthalate-free.
MAM's Baby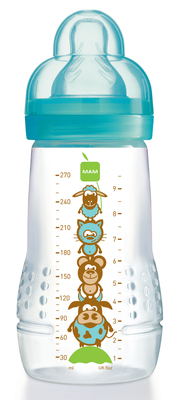 Bottle, available in an assortment of bright, luminous colors, was designed to meet the next developmental feeding stage. For babies that have become accustomed to feeding from a bottle, the Baby Bottle comfortably fits in baby's hands, and similar to the Anti-Colic bottle, features MAM's ultra soft silicone nipple. The 11ounce baby bottle is ideal for a baby 4 months and up.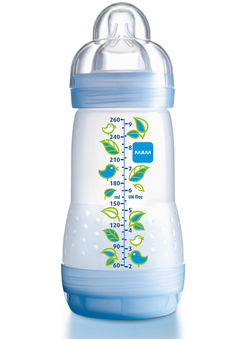 The Anti-Colic Bottle is just one of the innovative developments from the MAM design studio.  Its vented base has small air holes and a silicone seal that allows for maximum air flow in while still preventing milk from leaking out. The vented base ensures controlled milk flow by balancing air pressure inside the bottle. Liquid is also pushed towards the nipple allowing it to retain its shape and preventing it from collapsing.  All Anti-Colic bottles use MAM's patented ultra soft silicone nipple. Transitioning from breast to bottle is simple because MAM ultra soft silicone nipples feel most like mom's breast.  Our Anti- Colic bottles also have a self- sterilization feature!
MAM doesn't stop there though with all their great products!!!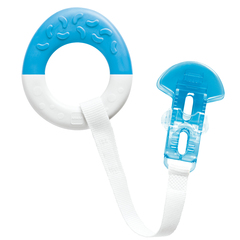 Is your baby just getting its first teeth?  No problem with our Starter & Clip. Distract babies from teething pains with this teether.
Extra lightweight and features a special ring shape which makes it simple to hold for small babies in particular. Particularly comfortable for babies getting their first teeth
•  Teether won't go missing thanks to the innovative attached clip
•  Easily attaches to baby's clothes to keep teether clean, safe and within reach
•  Lightweight and easy to hold
•  Different textured surfaces are soothing to baby's sensitive gums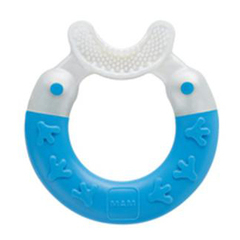 This Bite & Brush Teether looks really cool! I've never seen anything like it. Easy for baby to grasp I just wish their was a way to use a clip on this one.
Soothes as well as cleans baby's first teeth
•  Soft silicone bristles gently clean baby's first teeth when chewed on
•  Can be used in conjunction with teething gel
•  Soothes baby's tender gums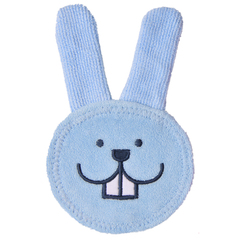 Developed with dentists, the smart MAM Oral Care products ensure that babies get used to regular oral hygiene step by step. Trendy colours and shapes arouse baby's interest and encourage him to clean his teeth.
This Oral Care Rabbit is super cute. Just slip your index finger into one of the ears and you have a fun, friendly way to teach your baby right from the start the importance of oral hygene!
Get baby accustomed to a regular teeth-cleaning routine
• Perfect for cleaning first teeth or massaging sensitive gums
• Makes reaching back areas easy
As you can see MAM Baby has lots of products. I already know and trust their pacifier line and I'm excited about Sawyer being able to try all the new products I never knew about. You really must head on over to their website because I only touched a small portion of the products that they carry! If you find them in stores make sure to take the time to really look at them. I'm really impressed so far!
Mom Spotted Review Policy: I was provided with the featured item(s) at no cost by the manufacturer and/or its PR agency in order to test the products abilities and give my own personal opinions on it. The opinions I have given are mine and may differ from others but it was not influenced in any manner by monetary means.