So when I was reading my latest copy of Food & Family the quarterly magazine I get in the mail from Kraft Foods and saw the Fiesta Beef & Black Bean Enchiladas recipe I knew I had to try it. I switched the salsa for Ro*Tel® which also helped me save a few dollars too!
Here are all the ingredients you will need:
1/2 lb.  (8 oz.) VELVEETA Pasteurized Prepared Cheese Product, cut into 1/2-inch cubes, divided
1-1/4 cups Ro*Tel®, divided
1 cup  rinsed canned black beans
12 flour tortillas (6 inch)
Preheat oven to 350.
Depending on your oven you could actually wait to do this until after you have the meat mixture made as mine was preheated in no time and waiting on me to catch up.
Brown hamburg.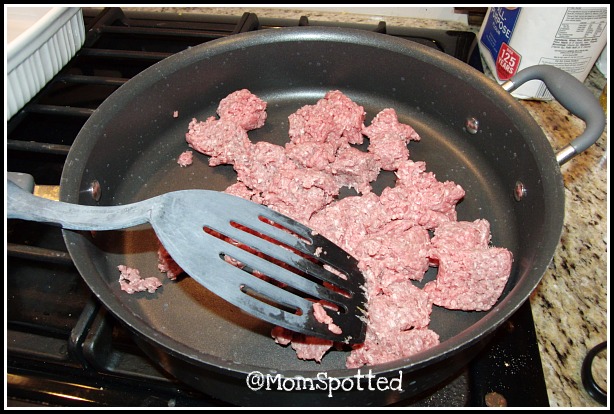 Drain.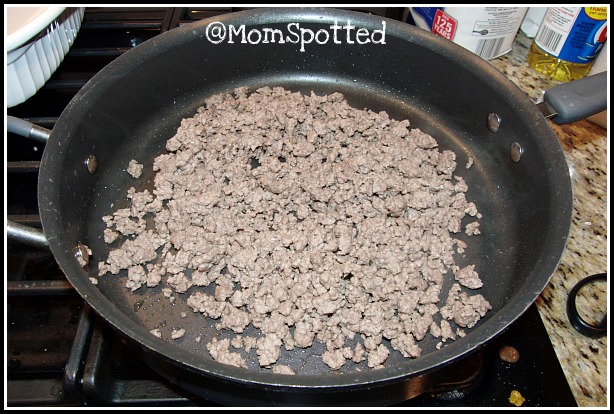 Take half the Velveeta and cut into small cubes and put aside. Take the other half and cube the same way.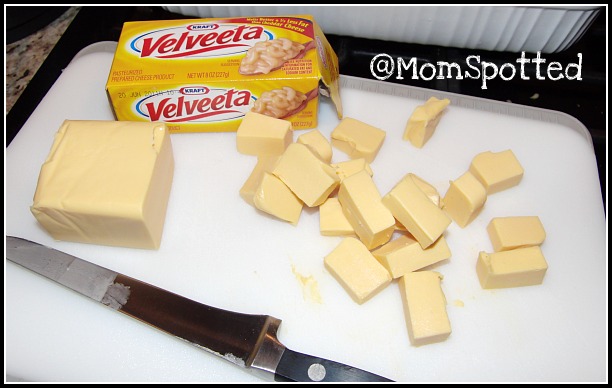 Add half of cubed cheese and 1/2 cup Ro*Tel® into hamburg.
Once cheese is melted, add black beans. Remember you will need to drain and rinse beans before you add them.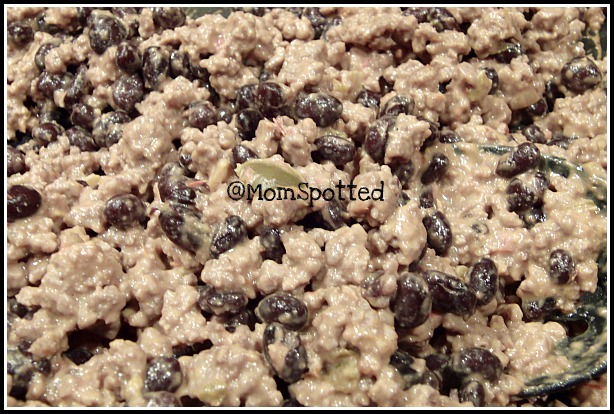 Spoon 1/4 cup of the mixture into the center of each enchilada. It will seem like a lot but it is the perfect amount. I found folding it in half and then pushing the top side back and then rolling evened it all out perfectly.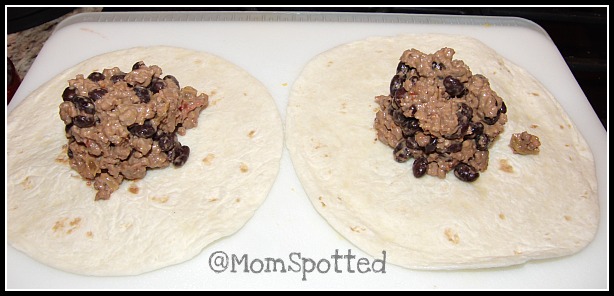 Place each finished enchilada fold sided down in a sprayed down 9×12 baking dish.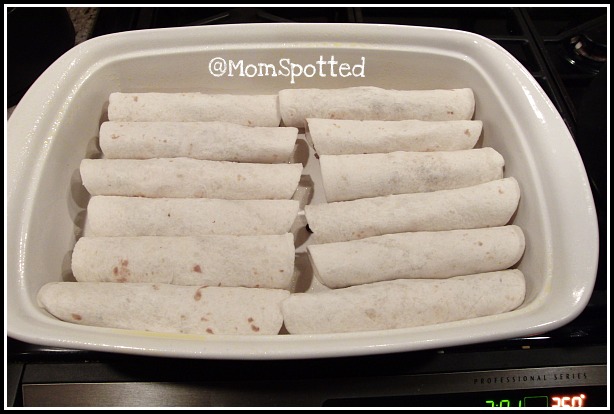 Spread remaining cheese cubes over enchiladas. Bake uncovered for 10 minutes.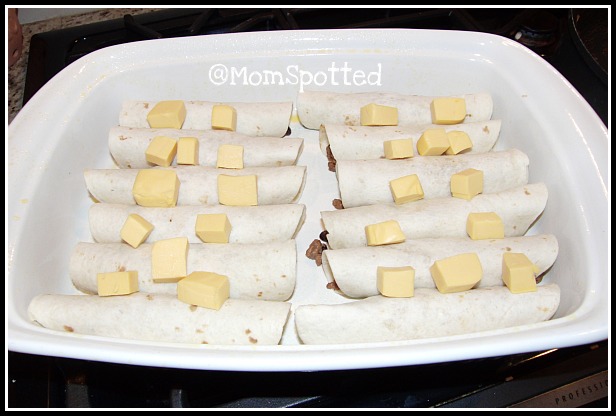 Pour remaining Ro*Tel® over cheese blocks. Bake another 20 minutes or until cheese is melted.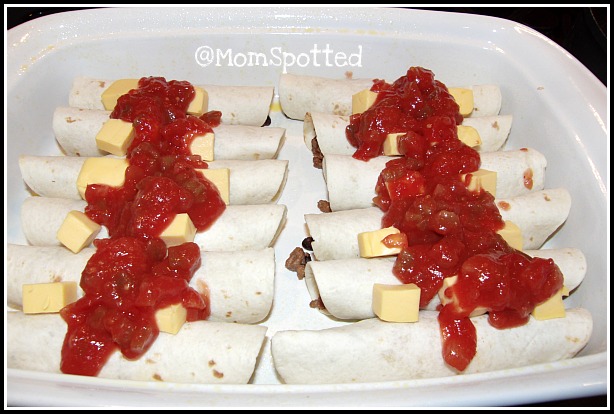 When it comes out of the oven this is what you get. So good!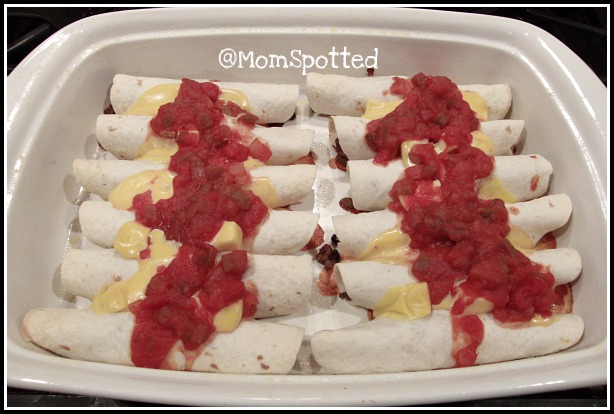 I added (not in recipe) some shredded cheese. My hubby loves cheese and can never get enough so basically everything in my house gets more cheese then it should. Sprinkled chopped cilantro and you end up with these: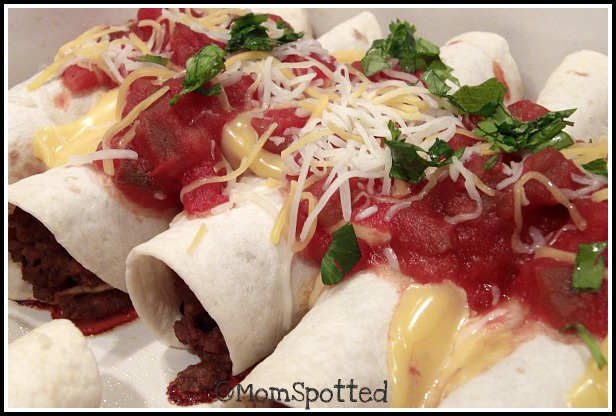 I also made some yummy nachos to go with them. I bought my hamburg in bulk to get a lower price and added in kidney beans. layered them for cheesy yummyness all over. I added jalapeno peppers and lettuce. Yummy!
Of course also serve with toppings that your family enjoys. I can't stand sour cream and no one but me likes tomatoes so those are both add your own for toppings. The recipe actually specified to put the sour cream over the enchiladas where I added the extra shredded cheese.
We absolutely loved this recipe and it is definitely one I will continue to make over and over again! It was super easy and definitely a crowd pleaser!
Make Ahead Version

Assemble enchiladas as directed; cover and refrigerate up to 24 hours. Bake, uncovered, in 350ºF oven 25 to 30 min. or until enchiladas are heated through and VELVEETA is melted. Top as directed.
Print Version click here
VELVEETA® and RO*TEL® are hosting an amazing sweepstakes to encourage simple, easy weeknight family meals and entertainment ideas. Winners will be picked each week, and the more points you collect the more chances you have of winning! Grand prize winner will receive $15,000!
This is a sponsored conversation written by me on behalf of VELVEETA/RO*TEL. The opinions and text are all mine.