Pesto Spinach Stuffed Shells sound good, don't they? I've always wanted to make stuffed shells but something always scared me away from them. Growing up my mom's manicotti was one of my most loved meals. While reading the recipe I noticed a twist in her recipe that included this store-bought pesto. I didn't even realize they made jarred pesto but was instantly intrigued. My best friend is big on pesto and collects basil from everyone all summer long. She pays us back with pesto. It's delicious but by this time my freezer is empty. The recipe didn't fit what I wanted (hubby has to have lots of cheeses) but I wanted to try her pesto twist with my style filling. I think it came out pretty good. I didn't think anyone else would like it- they won't touch pesto- but they loved this. Well, everyone but Gavin but he wouldn't even taste it so I won't count him.
 Here's what the pesto looks like. I found it in the same aisle as the pasta sauces. It only came in one size.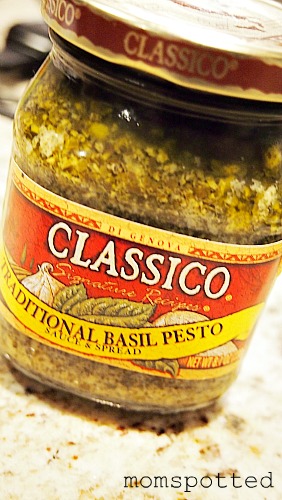 Combine ricotta, parmesan, mozzarella, pesto, and eggs in medium sized bowl. You can mix by hand but I used a hand mixer because it's just easier.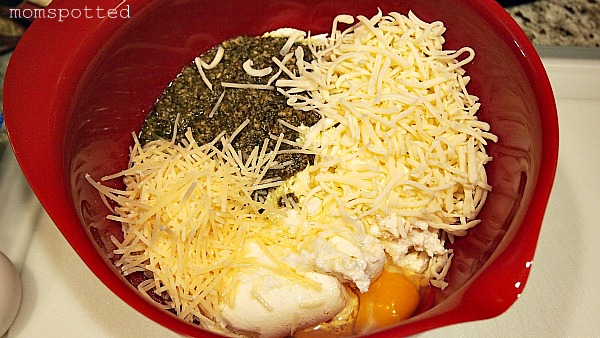 I ended up adding another egg and more cheese. Cheese will be a pattern in this recipe. Chop up fresh spinach and add to mixture.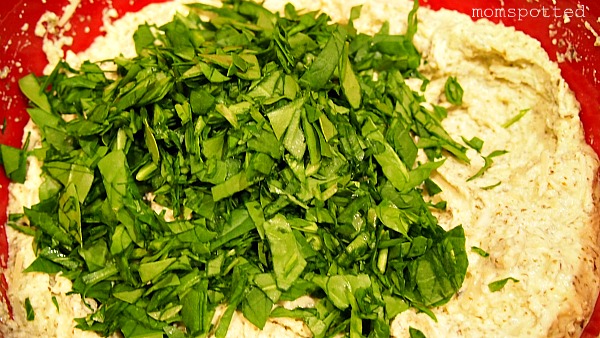 Take the filling and scoop it into a large gallon sized bag or freezer bag. Squeeze it down to the bottom and then snip a corner. Hold a shell in one hand and squeeze the filling into the shell. This makes it SUPER simple. Don't be stingy. You'll have plenty of filling!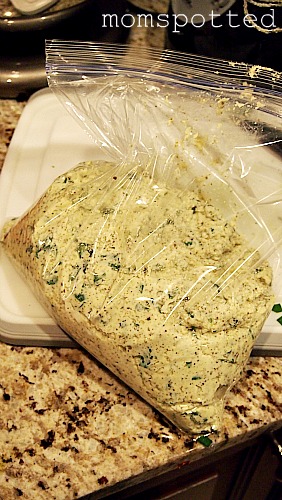 Line the shells as close as possible so you can fit as many in the pan as possible. I used almost all my filling and almost all my shells. Cover the base of the pan in the sauce before placing shells in. I used a 9×13 CorningWare piece. It's my go-to pan and you'll notice it's almost the main dish I cook with.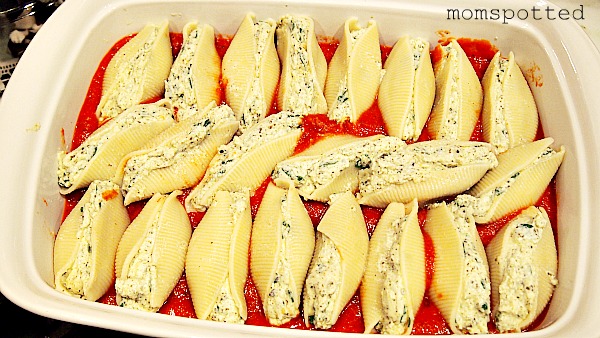 I then covered the Pesto Spinach Stuffed Shells with sauce. I've never made my own sauce so if you see sauce just assume it came from a jar. I then sprinkled with the leftover cheeses.
 Bake for 30 minutes at 350 degrees. I didn't cover it.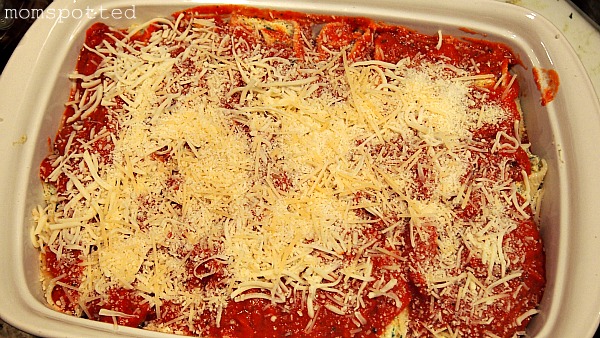 Five minutes before you take the shells out cover with yet another handful or two of shredded mozzarella. In my house, nothing is ever too cheesy. Use a large serving spoon to remove and plate. My hubby added even more shredded cheese at this point.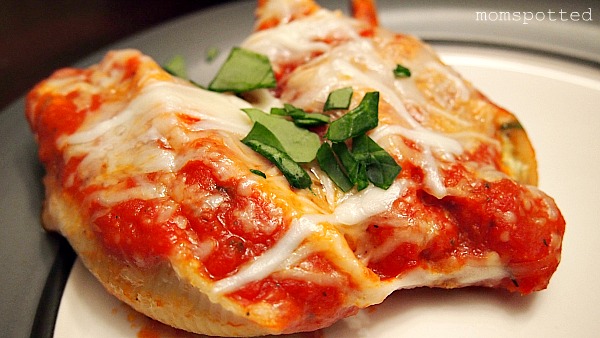 These Pesto Spinach Stuffed Shells was incredibly easy to make. I don't know why I've been so scared of stuffed shells over the years. I actually think lasagna itself is more of a pain then these. These are great for entertaining as well as only a few can be rather filling so just bread and a salad are the perfect compliments. We had lots of leftovers and we averaged 3-4 shells each.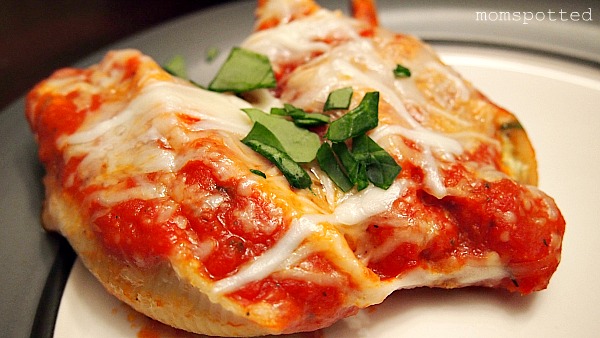 Pesto Spinach Stuffed Shells Recipe
A recipe you'll make over and over again once you realize how simple and tasty it is!
Ingredients
1

pkg jumbo pasta shells

32

oz

container ricotta cheese

4

cups

shredded mozzarella

2

cups

shredded parmesan

1

jar basil pesto

2

eggs

2

cups

fresh spinach

1

jar pasta sauce
Instructions
Preheat oven to 350.

Cook shells as directed. I did add a bit of olive oil and a bay leaf as I do all my pasta shells. That's optional.

Combine ricotta, eggs, basil pesto, 1 cup parmesan, and 2 cups mozzarella in medium bowl and mix. Chop fresh spinach into small pieces and add to mixture and mix well.

Add mixture to gallon sized bag and snip the corner.

Add mixture to shells.

Place in 9x13 baker with pasta sauce on bottom of the pan.

Fill with shells as close together as possible.

Cover with sauce and remaining parmesan cheese and 1 cup mozzarella cheese.

Bake 25 minutes.

Sprinkle with the last cup of mozzarella and bake 5 additional minutes.

Remove and serve.