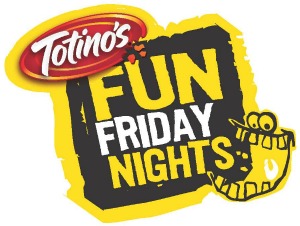 Oh how I need a Fun Friday Night. After the past two weeks I've had first being without power due to 2 feet of snow and then the past week being death bed sick. The idea of hanging out with my family with some good pizza and a good movie sounds absolutely amazing. Of course if we go our typical route of doing this we all fight over which place we want to order the pizza from and then by the time we order it and get told that it will be over an hour til delivery it's frustrating. Then getting the movie is daunting. We either over pay for a movie we'll watch once at the store or fear the prices of ordering from our cable provider.
Thankfully, we've discovered the joys of Red Box and the ability to rent movies for all of us or one that we'll enjoy together for the low price of $1 a night! Totino's teamed up with Red Box and now after just four purchases of Totino products you can cash the codes in online for Red Box rentals!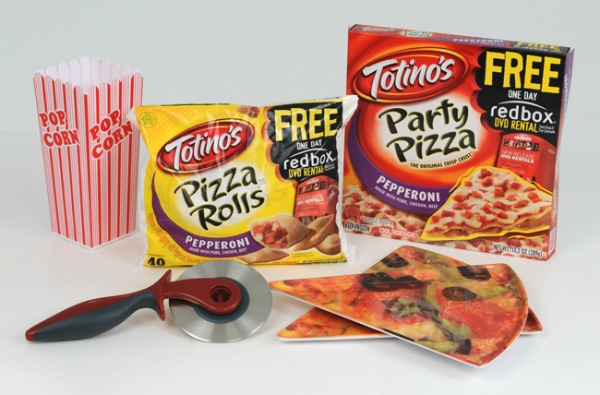 My Blog Spark has offered a Mom Spotted Readers the Totino's Friday Night Fun Red Box Pack pictured above!
How to Enter:
1.) Tell me who you would spend your Fun Friday Night with!
Mandatory
How to earn additional entries:
2.) Become a follower on my blog (publicly- privately does not count)-leave another comment (or let me know if you already are)
3.) Subscribe to my blog by EMAIL (not feed) – 2 Entries
4.) Blog about my giveaway- with a link back to here – 2 entries(get one more if you include a photo of the giveaway).
Post YOUR blog entry first and then the comment (please include the link directly to it not to your front page, and make an additional comment then the ones above.)
5.) Add my button to your blog – 2 Entries
6.) Follow
Mom Spotted
on Twitter.
7.) Follow
Mom Spotted
on Twitter AND Tweet about this giveaway-
Copy/Paste:
Win a Totino's Friday Night Fun Red Box Pack #MyBlogSpark & #MomSpotted #giveaway Ends 11.14.11 http://wp.me/p18qpn-43k
~this can be done once daily~
8.) Become a Fan of Mom Spotted on Facebook– leave me a comment
9.) Post on your facebook home page (1x daily):
Win a Totino's Friday Night Fun Red Box Pack from @Jennifer MomSpotted Giveaway Ends 11.14.11 http://wp.me/p18qpn-43k
(Make sure it links to me & put link in comment)
10.) Leave a relevant comment on any non-giveaway post (reviews are ok)
(Make sure to check out all my other giveaways!
Check the side bar to the right for list!)
That's many chances to win a package of Totino's Friday Night Fun Red Box Pack!!!
Contest ends November 14th at 11:59pm!
***USA Only***
Mom Spotted Review Policy: I was provided the same Friday Night Fun Packs from My Blog Spark who provided me with the information in order to test and give my own personal opinions on it. The opinions I have given are mine and may differ from others but it was not influenced in any manner by monetary means.