Okay, so this post comes with a warning. If you are reading sit down- you're going to be here a bit. I don't normally post twenty photos for a product review but honestly there was no way around it with this amazing product. I tried to cover many of the key features that I fell in love with but I did have to leave many things out in fear of losing you through a long post. Like many of my stroller reviews I like to show you exactly what you get when you purchase a stroller so I did that the best I could but this was the first time I've worked with Peg Perego and well, this stroller set is just amazing.
I received the Peg Perego Pliko Switch Compact Modular System that I will definitely be making the set I use for this bundle of joy we are expecting. Even though over the years I've had my fair share of reviews this is definitely the #1 pick that I am SO incredibly excited about owning.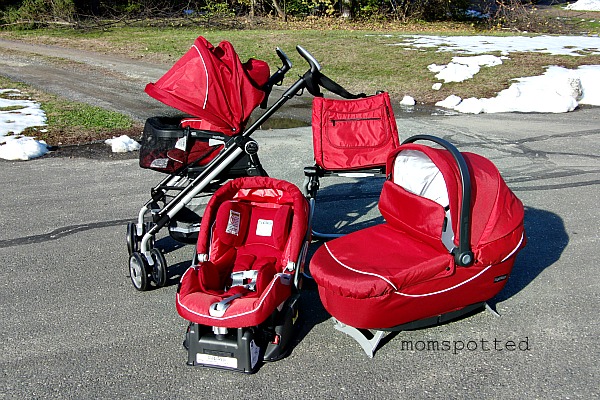 The Peg Perego Pliko Switch Compact Modular System is really one of a kind. As you can see it comes with all the gear you need for getting baby out of the house. Plus, since you're buying it as a set you know it all coordinates in both color and fit perfectly.
The first piece my baby is going to experience is the Primo Viaggio SIP 30-30! It meets the new requirements of the weight recommendations of using this seat until 30 pounds or 30 inches.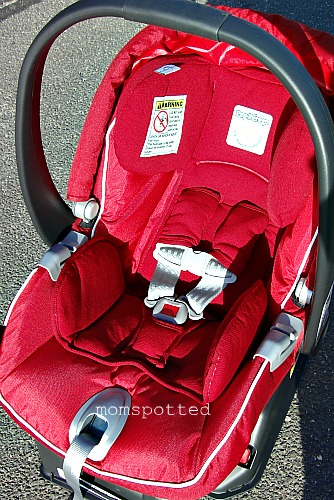 Features:
Travel System compatible — the perfect complement to a Peg Perego stroller.
Exceeds the most stringent Side Impact Protection test in the world.
Adjustable Side Impact Protection is easy to adjust in 5 vertical positions.
Headrest and padding made of soft "Confort dry" microfiber cloth that stays comfortably dry and allows proper ventilation.
Includes a secure Latch system base (additional bases sold separately).
Quick–release 5–point safety harness with shoulder pads and fail–safe buckle.
Includes a special removable cushion for newborns.
Adjustable handle with rubber grip for ease and use.
Two ways to fasten to the car: with the vehicle seat belt or with Latch System Base.
Use with or without the LATCH base system
Adjustable hood protects baby from the sun and elements during transport.
Indicator level shows correct installation angle.
Variety of upholstery choices to match your Peg Perego stroller.
Certified for use in automobiles or aircraft.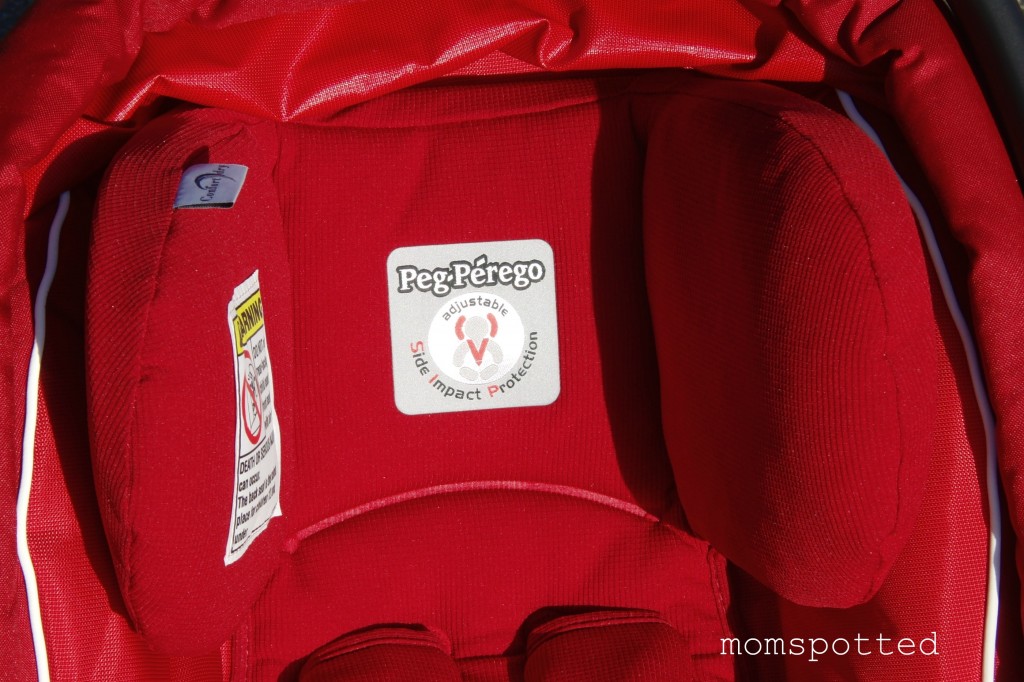 I also really like that it has the visual gauge. I didn't have this with my boys and I was always concerned if it was in correctly. I love that at just a quick glance you know your child is safe!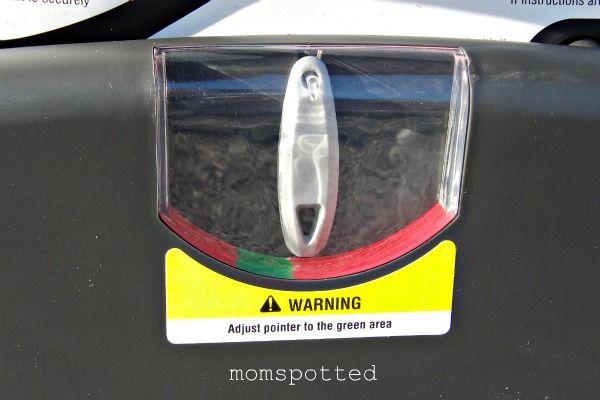 If your vehicle is equipped for the latch system this infant base is also able to be fully latched in.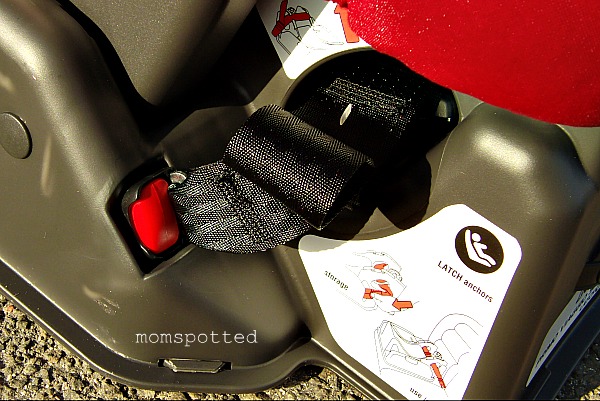 Of course you also need a stroller. The frame of the stroller is able to be used with your infant seat. It literally just drops right it and with the a simple pull pops right back out making it super easy on mom.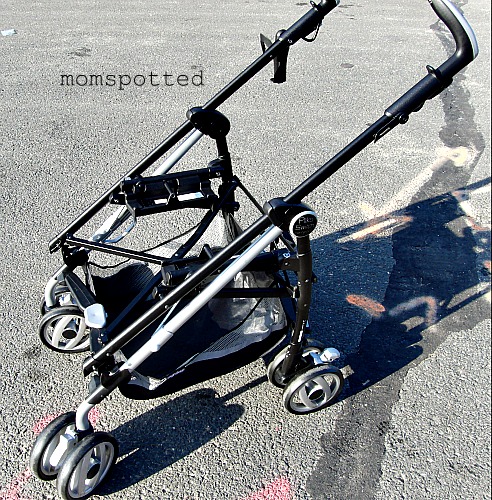 I love that you can use it both forward facing and regular front facing. This actually goes for the seat and bassinet options too which is wonderful!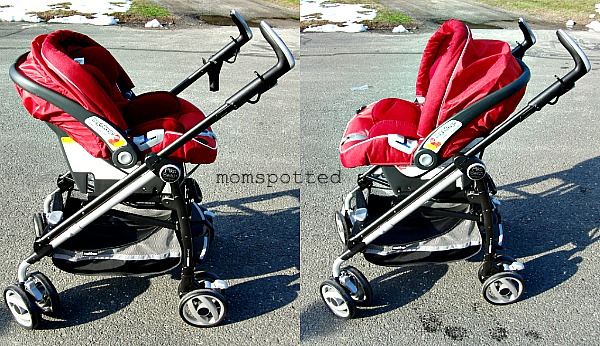 I know how much space the stroller takes up is a big concern with this stroller and since it's just the frame it folds up super small. Remember if you use the bassinet you should have space in your car for that too. I was able to fold the frame down with the seat attached (I forgot to try with the bassinet) and it can be done. For the best space saving with the main seat on make sure it's in the lay down position.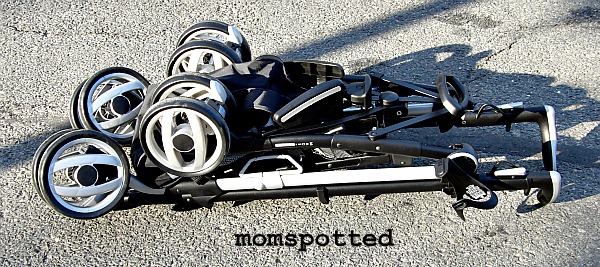 I have always admired the bassinet strollers but even after reviewing several I always found them difficult to use. This Navetta XL cradle snapped in as easily as the infant seat and with just s release of the lever by the outside front it can be removed. Here, I have it shown completely bundled perfect for a winter walk.
Features:
COMFORT SYSTEM externally adjustable backrest and leg rest.
Hood with window to provide air circulation and loop to dangle baby's favorite toy.
In the home Navetta XL functions both as a cradle or a cot thanks to its folding legs hidden underneath.
Cover with windbreaker.
Carrying handle.
Protective polypropylene shell with stylish fabric covering.
ALL SEASONS SYSTEM The external lever allows you to regulate drafts and air circulation inside the bassinet.
Attaches easily to the stand enclosed in your Modular System.
Convenient single purchase.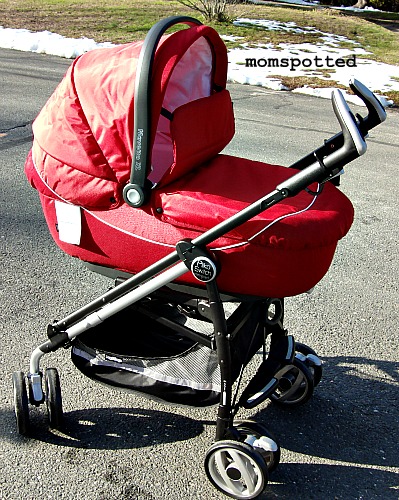 But as you can see it completely opens up too. It's fully cushioned for baby too. Even the sun shade can be opened up for ventilation.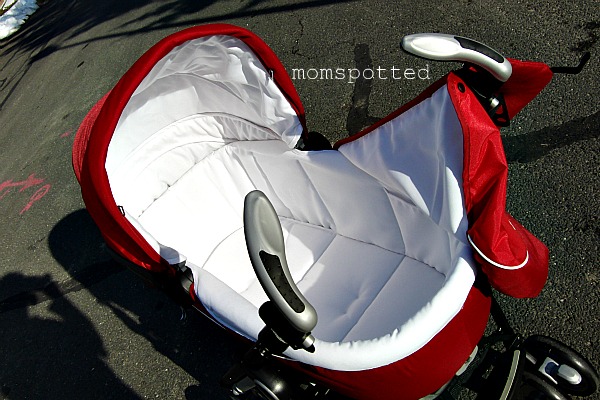 I really love that if you want to take just the bassinet out it has hidden legs underneath to keep your cradle clean and off the ground.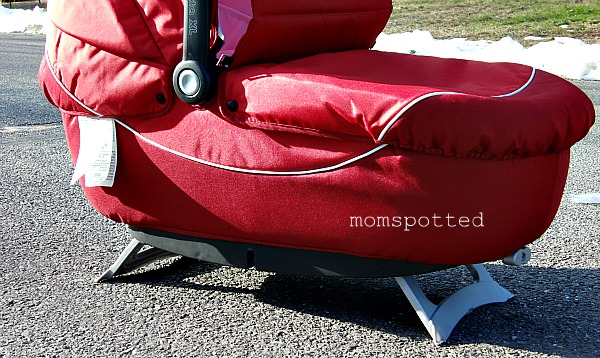 See how it just tucks right in!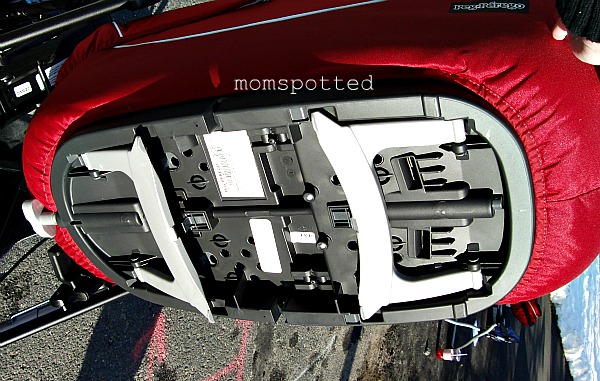 Of course it also can be snapped right into base making this a great nap time spot to use where ever you are!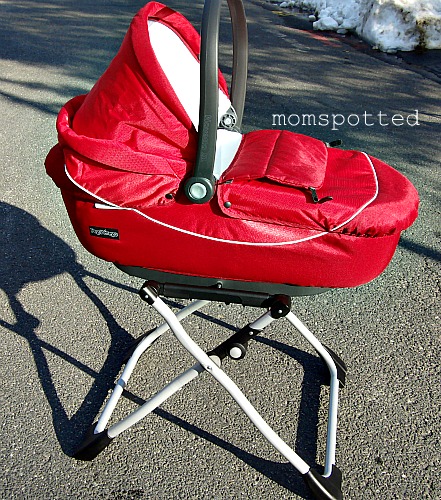 The stand is one of my favorite features. I'm going to LOVE using this in restaurants as I'm always nervous popping baby on the top of a highchair. This stand folds right up for space saving and also includes a handle so you can take it along with you easily as well!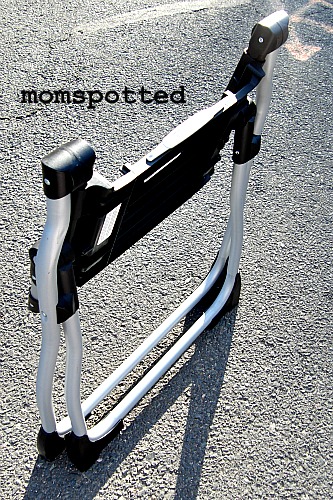 Now the Peg Perego Pliko Switch Compact Stroller can be purchased separately as many of the other pieces as well. I wanted to focus on so many of the other features that I am shorting many of the features on this stroller but this stroller is phenomenal!
Features:
Reversible seat.
One hand umbrella–style folding. Compact and self standing once folded. Can be folded with the seat in either direction.
Seat also easily separates from chassis for even more compact stowing.
Pair this stroller with a Primo Viaggio SIP 30-30 to create the perfect travel system which attaches directly to the chassis.
Height adjustable handles with rubber insert.
Central handle for folding and side carrying handle.
All wheels suspension: swiveling or locking at the front, with independent brake at the rear.
Adult cup holder.
Built–in rear footboard provides safe ride for second passenger.
Large, practical basket.
Zippered hood, can be used as a sun canopy.
Hood with loop to dangle baby's favorite toy.
Five–point seat belt. Hinged front tray opens and removes easily.
Backrest reclines to several positions and leg rest is adjustable to 3 positions.
Type–approved for children from birth. Baby safety enclosure system.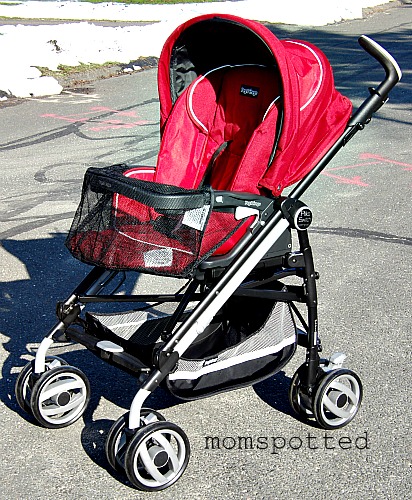 I love the handles that are height adjustable and ergonomically comfortable. The sun shade on this stroller is one of the best too. It can come all the way down to fully enclose around baby is you want darkness or privacy. You can kinda see that in the very first photo. You also have a zippered pouch for keys, cash, or your cell. If you lift it up you have a window to peek in on baby. There is a cup holder on the side that you can slightly see but I do wish it was slightly wider as it did not fit my cup well and it is just balancing in there.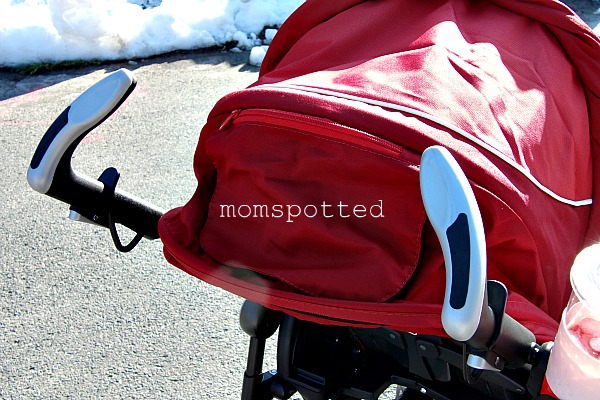 The basket is nice, big, and easy to access. Of course when you use the infant seat or bassinet you have even better access to it.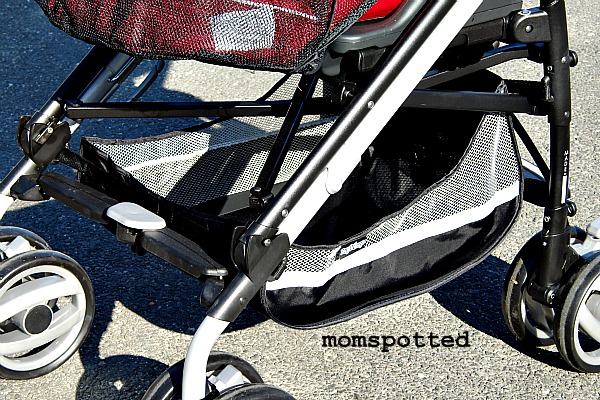 The seat is fully adjustable and can lay all the way back. It can really lay at just about any angle you want it too. The leg piece can go down for older kids or up as you see it for babies. Above I showed it with the netting and here you see it removed. You can actually tuck it right underneath half removed so you always have it with you!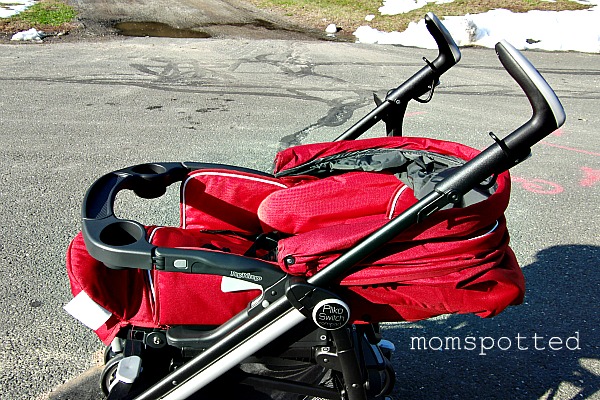 The Peg Perego Pliko Switch Compact Modular System also comes with a coordinating diaper bag that is equipped to hang right from the stroller frame that has built in clips. The diaper bag is good size with a slim design and also has a mat for your use.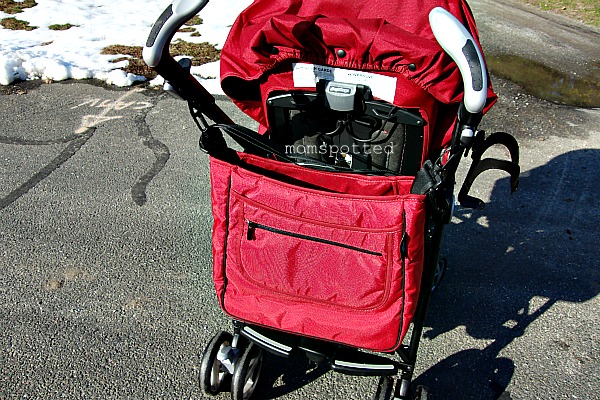 I cannot tell you enough how in love with this set I am. I am so thrilled that THIS is the set my baby is going to be able to use. Other then a slightly larger cup holder there really isn't anything else that I could ask for! If you are looking for the absolute best of the best then look no further. If the price point is slightly out of your budget I really REALLY recommend still taking a look the individual pieces because I found all but the bassinet available for individual purchase and honestly each piece is just amazing and has everything I want in that item. Having them available in a set like this really is a great deal and as a shower gift is a great practical group purchase that will make your life as a mom so much more manageable on the go!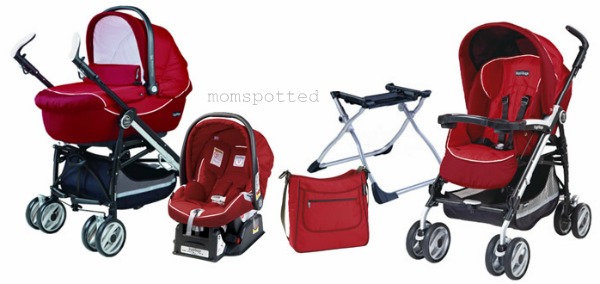 Peg Perego has offered one Mom Spotted Reader a Peg Perego Pliko Switch Compact Modular System!!!
How to Enter:
1.) Visit Peg Perego and tell me what your favorite feature is and why you want this stroller!
Mandatory
How to earn additional entries:
2.) Become a follower on my blog (publicly- privately does not count)-leave another comment (or let me know if you already are) – 2 entries
3.) Subscribe to my blog by EMAIL (not feed) – 2 entries
4.) Blog about my giveaway- with a link back to here AND
Peg Perego
4 entries (MUST include at least 30 words! Get
two additional entries
if you include a photo of the giveaway).
Post YOUR blog entry first and then the comment (please include the link directly to it not to your front page, and make an additional comment then the ones above.)
5.) Add my Mom Spotted button to your blog
6.) Follow 
Peg Perego USA
on Twitter
7.) Follow
Mom Spotted
on Twitter AND Tweet about this giveaway-
Copy/Paste:
Win a $1000 Pliko Switch Compact Modular System from @PegPeregoUSA & @MomSpotted #giveaway ends 11.28.11 http://wp.me/p18qpn-4c5
~this can be done once daily (leave link in comment)~
8.) Become a Fan of Mom Spotted on Facebook– leave me a comment
9.) Become a Fan of Peg Perego USA on Facebook! – Tell them what you love at their site
10.) Post on your facebook home page (1x daily):
Win a $1000 Pliko Switch Compact Modular System from @Peg Perego USA & @Jennifer MomSpotted Giveaway Ends 11.28.11 http://wp.me/p18qpn-4c5
(Make sure it links to me and Peg Perego USA & put link in comment)
11.) Leave a relevant comment on any non-giveaway post (reviews are ok)
12.) Enter Emilie's Peg Perego Giveaway
13.) Add the Bump 2 Baby Event Button to your sidebar on your FRONT page. (2 entries)
(Make sure to check out all my other giveaways!
Check the side bar to the right for list!)
That's many chances to win a Peg Perego Pliko Switch Compact Modular System!!!
Contest ends November 28th at 11:59pm!
us.pegperego.com
***USA Only***

Mom Spotted Review Policy: I was provided with the featured item(s) at no cost by the manufacturer and/or its PR agency in order to test the products abilities and give my own personal opinions on it. The opinions I have given are mine and may differ from others but it was not influenced in any manner by monetary means.