This new baby is going to be so spoiled. Spoiled in so many ways really. Of course as Mom not only do I mind but I'll also be one of the biggest culprits. Of course this blog has a lot to do with that. Then I really take a look at some of these products and I wonder why my past two kids didn't end up with some of these things. For example, when you take a look at Kolcraft you find so many great items but they are affordable. You can find the perfect bassinet, stroller, etc and not only will it have the look you want, the functionability you need, but at a price you can afford!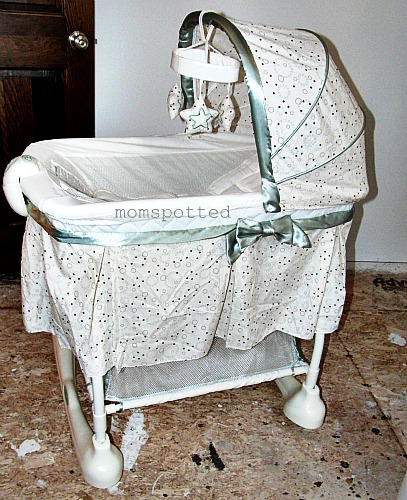 When I saw the Cuddle 'n Care 2-in-1 Bassinet & Incline Sleeper Bassinet I knew that it would be the perfect addition to my household. I've actually never used a bassinet before with my previous babies. I had a cradle for Johnny but it wasn't mine and we had to return it afterwards. It was so big in size and needed additional space to rock so it almost defeated the purpose because I couldn't keep it next to my bed.
The Kolcraft Cuddle 'n Care 2 in 1 Bassinet and Incline Sleeper is the only traditional bassinet that offers an option to help babies sleep when they suffer from colic or congestion. Developed in conjunction with medical professionals, the inclined surface helps alleviate congestion to give both mom and babies a peaceful sleep. The incline sleeper attachment is easily removable when your baby no longer needs it. This bassinet easily converts to a rocking bassinet and it includes a Light Vibes® electronic unit with classical music, nature sounds, vibrations, and soft-glow check light.

Features
Incline Sleeper allows parents to position infants on an angle to help alleviate colic and congestion
Incline Sleeper attachment removes easily for use as a traditional bassinet
Light Vibes electronic unit includes classic music, nature sounds, vibrations and soft-glow check light
Easily converts to a rocking bassinet
Locking casters for room to room mobility
Canopy mobile with three hanging soft toys
Large storage basket for all baby's needs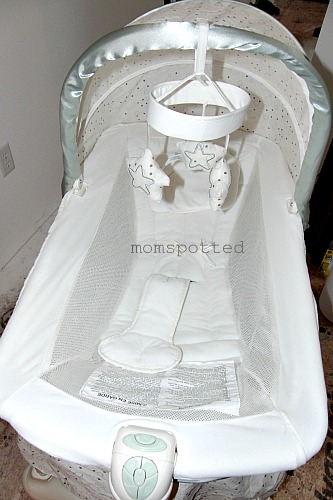 What makes this bassinet so special is the incline feature! When Johnny was a baby he had the worst acid reflux and I swear he spent so many nights having to sleep in car seat. I'm so happy to see this baby will have a much better option should they need to be inclined. While the incline feature isn't optional on this bassinet I have no problem having a baby sleep at a slight incline at all times. It will help if they get sick.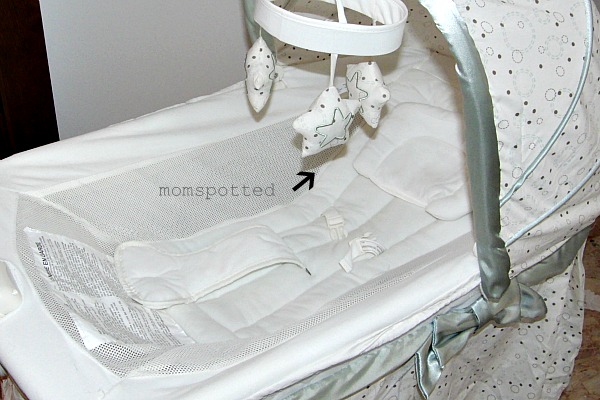 I also love that you can completely strap baby down to make sure they are safe and secure at all times. My babies loved to be swaddled so I'm a bit unsure how that would all work together. I wish they had an option to work with swaddling so I could have my baby still swaddled but secure as well.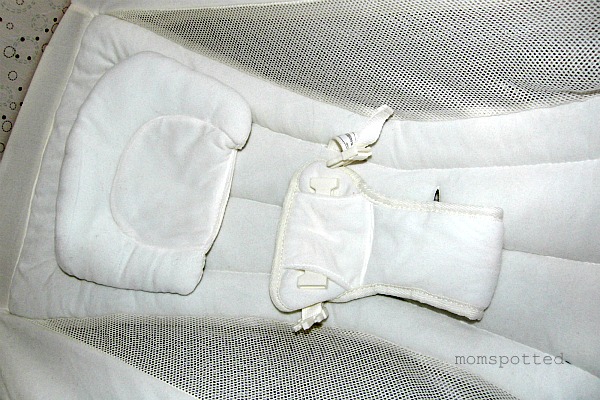 I also like how Kolcraft took into hand at the lack of hands us moms have. They made it so that the canopy can go up and down so if we need to do the one handed drop we can or if baby sound asleep already we don't have to worry about hitting their head and waking them up.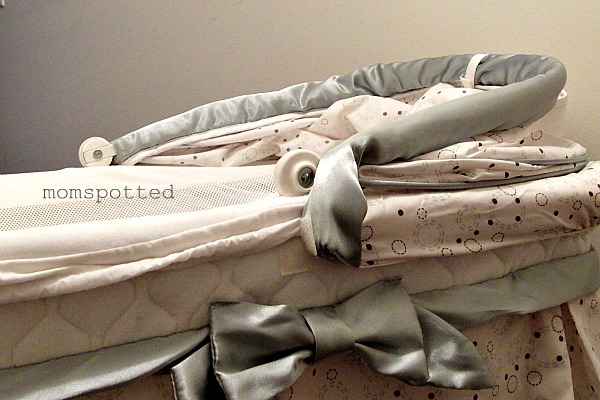 See how easy it would be to put baby in? You could then keep it down for more of a view too. I like that the surrounding material is netting so that if baby finds a way to move their is always air circulation around them.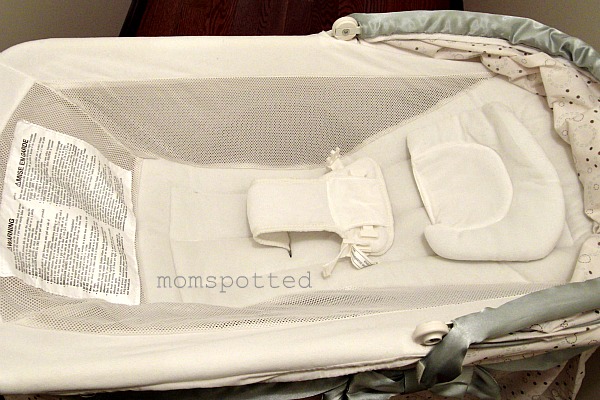 I also love that I can easily set the bassinet to vibrate or play music. It can play classic music, nature sounds, vibrations and even has a soft-glow check light. I like that the vibrations and the volume are both adjustable too!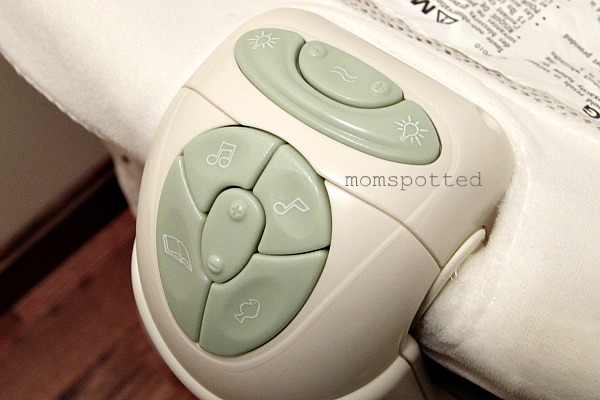 If you are like me you'll be so happy to see the basket underneath for spare blankets, spit rags, clothes, or whatever you fancy. It's a really good size so you could store pretty much anything you'd need. I like that the skirt comes down and around to help hide whatever it is your  putting in there.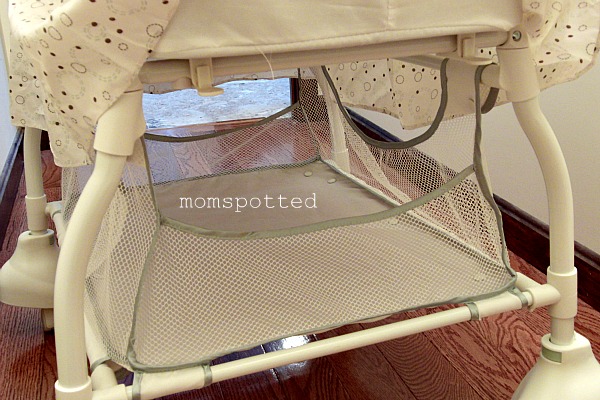 It's also on wheels so that I can move this easily from room to room. If you notice these pictures actually started in one room and moved to another for better lighting. It so simple to move. The bassinet itself is incredibly light so I could even pick it up if I wanted to but if I wanted to move it when baby was sleeping in it this would be a great option. You can remove the wheels and make it a rocking bassinet too if you want.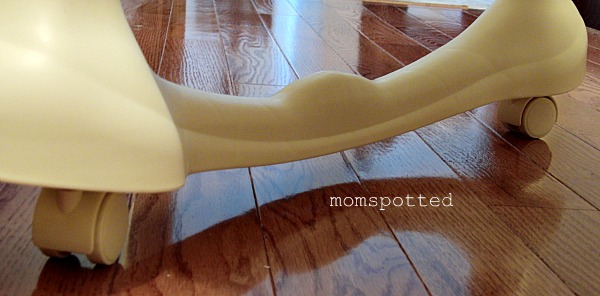 I love the pattern this bassinet is in. I actually like it more in person then I do on the website. The only thing I wish I could change was on the bed the material doesn't line up wight above the satin ribbon. The main color is cream but that material is white so it stands out. Every time I walk by it I try to pull it up but you can't. It's actually made to look like the skirt is falling down. If you look at the photos with the canopy down you can see what I'm talking about. Other then that I'm really happy with this bassinet and it will will be adorable for either a boy or a girl as well!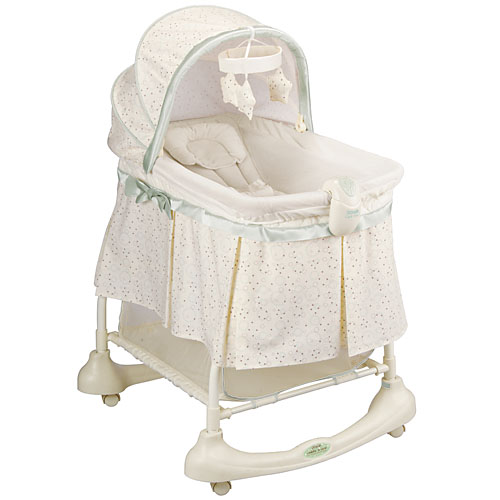 Kolcraft has offered one Mom Spotted Reader a Cuddle 'n Care 2 in 1 Bassinet and Incline Sleeper!!!
How to Enter:
1.) Visit Kolcraft and tell me what OTHER Kolcraft product you like!
Mandatory
How to earn additional entries:
2.) Become a follower on my blog (publicly- privately does not count)-leave another comment (or let me know if you already are) – 2 entries
3.) Subscribe to my blog by EMAIL (not feed) – 2 entries
4.) Blog about my giveaway- with a link back to here AND
Kolcraft
4 entries (MUST include at least 30 words! Get
two additional entries
if you include a photo of the giveaway).
Post YOUR blog entry first and then the comment (please include the link directly to it not to your front page, and make an additional comment then the ones above.)
5.) Add my Mom Spotted button to your blog
6.) Follow
Kolcraft
on Twitter
7.) Follow
Mom Spotted
on Twitter AND Tweet about this giveaway-
Copy/Paste:
Win a Cuddle 'n Care 2 in 1 Bassinet & Incline Sleeper from @Kolcraft & @MomSpotted #giveaway ends 11.14.11 http://wp.me/p18qpn-44I
~this can be done once daily (leave link in comment)~
8.) Become a Fan of Mom Spotted on Facebook– leave me a comment
9.) Become a Fan of Kolcraft on Facebook! – Tell them what you love at their site
10.) Post on your facebook home page (1x daily):
Win a Cuddle 'n Care 2 in 1 Bassinet and Incline Sleeper from @Kolcraft & @Jennifer MomSpotted Giveaway Ends 11.14.11 http://wp.me/p18qpn-44I
(Make sure it links to me and Kolcraft & put link in comment)
11.) Leave a relevant comment on any non-giveaway post (reviews are ok)
12.) Enter Emilie's Swaddle Design Giveaway
13.) Add the Bump 2 Baby Event Button to your sidebar on your FRONT page. (2 entries)
(Make sure to check out all my other giveaways!
Check the side bar to the right for list!)
That's many chances to win a Kolcraft Cuddle 'n Care 2 in 1 Bassinet and Incline Sleeper!!!
Contest ends November 14th at 11:59pm!
www.kolcraft.com
***USA Only***

Mom Spotted Review Policy: I was provided with the featured item(s) at no cost by the manufacturer and/or its PR agency in order to test the products abilities and give my own personal opinions on it. The opinions I have given are mine and may differ from others but it was not influenced in any manner by monetary means.