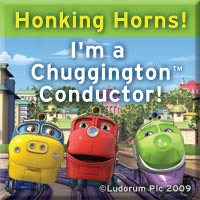 Being a Chuggington Conductor I get sent all the latest and greatest Chuggington toys and products out there. Lately there has been some traintastic products getting released just in time for all your holiday shopping.
Gavin was super excited when this new Chuggington lunch box arrived. The design is bright and colorful and the quality is great. I'd love to see them come out with a hard shell version. Often times my boys don't take their bags off on the bus and they end up squishing their food. A hard shelled lunch box is preferred because even if they sit on the bag their lunch will stay intact.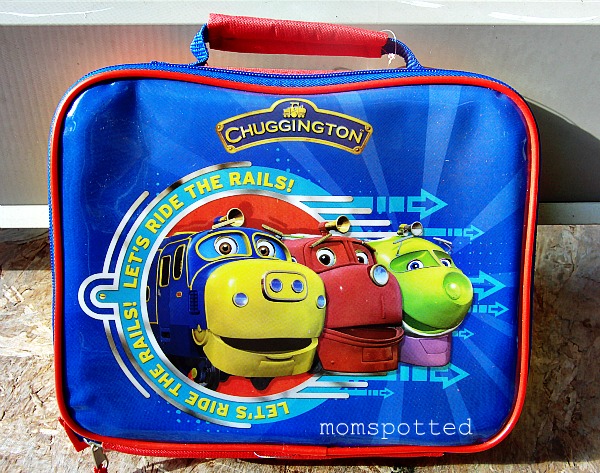 Another great product that was released is the All Around Chuggington Set.
The Chuggington Interactive Railway brings your favorite engines to life via SmartTalk technology! Featuring spiral elevation and 60 total pieces, the All Around Chuggington Set features over 4 feet of track and includes 3 interactive train stops: a loading yard, a tower platform, and a roundhouse with an Interactive Vee figure. It also includes an Interactive Wilson engine, a hopper car, and 6 pieces of cargo.

Best of all, the Interactive Vee and Wilson included in the set actually recognise and react with other Chuggington Interactive engines and train stops! This set features over 250 sounds and phrases when used with other Chuggington Interactive products…the more pieces you add, the more interactive your world becomes! Requires 11 x AA batteries (included).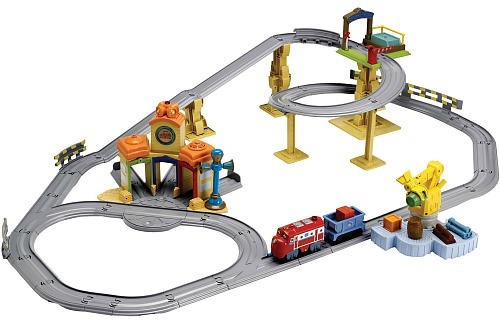 We go up to my Dad's often for dinner and while the kids normally play for hours outside when we are there it's now getting dark earlier and earlier. Since this forces the kids indoors they are often looking at us for something to do. It's been a long time since I've updated the toys on hand at their house so I thought bringing up the Chuggington All Around Chuggington Set would be perfect.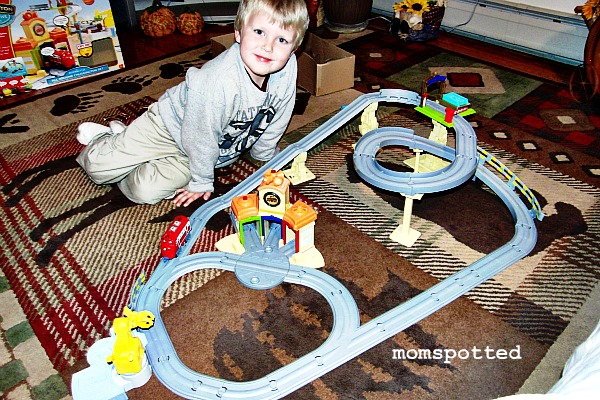 Setting the track up didn't take very long at all and Johnny and Gavin did it all on their own. It was a bit much for just Gavin though. Since we will be keeping there its good to know that all the pieces will fit back into the box once you are done.
This set when set up is a great size. We really liked that while we set it up just as it was shown you can really set it up any way you'd like. There is more then one area on the tracks for you to interact. Even without those interactions the trains themselves interact with each other! We've had quite a few train set over the years and this is the very first one that stopped talked and actually interacted with each other. I'm not talking just push a button and hear what they have to say but you can pick any two trains, put them next to each other, and they will actually recognize each other and interact! The kids found this really fun and thought they'd pull out different trains and try to trip them up but it wasn't happening! Each train always got the other train right!
The only change I'd make in this set is for it to include more braces. On the higher elevations it isn't as sturdy and often broke apart of the kids had to be more careful. It there was a couple more braces included for the higher levels I think the set would hold together much better.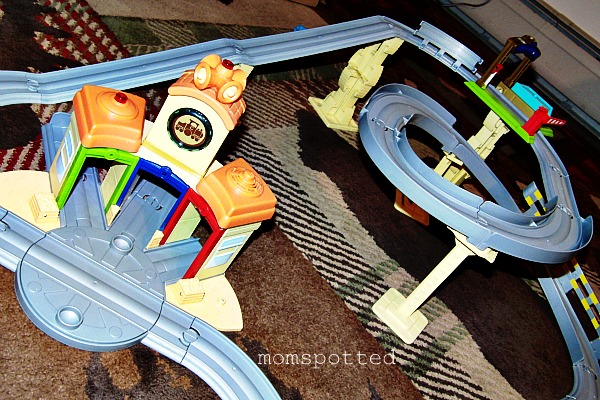 Right now you can find the All Around Chuggington Set for purchase at the Learning Curve for $79.99 and right now it's on sale at Toys R Us for $64.99!
Chuggington has offered one Mom Spotted Reader the All Around Chuggington Set!!!

How to earn additional entries:
2.) Become a follower on my blog (publicly- privately does not count)-leave another comment (or let me know if you already are) – 2 entries
3.) Subscribe to my blog by EMAIL (not feed) – 2 entries
4.) Blog about my giveaway- with a link back to here AND
Chuggington
4 entries (get two more if you include a photo of the giveaway).
Post YOUR blog entry first and then the comment (please include the link directly to it not to your front page, and make an additional comment then the ones above.)
5.) Add my Mom Spotted button to your blog
6.) Follow
Chuggington
on Twitter
7.) Follow
Mom Spotted
on Twitter AND Tweet about this giveaway-
Copy/Paste:
Win an$80 @Chuggington All Around Chuggington Set & @MomSpotted #giveaway ends 10.31 http://wp.me/p18qpn-40u
~this can be done once daily~
8.) Become a Fan of Mom Spotted on Facebook– leave me a comment
9.) Become a Fan of Chuggington on Facebook! – Tell them what you love at their site
10.) Post on your facebook home page (1x daily):
Win an $80 @Chuggington All Around Chuggington Set from & @Jennifer MomSpotted Giveaway Ends 10.31 http://wp.me/p18qpn-40u
(Make sure it links to me and Chuggington & put link in comment)
11.) Leave a relevant comment on any non-giveaway post (reviews are ok)
(Make sure to check out all my other giveaways!
Check the side bar to the right for list!)
That's many chances to win a Chuggington All Around Set!!!
Contest ends October 31st at 11:59pm!
***USA Only***

Mom Spotted Review Policy: I was provided with the featured item(s) at no cost by the manufacturer and/or its PR agency in order to test the products abilities and give my own personal opinions on it. The opinions I have given are mine and may differ from others but it was not influenced in any manner by monetary means.