There are days that I feel are never ending and allow for no time to breath. Those days are generally the worst because I'm not doing anything fun. I'm usually running around making sure that everyone else is. Eating that either doesn't happen and if it does it's some fast food chain that has enough calories to count for the week all in one meal.
Now, that I'm pregnant I really can't afford to make poor nutritional decisions. I am determined not to gain a ton of weight so when I heard about the Starbucks Bistro Boxes I thought that they would be perfect for a quick bite to eat. I can run in grab a box (some locations even have drive thru's!) and eat it either on the go or in between stops. It rocks that these have everything in them from sides, dips, and toppings. The meals are well put together and they have so many choices everyone is sure to find one perfect for them.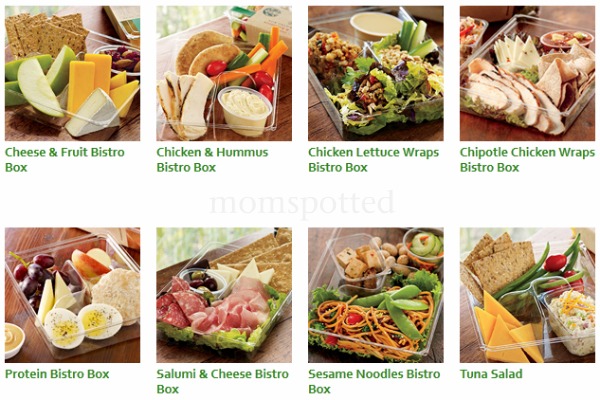 When I went on a recent blog trip I searched all over O'Hare for these boxes and couldn't find them. They have more Starbucks in that airport then I do in a 50 mile range. I thought for sure I'd find one with them. I knew they'd be perfect to tuck in my bag for later. Sadly not only did any of them carry the Bistro Boxes but they didn't even know what I was talking about. It was too bad because I really think these would do great in that kind of location.
I did however find them at a local Starbucks and since on the first day of school last week I had no clue what to do with myself I went and ran a bunch of errands. I found myself right next door to a Starbucks and remembered I had a gift card in my bag. I was starving and hoped they had them. Sure enough. They had them all. I ended up grabbing the Chipotle Chicken Wraps Bistro Box. Since I had my iPad on me and a few minutes to spare it was a great moment to load my emails on the free wifi connection and catch up on some emails while I enjoyed a healthy quick meal.
I definitely need to make it a habit to stop for these more often. They aren't expensive and they definitely fill you up. I really wish they'd put these in their airport locations because they are definitely something I'd be interested in purchasing. Instead I found myself buying something similar somewhere else. Their full service stops seem to carry them but the Barnes & Noble shared location didn't so you'll have to poke around to find them.
I wrote this review while participating in a campaign by Mom Central Consulting on behalf of Starbucks Bistro Boxes and received a gift card to facilitate my review and thank me for taking the time to participate.