I still can't believe that I am pregnant. We still can't believe I'm pregnant. The boys are so excited and our family was definitely surprised. We've discovered though that even though everyone thought our baby makin' days were over they are all really excited about having another baby around. Right now Gavin is the baby so he is also super excited that he will no longer be referred to as 'the baby'. He will however be my baby.
On Tuesday we had my first prenatal appointment. I was so excited because we started the visit with an ultrasound! It was so amazing to see. I know I have been through two kids already but this baby is still our little miracle. I really want to enjoy all the details especially knowing that this will be my last baby.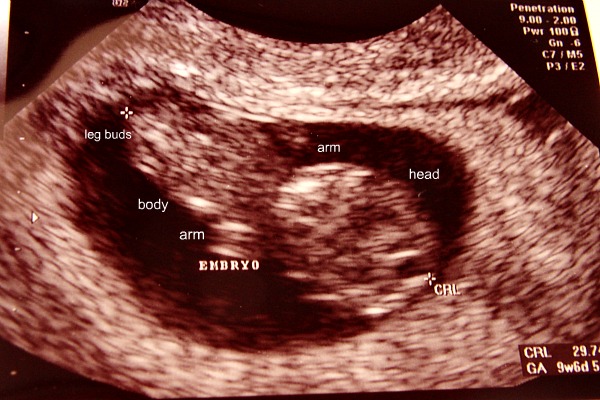 Since I was almost 10 weeks along the baby was easy to see. Its amazing at how quickly a baby becomes a baby. We could see the little heart flickering away at 171. I know it's still too early to tell and that the whole heart rate is a wives tale thing but I really want a girl. I love my boys to pieces but it would be so nice to end this family with a little girl. My husband is the only one in the family rooting for a boy. I think the idea of a girl scares the bajeebies out of him and likes the known. Everyone else including the boys are rooting for a girl. Of course no matter what we have we will love this little baby to pieces.
We won't be able to find the sex out still for a little bit but seeing how we need so many things we will definitely be finding out so we can properly prepare. I don't have anything from the boys were little. Not because I got rid of it all but because we lost our home to a fire when Gavin was little. Luckily through the past year I've done several baby reviews and won a few contests so I have some things set aside. Where I live we don't do showers for any babies after your first so I know I won't be getting one so we're on our own. Of course that means if you are pregnant, have a little one, or planning on getting pregnant chances are you're going to start seeing a lot of contests that will be a great fit. Of course if you aren't don't worry I'll still be taking care of you too.