Being pregnant there is just something that draws me to watching the 'Baby Show' on TLC. I know it's a horrible thing to do because it gets me all worked up and petrified about the fact that this baby has to come OUT of me at some point. Yes, I know I've already done it twice, and I've had both a vaginal birth and a c-section but the show definitely freaks me out. Of course once they have the baby, I cry, and all is good in the world again. Much like giving birth I guess.
Well, the one thing I have noticed is all the water births on the show. Both at home and in hospital settings. For some reason it looks like a less painful option and a more independent one. Personally, I don't think having a water birth is for me.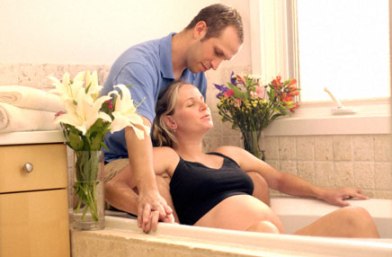 Honestly, when it comes down to the matter I'm completely uneducated about water birth and was curious if any of you have done it.
If not and it was an option, how come?
If you did:
Would you do it again?
Why did you chose it?
Did you do it at home or in a hospital setting?